Thoughts from Brazil Worksheets
"The more you talk, the better you get."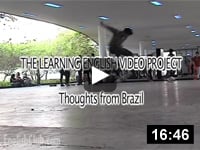 Thoughts from Brazil looks at modern trends in learning English, especially for children and teens. This instalment will be of particular interest to all those who long for a learning experience that is more interactive and communicative. Teens and young adults will find new ideas for combining personal interests such as music, gaming and social media with self-study.
As Daniel Emmerson talks to learners and teachers of English in Sao Paulo, Brazil, he discovers that many of them have found for themselves the principle of learning by doing and have readily adapted it to the Internet era
View online at: www.englishclub.com/esl-videos/thoughts-from-brazil
Video length: 17 minutes