Learning English Video Project
The Internet is such a splendid tool for communicating with people and finding out how people are doing things differently all over the world. I want the Learning English Video Project to really be a part of that.
Daniel Emmerson, Director
About the Project
Director's Blog
Resources
Frequently Asked Questions
Can't see these films in your country? Try these links
You sleep on it and next day you feel...yeah, something got in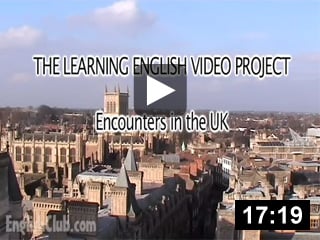 Encounters in the UK
is the 7th and final film in this documentary mini-series. It tells the story of four girls from different countries who travel to Cambridge in England to study English and stay with local families in what is called a "homestay" arrangement. In the film, we also meet several of the host families as well as a consultant who helps match homestay students to families. For the four girls the homestay arrangement is a positive experience. As one of the homestay hosts explains: "It's going to be a great experience, not only in terms of learning English, but in learning about life."
The more you talk, the better you get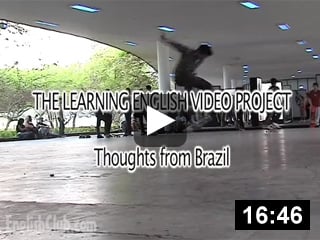 Thoughts from Brazil
looks at modern trends in learning English, especially for children and teens. This instalment will be of particular interest to all those who long for a learning experience that is more interactive and communicative. Teens and young adults will find new ideas for combining personal interests such as music, gaming and social media with self-study. As Daniel Emmerson talks to learners and teachers of English in Sao Paulo, Brazil, he discovers that many of them have found for themselves the principle of learning by doing and have readily adapted it to the Internet era.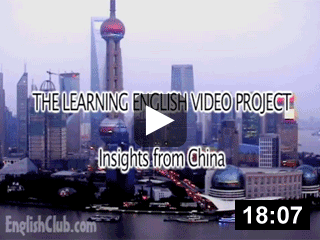 Based in the busy, cosmopolitan city of Shanghai, Daniel Emmerson's latest film
Insights from China
takes us inside the worlds of English language learning and teaching and the airline industry in China. "Insights from China" focuses largely on the staff and management of a Chinese airline company that has recently committed to learning English. Spring Airlines is the first low-cost airline in China. Determined to become a successful international airline, the company has insisted that all of its workers learn to speak fluent English. The CEO of Spring Airlines, Zhang Xiuzhi, has set the bar high. She began learning English "from scratch" 18 months prior to her interview for this film. Like the majority of other language learners, the main stumbling block for the CEO is finding enough time to study. Zhang takes English homework to bed at night and even studies in her car.
Nobody's there to judge you or to make fun of you if you make a mess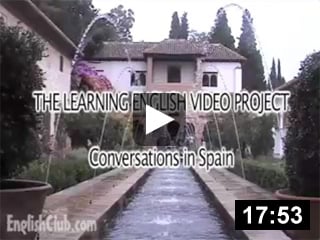 This film starts with a school director whose British father opened the first English language school in Granada in 1954. In this candid interview, the director explains why the first students were predominantly women. The second conversation features an Italian architect visiting Madrid on business. This advanced English learner shares his English learning journey, and reassures other learners that "nobody's there to judge you or to make fun of you if you make a mess." The film wraps up with a conversation with a native Spanish resident of Madrid who teaches English. She sheds light on the structure-based English education system in Spain and expresses her frustration that 13 years studying English does not qualify her as an "expert".
What I did in the past was to study English about two hours per week, and it wasn't enough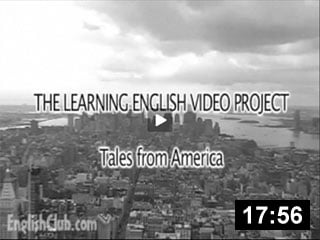 This film is set in New York City. While the learners in
Tales from America
describe New York as "big", "unbelievable" and even "lonely" at times, Emmerson uses the words "busy", "vibrant" and "very multi-cultural". The film profiles a handful of learners from diverse backgrounds, including students from Argentina, Austria and South Korea. One of the main messages from the film is that learning English is becoming a necessity in many parts of the world. Interviewees agree that whether you are a translator, a computer engineer or a yoga instructor English is an international language that people "need" in today's job market.
Do what you like, and if you like learning English do it for the sake of it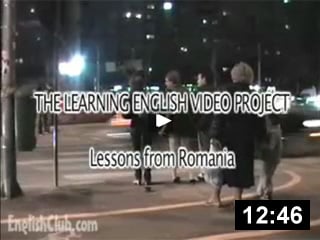 When Emmerson and his co-producer Joel Carr arrived in Bucharest, they were immediately energized by the "phenomenal" level of English. This caused them to focus on the question, "Why do young Romanians speak English so well?" In the opening sequence of
Lessons from Romania
a native Romanian English teacher explains how the end of the communist period brought with it a major shift from traditional methods of teaching to a more communicative approach. While the change has been mainly positive, there is some concern that important building blocks from the Grammar Translation system are now missing. Teacher Joanna Stoicescu says that young students are very fluent but they "tend to have problems with stuff like grammar and vocabulary."
Everything is possible as long as you put your mind to it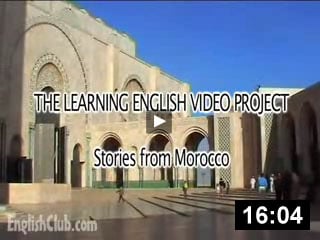 Set in Casablanca, Morocco, this film features footage and interviews focusing on key questions such as "Why are people learning English?" and "What tips and advice can learners offer?" Staff and learners discuss the advantages and challenges of English language learning in Morocco. Interviewees touch on a variety of topics including British vs. American accents, multi-level classrooms, and the similarities of English to French and Spanish.