Prepositions beginning with R
One-word prepositions
re
Re: your letter dated 21 May
I want to talk you re the proposed meeting.
regarding
I would like to speak to you regarding my homework.
Regarding John, let's talk later.
respecting
I would like to speak to you respecting my homework.
I am writing to you respecting our latest products.
round
I live round the corner.
They all sat round the fire.
There is a hedge round the house.
Complex prepositions
regardless of
I don't want it, regardless of the price. Even if it's free, I just don't want it.
---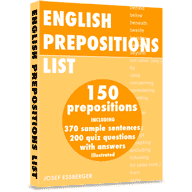 For a full list of 150 prepositions, try this ebook,
English Prepositions List
by EnglishClub founder Josef Essberger.
includes one-word and complex prepositions
370 example sentences
200 quiz questions with answers
immediate download to your computer
read on your computer or print out on paper
works on Windows or Mac