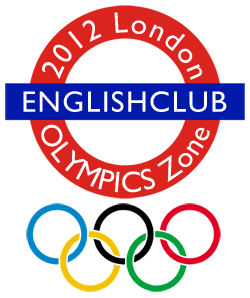 Welcome to the EnglishClub 2012 London Olympics Zone!
Are you getting excited about the 2012 London Olympic Games? Everyone here at EnglishClub is! Check out our fun and informative Olympic Games Zone and find useful vocab, interesting facts, fun quizzes, and lots more!
(Worksheets for teachers are here.)
I. The London Olympics
Facts and Figures (with Vocab and Quiz)
Find out lots of interesting stuff about the London Olympic and Paralympic Games.
Venues and Village (with Vocab and Quiz)
Learn all about where the events are being held, and where the athletes are staying.
Olympic Sports (with Vocab and Quiz)
Read about the sports being played at the London Olympics, and find out more by clicking on the links next to London Olympics logo above.
II. The History and Spirit of the Olympic Games
The Ancient Olympics: Beginnings in Greece
Find out all about the origins of the Olympic Games.
The Modern Olympics: Olympic Games Revived
Learn all about the modern Summer Olympics, Winter Olympics and Paralympics.
People of the Olympics
Read about the athletes, trainers, officials and all the others who make the Olympics happen.
Olympic Dreams
What is it that inspires athletes from all over the world to spend years training for the Olympics?
The Olympic Spirit
Find out what the Olympics Games are really meant to be about.
Olympics Quizzes
After learning all about the Olympics, test your knowledge with these fun quizzes.
III. More Sports Vocabulary and Idioms
Sports Vocabulary
Many useful words are listed here, with example sentences and definitions.
Sports Vocab Quiz
Test yourself on the words we typically use to talk about sport.
Sports Fact Quiz
Tests knowledge of the sports listed next to the London Olympics logo above.
Sports Idioms (with Quiz)
Get a head start learning lots of English idioms that originated in sports.
More Sports Idioms (with Quiz)
Twenty more idioms based on sports in our English Language Reference section.
Sports Idioms Quiz 1
You'll be ahead of the game if you can answer all these correctly.
Sports Idioms Quiz 2
More sports idiom questions and the ball's well and truly in your court.
---
Olympics section written by Matt Errey for EnglishClub.com
---