TALKING POINT
Discussion | Homework
Your own page with blogs, photos, videos, chat and more...
This Week in History 🔊

1945: USA Drops Nuclear Bombs On Japan
The USA drops atomic bombs on two Japanese cities at the end of World War II.
For Teachers: TEFL Articles Essays and articles related to teaching English as a second or foreign language. If you wish, you can submit an article for publication
For Teachers: Animal Body Parts Activity Sheet Whilst animal names may seem relatively easy to remember compared to other aspects of English vocabulary, the same cannot always be said for the parts of their bodies. And animal lover or not, you've got to admit that some of these words are pretty handy to know. The exercises in this activity sheet help to familiarize students with Animal Body Parts, offering them fun and varied practice through an array of written and spoken exercises.
Expressions Quiz: Conflict You can do this quiz online or print it on paper. It tests comprehension of common English expressions used when talking about dealing with conflict.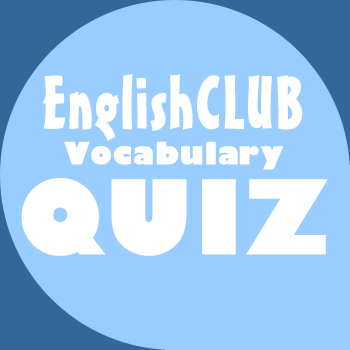 Listen&Learn: Joan of Arc Learn about the young girl who led the French army in battle.
12 Fun Recommendations Activities Stimulating classroom practice of asking for, giving and responding to personal recommendations, including recommendations games and ways of combining recommendations with other kinds of language.
Teachers: Top 5 Strategies to Better Connect with Your Students The following five strategies to better relate to your students will pay off big time by both improving student performance and making your job easier
Listen&Learn: The Bell Jar Learn about famous poet Sylvia Plath's only novel.
How to teach with EnglishClub
ESL or EFL? What do ESL and EFL mean? ESL stands for English as a Second Language. EFL stands for English as a Foreign Language. ESL is used when people learn English in an English speaking country. EFL is used when people learn English in a non-English speaking country. Is this important? Not very, if you are a learner. But there are some important technical considerations for teachers.