English learners speak for themselves in 1st learning English docu series
Press Release 14 April 2009

Cambridge, England April 14, 2009 -- The Learning English Video Project is a first-of-its-kind 7-part series of documentary films about people learning English on 5 continents. Each film features people in 7 countries who have their own methods and reasons for learning English. The series provides a glimpse into the global ESL (English as a Second Language) community. Filmed in Morocco, Romania, USA, Spain, China, Brazil and the UK, the series will be released free online (with and without English subtitles), together with free supplementary resource materials for learners and teachers, so that it can be viewed as pure documentary or learning tool as well.
UK filmmaker Daniel Emmerson and his crew are completing post-production work on "The Learning English Video Project", the world's first documentary series on English language learning. The documentary, which addresses key questions such as "Why is English so popular?", will be released monthly in a free seven-part series on EnglishClub, a free site for learners and teachers of English worldwide. The first film, "Stories from Morocco", will be released in April 2009, followed by films on Romania, USA, Spain, China, Brazil and the UK. The series was designed as a resource for English learners, including those interested in studying abroad, and will be available with and without English sub-titles. During their travels, Emmerson and his crew linked up with learners, teachers and school administrators from around the world to document the habits, experiences and methods used in English language learning. Interviewees share techniques, tips and concerns about the English learning industry in their own native countries as well as in their experiences abroad. On-location filming started in September 2008. Since December the crew have also been working on post-production.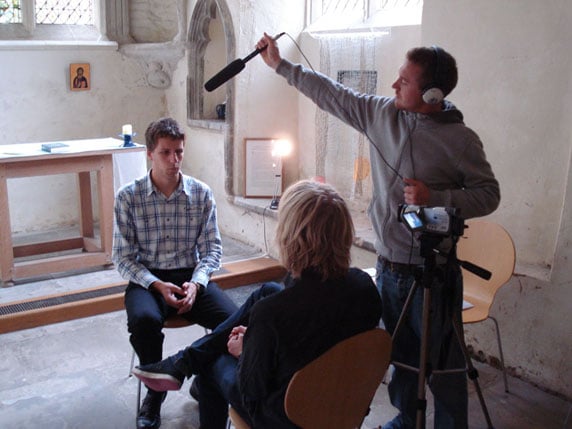 Setting up at the Michaelhouse Centre, Cambridge, UK
Josef Essberger, founder of EnglishClub, agreed to sponsor the entire series, and has been an important partner in each stage of production. As well as planning to host the series for free, English Club has devoted an entire section of its website to the project, featuring such items as the Official Blog, Photo Gallery, Collaborators and Test Audience. In fact participation by EnglishClub members has played an important part in the project from the outset. EnglishClub members and visitors kept in touch with the crew along the way, giving advice and encouragement via comments in the blog and video diary. A test panel was recruited through EnglishClub consisting of learners, teachers and film enthusiasts from around the globe. Says Essberger: "The chosen panel are working with the filmmaker in adjusting the series to ensure that it will be enjoyable, enlightening and entertaining for audiences of all cultures." Like Essberger, Emmerson understands the power of the web in education, saying: "The Internet is such a splendid tool for communicating with people and finding out how people are really doing things differently all over the world. I want 'The Learning English Video Project' to really be a part of that."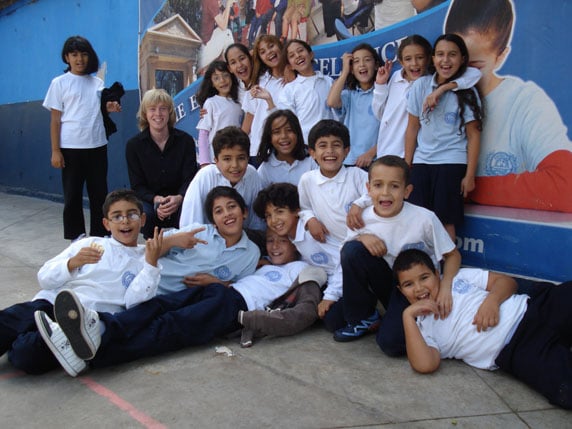 Children from AAC welcome Daniel Emmerson to Casablanca, Morocco
To generate further interest in the film, the crew created a 20-minute "Making of the Project" video, in which Emmerson states his main goal for the film: "Essentially what I want to do is to take the things that we have filmed, to take these interviews and all of this stock footage that we got from each of the cities that we went to, and package it so that people are able to understand why these people are learning English, how they are doing it...and to be able to see a bit of the environment that they are learning in." In the "Making of the Project" Emmerson talks intimately about his personal experience in each location, including places he and his camera partner Joel Carr had never been to such as New York City. The "Making of the Project" provides insight into the crew's unique choices, such as why part of the series documents the experience of a German pastor-in-training working in a Cambridge cafe. Viewers also get sneak previews of Carr's camera footage taken around city sites such as the markets of Casablanca.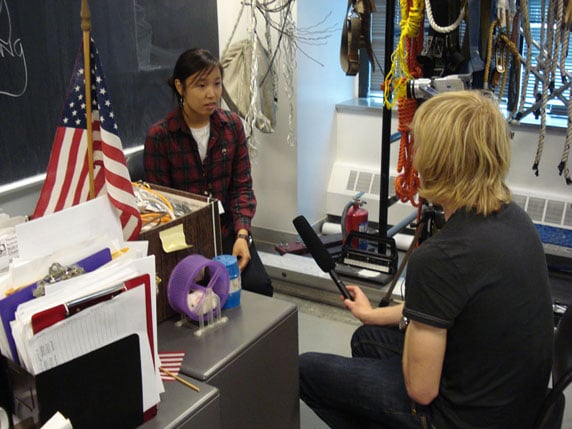 Interviewing an international English student at LSI, New York, USA

As well as editing the footage, and developing a web presence, the film crew have been developing supplementary materials that will be posted on EnglishClub to accompany the film series. There will be free lessons and lesson plans, worksheets and online quizzes corresponding to each film. Teachers or school admins can also print the materials out for use in the classroom. All of the background information from pre-production to launch is available on EnglishClub.

The first film of the series, Stories from Morocco, will be launched on April 21st, 2009, with the remaining six films following monthly. Each film is about 15 minutes in length, with a total series length of 2 hours.