New film looks at English learning in "trilingual powerhouse"
Press Release 19 April 2009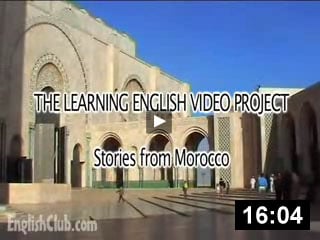 Stories from Morocco, the first film in a 7-part documentary series for and about English learners worldwide, will be released next Tuesday 21st April 2009. Made by independent UK filmmaker Daniel Emmerson and sponsored by EnglishClub, the Morocco installment will be available for free online viewing, with and without subtitles, and supplemented by classroom materials and online quizzes.
Cambridge, England April 19, 2009 -- Stories from Morocco, the first episode of Daniel Emmerson's "The Learning English Video Project", is set for free release next Tuesday 21st April 2009. The independent UK filmmaker and his co-producer Joel Carr are excited to share the first of their 7-part series, which looks worldwide at core aspects of the ESL (English as a Second Language) industry from a learning perspective. Emmerson and Carr were inspired to film the series after completing "Talking TEFL", a documentary focusing on the teaching side of English. Like all parts of "The Learning English Video Project", the Morocco installment will be available for free online viewing with and without subtitles. The remaining six parts, featuring Romania, USA, Spain, China, Brazil and the UK, will be released monthly, all supplemented by photocopiable lesson plans and worksheets, as well as online quizzes, and available free on EnglishClub, the website for learners and teachers of English that is sponsoring the entire series.
The main aim for Emmerson and his crew was to explore various aspects of learning English in different regions of the world. While Morocco may seem an unconventional choice for a film exploring English language instruction, Emmerson had a solid reason for including it: "Situated in the north of Africa and with an increasing tourist trade, the Moroccan people seem to be looking at increasing their bilingual standard into a trilingual powerhouse." As the film explains, the Moroccan dialect is a mixture of French, Arabic and Spanish. The fact that graduates are required to have a good command of English in order to enter post-secondary education could give Morocco an advantage over many other nations whose goal is bilingualism.
On the Learning English Video Project blog, Emmerson describes his crew's whirlwind introduction to Casablanca, which included being "immediately swarmed by reckless hands and fake Rolex watches, beaming faces and bootleg DVDs, a real maze of Moroccan craftsmanship." He goes on to describe the school they chose to shoot in as a "haven", and thanks the staff and students for their assistance with the project. "Not only did the school allow us to spend three full days filming on location with them, but they also provided us with a wonderful selection of enthusiastic ESL students with some fascinating ideas about learning English."
"Stories from Morocco" features footage and interviews focusing on key questions such as "Why are people learning English?" and "What tips and advice can learners offer?" Staff and learners discuss the advantages and challenges of English language learning in Morocco. Interviewees touch on a variety of topics including British vs. American accents, multi-level classrooms, and the similarities of English to French and Spanish. Reflecting on his own experience as a student, the school's co-director Ali Gharbi shares his most important tip for learners, saying: "Everything is possible as long as you put your mind to it."
Blog comments from EnglishClub's learners and teachers suggest a global interest surrounding this segment of the documentary. "Stories from Morocco" and the entire 7-part series will be also be available on DVD for special educational purposes.
"I really enjoyed my time in Morocco because it was just that much different from everywhere else we went. Everything from the climate to the people, the environment, the markets, the beautiful streets, the people that we met - some of the students took us into their homes and gave us vegetarian food! It was absolutely superb. I felt really, really welcome in Morocco."
This first film of the series, "Stories from Morocco", will be launched on April 21st, 2009, with the remaining six films following monthly. Each film is about 15 minutes in length, with a total series length of 2 hours.