The Euro
€
The following European Union countries, in which the euro is the official currency, are collectively known as the Eurozone:
Austria
Belgium
Cyprus
Estonia
Finland
France
Germany
Greece
Ireland
Italy
Latvia
Lithuania
Luxembourg
Malta
Netherlands
Portugal
Slovakia
Slovenia
Spain
The euro is also used by a few other European countries, with and without formal agreements.
The euro (currency sign €) was first adopted on 1 January 1999. Euro notes and coins came into circulation on 1 January 2002. One euro is divided into 100 cents. The official abbreviation/code for the euro is EUR.
By 2009 the euro had surpassed the US dollar as the currency with the largest combined value of cash in circulation (over €750 billion).
Euro Coins
Each euro coin has the European Union flag on one side, and on the reverse a national symbol of one of the participating countries, such as the King of Spain on Spanish euros and the Queen of the Netherlands on Dutch coins. Any coin can be used in any of the participating countries, regardless of the national symbol. There are eight euro coins in the following denominations: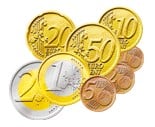 2 euros
1 euro
50 cents
20 cents
10 cents
5 cents
2 cents
1 cent
Euro Notes
Euro notes feature images of gateways and bridges to symbolise Europe's architectural heritage and the idea of union. Euro notes are exactly the same in all participating countries. There are seven euro notes in the following denominations: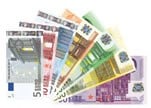 500 euros
200 euros
100 euros
50 euros
20 euros
10 euros
5 euros
Euro Symbol
€
The symbol for the euro—shown above—is like a round E with two horizontal parallel lines. The inspiration for this symbol was the Greek letter epsilon (a reference to Greece as the foundation of European civilisation). The parallel lines are intended to represent the euro's stability.