ESL Video downloads
Learning English Video Project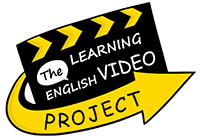 The Learning English Video Project is a series of seven films designed especially for English learners. To view the films, you can watch them online or download them free to your computer from the links below. There are several advantages to downloading the films, especially for teachers:
better play quality
you always have the film available on your computer, without worrying about Internet or dropped connections
easier pause, rewind, replay, fast forward
To download, click on a film, with or without subtitles (subs). This will download a .mov file to your computer which will play in the free QuickTime player.
Encounters in the UK with subs
(click to download .mov file)
Encounters in the UK no subs
(click to download .mov file)
Thoughts from Brazil with subs
(click to download .mov file)
Thoughts from Brazil no subs
(click to download .mov file)
Insights from China with subs
(click to download .mov file)
Insights from China no subs
(click to download .mov file)
Conversations in Spain with subs
(click to download .mov file)
Conversations in Spain no subs
(click to download .mov file)
Tales from America with subs
(click to download .mov file)
Tales from America no subs
(click to download .mov file)
Lessons from Romania with subs
(click to download .mov file)
Lessons from Romania no subs
(click to download .mov file)
Stories from Morocco with subs
(click to download .mov file)
Stories from Morocco no subs
(click to download .mov file)