10 Must-Watch YouTube Channels for ESL Learners
Andre Oentoro
Thanks to the internet, specifically some YouTube channels in this article, you can now learn English online with e-learning videos. What're your favs?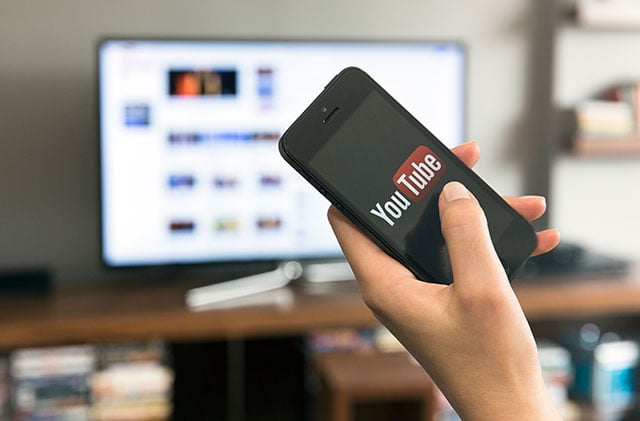 In today's digital world, technology integration allows for limitless learning. Thanks to the internet, you can now learn English at your fingertips.
We've talked about learning English with podcasts and TV shows before. Now, we're diving into learning English with e-learning videos.
On YouTube — the home of videos, you can find a variety of channels that help you to develop your English skills while being totally entertained and accompanied at the same time.
With those interactive videos, you can "sit-in" on every lesson from anywhere at any time and might as well learn at your own pace, play the videos, pause it, and rewatch it, until you have a solid grasp on the concept.
While it's hard to find the true gold among a bunch of videos that show up in searches, we'll tell you some of our favorite YouTube channels to learn English effortlessly.
1. EnglishClub
EnglishClub provides you with a variety of ways to learn English on its channel. From songs to chats, this channel offers you lessons in a fun, engaging way.
EnglishClub shows that learning English doesn't have to be all complicated and daunting. With short and simple videos, you can memorize the words and distinguish them more easily and quickly.
This channel is suitable both for elementary school students and adults that want to develop their English skills in such a light-hearted way.
2. Learn English with EnglishClass101
This channel is pretty rich in content. Whether you're preparing for TOEFL or just improving your conversation skills, this channel offers you the content you need.
Learn English with EnglishClass101 also offers you 24/7 live streaming, so you don't have to be confused about what video you should begin with.
In this channel, you'll meet Alisha, who guides you through the lessons. From vocabulary to actionable tips, she'll help you to improve and develop your English skills seamlessly.
3. Learn English With TV Series
If you love watching TV and want to learn English at the same time, then you'll love this channel. Learn English With TV Series allows you to improve and practice your listening comprehension using your favorite TV shows or movies.
It breaks down vocabulary on the TV shows or movies and gets more in-depth about it. You'll know how native speakers really pronounce the words and what they actually mean.
Overall, this channel provides you with dynamic English lessons with some everyday humor and real-life examples of English pronunciation, vocabulary, and grammar.
4. JamesESL English Lessons
When you learn English with James, it's like you're learning from a friendly, easygoing mentor. He teaches you English using a whiteboard so it can put you in learning mode as if you're in a class.
James provides lessons that are 10-30 minutes long and focus on subjects such as pronunciation, phrasal verbs, vocabulary, and grammar usage.
The videos on this channel cover a variety of practical tips and clear instructions. JamesESL is a great resource for learners from any country.
5. Shaw English Online
Shaw English Online is like your online English course — except it's free. You'll meet some teachers that will teach you the lessons.
From grammar lessons, conversations, pronunciation, those teachers help you in making your English better and more natural.
There are hundreds of English videos you can watch. Not only lessons or courses, though, this channel also includes podcasts and Q&As so you can get actionable tips from the experts.
6. English with Lucy
If you want to learn more about British English, then you should check out English with Lucy. Learning English through this channel is like learning with your friend as Lucy brings a quirky sensibility to learning English.
Her lessons are informative, practical, and a lot of fun. The lessons are delivered in an engaging way using casual and conversational words so you can digest the concept much better.
In this channel, you'll learn how to pronounce words, use phrases, learn new vocabulary — all of them in British English. You can also watch some fun videos of Lucy and friends that compare English accents and slang from different English-speaking countries.
7. 7ESL Learning English
7ESL Learning English provides a compelling way to improve English skills using animations. As an ESL student, you must've noticed that learning English is much more than memorizing vocabulary and studying grammar.
You also need to be familiar with idioms and expressions to sound fluent. In other words, you need to understand the language structure.
This is what this channel aims for — to help you get to know new cultures and think in English.
8. Oxford Online English
Oxford Online English is a UK-based channel that spoils you with premium-quality online English lessons to suit your needs.
This channel provides not only basic lessons for beginners but also advanced tips for IELTS, Cambridge B1 Preliminary exams, Cambridge FCE (B2), and more. That's what makes this channel suitable for both beginners and advanced ESL learners.
There's a new lesson every week so you won't run out of lessons.
9. Easy English
As the name suggests, Easy English makes learning English easy. With cartoon animation, the lessons are easy to understand for almost everyone. They mostly contain conversations on various topics that will help you improve your vocabulary.
The videos stage skits where the cartoon characters simply have a common everyday conversation about a certain topic in a specific situation. There are also subtitles to help you understand better what they're talking about and what the uncommon words mean.
10. Rachel's English
Rachel's English focuses on American pronunciation. Since the owner, Rachel, has a background in classical singing, she brings her expertise of voice and pronunciation to her channel.
There are many easy-to-follow tips and instructions that can improve your pronunciation and shape the way you talk. They help you pronounce words properly.
This channel should be your go-to if you want to refine your pronunciation and speak American English just like a native speaker.
Wrapping Up
Now that ESL/ELL teachers have been willing to turn the cameras on themselves and teach you online — for free, you can find thousands of lessons to help improve your English on YouTube. So if you want a quick and easy way of learning English, then the platform is one of the best places to go. In the platform, you'll know how words are really said by real people and what expressions they use. That way, you won't only learn new vocabulary and grammar, but also understand how English speakers talk and interact.
Written by

Andre Oentoro

for EnglishClub
August 2020
Andre Oentoro is the founder of
Breadnbeyond
, an award-winning explainer video company. He helps businesses increase conversion rates, and get positive ROI from explainer videos (in that order).
9 comments
Rami Patsen says:


I am a subscriber to the EnglishClub (I found your site on YouTube exactly) and JamesESL channels. These resources are my favorite! American English is more relevant to me and I enjoy the way the hosts talk. And learning through watching videos can really be fun.

Noorul ameen says:


Thanks a lot to introduce me these…..

Bijan says:


THANK YOU SO MUCH,

Bijan
The King Of Love From IRAN wishes you Peace & Love

Elias Gasparini says:


Your article is priceless. It can change a student's life.
Thanks Gracias Obrigado …

Rose Lewis says:


Is it possible to have an Australian accent site too please? I have foreign friends intending to study in Australia next year and they would like to become familiar with Australian English.
Thank you.
Rose Lewis

Silvia Girimonti says:


Excellent article! I recommended in my blog, hope my students find it so useful as I do. Cheers!

Adele du Toit says:


This is awesome, thank you for sharing it! So many options to choose from, I love it!!

David Martín says:


Thanks for the info! It's really handy!

Thein Htike Aung says:


Thanks for the English YouTube channels. I hope I would keep those up to get the most out of them.