5 English Podcasts You Should Listen to in 2020
Marijana Dojcinovic
The article is about the amazing benefits of podcasts. It also suggests which podcasts to listen to when learning English.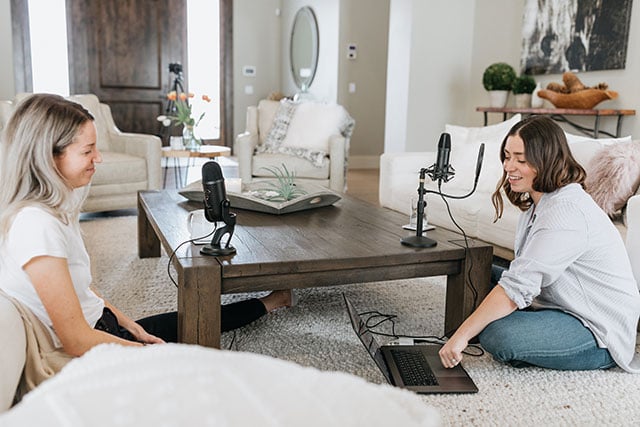 As much as interaction with English tutors can be quite effective, there are many other productive ways of improving your English skills.
One of the best ways to learn English on the go is by listening to podcasts.
Thousands of podcasts are available, many of them are free, but the question is: which ones are worth your time? Which ones are really useful and helpful when it comes to language acquisition?
To save your time, we found the best English podcasts you should listen to.
How Can Podcasts Help In Learning English?
English podcasts are an excellent way to learn and improve your English.
Thanks to them, you can quickly boost your listening as well as reading skills because most of the podcasts are followed by transcripts.
Even though you can listen to PC, tablets, or any other device, people mostly use mobile phones. That way, you can listen to podcasts whenever and wherever you want.
Podcasts are useful simply because you can hear conversations between native speakers in some real-life situations. Therefore, besides listening skills, you can learn and improve your pronunciation, too.
1. All Ears English
For those who want to learn words and phrases in American English, this podcast is perfect.
Hosts of this podcast, Lindsay, from Boston, and Michelle, from New York, are ESL teachers who encourage their listeners to speak the language every time they get the chance.
Episodes last 10-15 minutes. During that time, they focus on the vocabulary people use every day, explaining some common idioms and phrases.
They also tend to explain and teach people about American culture as well, showing their listeners what their motto is: 'connection, not perfection.'
The overall impression of this podcast is quite positive so you should definitely check it out.
www.allearsenglish.com/episodes/
2. 6 Minute English
Produced by BBC since 2014, this podcast is for those who don't have much time to study English. Like the name, 6-minute podcasts are a typical example of how you can improve your British English.
Podcasts are in the form of news, and even though it's slower than usual podcasts, episodes are ideal for intermediate learners.
Along with episodes, there are vocabulary lists and transcripts available.
www.bbc.co.uk/learningenglish/english/features/6-minute-english
3. Learn English Podcasts
If you are a beginner and you want to learn British English, then this podcast is the right one. It's especially ideal for A1 to B1 learners.
It's produced by the British Council, and about 80 episodes are available for free.
In every episode, the host talks with different people and covers different, everyday situations.
This way, you can boost your vocabulary and improve your listening skills.
Every episode is followed by a transcript and interactive exercises to practice.
The app is available on Google Play Store:
play.google.com/store/apps/details?id=hk.hkbc.epodcast&hl=en
4. Overheard At National Geographic
People sometimes forget that many advanced learners would like to maintain their level of English, or even improve it.
National Geographic, American magazine, and TV channel about geography and environment established an ideal podcast for advanced learners called 'Overheard at National Geographic.'
These podcasts contain quite entertaining stories about scientists and explorers.
If you want to get to know our planet better and to improve your English even more, this is the podcast for you.
www.nationalgeographic.com/podcasts/overheard/
5. Luke's English Podcast
When you are a teacher by day and a stand-up comedian by night, it goes without saying your podcast will be unforgettable. Luke created a podcast that makes learners burst into tears while learning English.
His podcast is called simply 'Luke's English Podcast.'
There are different topics where Luke explains tips and tricks about British English, and every single one of them is even more entertaining than the previous one. For each episode, you can download a transcript.
Besides his website, download is available on Spotify and iTunes.
Final Thoughts
Whether you are a beginner, intermediate, or advanced English learner, podcasts can be useful material for improving your listening and conversational skills.
Choosing your own path of learning English, whenever and wherever you want are only some of the advantages.
This way, not only are you learning something useful, but you are also having fun at the same time.
All you have to do is to pick one that seems right for you and download several episodes. If you aren't sure which one is the best for you, you can always check in with your English tutor for help.
And then your journey to fluency can start.
Written by

Marijana Dojcinovic

for EnglishClub
August 2020
Marijana is a content writer at
Justlearn
and a language enthusiast. She speaks 4 languages and enjoys sharing her tips and tricks with other learners.
2 comments
Adele du Toit says:


This is absolutely the best English teaching tool of 2020!! What would I do without EnglishClub? Thanks for making my life so much easier!

Bijan says:


Thank you.