Brexit Vocab
/ˈbrek-sɪt/
The term Brexit entered the English language in the year 2012 as a blend of British (or Britain) and exit. It quickly became useful shorthand for "the departure of the United Kingdom from the European Union", and has since spawned many variants and alternative terms, most of them humorous, some of them explored below.
Br

exit = 
British

+

exit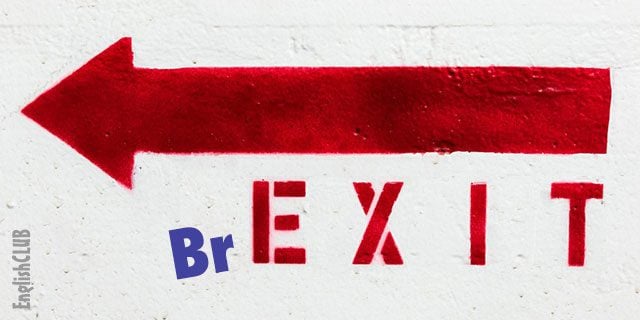 The word "exit" comes from the Latin verb exire meaning "go out" (ex- "out" + ire "go"). It is used in English as a verb and as a noun. Look at these example sentences using the term "exit":
exit (noun):
Walk down the corridor and take the second exit.
England made an early exit from the World Cup.
Where is the fire exit?
exit (verb):
You can exit from the changing rooms.
The bullet entered his chest and exited from his back.
The actor exits the scene at this point.
Combining BRITISH and EXIT gives us the "portmanteau" word Brexit, which is always capitalized to reflect its part-origin as a proper adjective or proper noun (British/Britain). It quickly became part of the language and is widely used in colloquial speech, newspapers, television, Parliament, websites, books and more.
Look at these sentences using Brexit as a noun:
They debated the impact that Brexit might have on the City of London.



It is inevitable that Brexit will reduce the EU's gross domestic product.

Brexit means Brexit.

But note that while Brexit is a noun, Brexit may also be used as an adjective:
They believed that Brexit negotiations would go smoothly.
At the time of writing, the word Brexit has not yet been seen in the wild as a verb.
Varieties of Brexit and Other Variations
bespoke Brexit (noun): a Brexit agreement made-to-measure for the UK and EU, which does not simply copy and paste from trade agreements of other countries (for example Canada or Norway) with the EU
blind Brexit (noun): a vague agreement for a transition period without clearly-defined final terms (which would be hammered out later)
Brexchosis (noun): a feeling of despair among those who voted to stay in the EU
Braccident (noun): the possibility of Brexit occurring unintentionally, "by accident"
Brexiety (noun): a state of anxiety about Brexit experienced by Brexit opponents
Brexit (noun): British exit from the European Union
Brexit Day (noun): 29 March 2019 – the date of the official departure of the UK from the European Union (at 23:00 hours)—followed by a transition period until the end of 2020
Brexiteer also Brexiter (noun): a person in favour of the UK leaving the European Union
Brexodus (noun): a higher than usual number of EU nationals emigrating from the UK
Brexthrough (noun): sudden progress in UK-EU negotiations (hardly used)
Brino (noun): Brexit in name only
hard Brexit also clean Brexit (noun): Brexit
no deal Brexit (noun): Brexit without any final agreement
regrexit (noun): a supposed regretting of the decision to vote for Brexit
soft Brexit (noun): a watered-down agreement leaving the UK half-in and half-out of the EU
Possible Exit Terms for Other EU Countries
Many possible tongue-in-cheek variations have been proposed, such as:
Austria
Belgium
Bulgaria
Cyprus
Czech Republic
Denmark
Estonia
Finland
France
Greece
Ireland
Italy
Latvia
Malta
Netherlands
Portugal
Slovakia
Sweden
exit (verb): go out; leave a place
exit (noun): way out of a building, room, airplane etc
blend (noun): a word made from two other words
spawn (verb): release and deposit (a lot of) eggs (of a fish, frog etc)
shorthand (noun): a type of rapid writing for taking notes quickly
portmanteau word (noun): a word that combines the sound and meanings of two other words
colloquial speech (noun):  informal speech or speaking
bespoke (adjective):  made-to-measure; created just for one person or thing
tongue-in-cheek (adjective): not serious; in an ironic or insincere way
Do you have any ideas for Brexit-type names for other countries? Feel free to leave your ideas, comments or questions in the comments box below.
See also:
Written by

Josef Essberger

for EnglishClub
September 2018
Josef started teaching English as a foreign language in 1991 and founded
EnglishClub
for learners and teachers in 1997.
9 comments
Elborg says:


What a brilliant article, thank you! Here in Spain people sometimes call for a Spexit.

Md Alimur Rahman says:


splendid

Mohamed Souissy says:


Thanks Joe. It should also prove very helpful if book publishers could provide in published academic English books the precise phonetic / phonologic transcriptions of writers' surnames ( alongside such names ) in the same way /ˈbrek-sɪt/ ( for the word BREXIT ) was done in your article.

Mir Quasem says:


Brilliant–really Brilliant.

Joe says:


Thanks Tatyana! I didn't know the "Crexit" one, but it makes perfect sense 🙂

Tatyana says:


Thank you very much for good article! When Crimea left Ukraine after referendum, a British politician from the UKIP party used the 'Crexit' noun for the first time. Crimean Exit = Crexit

Joe says:


haha Nice one Tony 🙂

Tony says:


Poligone (Poland)

Bijan says:


Thank you so much,
Bijan