Asia-bound Teachers Face Airport Grammar Tests
Students worldwide unhappy
Fact checked by Dr Fasihpusih
CAMBRIDGE, UK (EnglishClub.com) Friday April 1, 2011 — Foreigners travelling to Southeast Asia to teach English may soon face strict screening procedures upon arrival.
The newly-proposed measures include grammar, spelling and IQ tests, hygiene and personal grooming assessments, as well as mandatory on-the-spot drug tests utilizing state-of-the-art urine-testing kits.
The measures, proposed by education department officials in the Association of Southeast Asian Nations (ASEAN), are intended to prevent large numbers of unemployed foreigners from countries including the US, the UK and Australia from flooding the local job market in search of employment as "native English teachers".
ASEAN is following up on its recently-announced single visa plans. Under proposed new arrangements, foreigners wishing to teach English will be thoroughly screened both before and after arrival, but once admitted will be able to teach in any of the ten ASEAN countries (Brunei, Cambodia, Indonesia, Laos, Malaysia, Myanmar, the Philippines, Singapore, Thailand, Vietnam).
Under the scheme, TEFL (teaching English as a foreign language) teachers from outside ASEAN will receive an Alien Teacher Fitness Certificate (ATFC).
Teacher representatives have reacted angrily to the ATFC process which starts with police background checks followed by on-the-spot tests at the airport that include basic English ability, drugs and personal hygiene. Brian Pullman of TEFLA (Teachers of English as a Foreign Language in Asia) called the procedure "degrading and racist".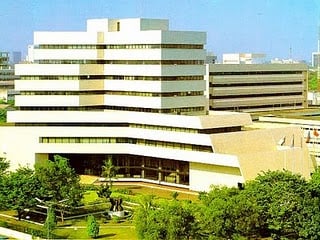 Fatima Fasihpusih, an official at the Jakarta-based ASEAN Secretariat (pictured left), insisted the requirements were needed: "As a result of high demand for English, relaxed entry requirements and poor standards of TEFL training, we have been receiving the dregs of the Western world, many of them drop-outs who would be unemployable in their own country. It's up to us to raise the bar."
Analysts say many foreigners who find employment as English teachers are unable to find work in their own countries and could be denied the opportunity to live and teach in the world's fastest-developing region.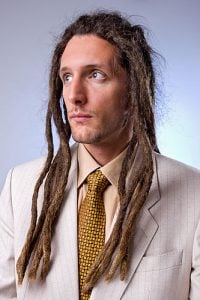 TEFLA spokesperson Brian Pullman: "degrading and racist"
"Some of our members are totally dependent on the money they earn teaching in ASEAN and send home to their families," said American Brian Pullman in a phone call. "Many could not afford the fee for the so-called fitness certificate, let alone all the costs they'd waste if they failed. Students have already told us it's not fair."
Ms Fasihpusih defended the proposals, saying they would be positive for "genuine, high-calibre" foreign teachers as they would be able to move freely between ASEAN countries with no further visa or Teacher Fitness Certificate requirements.
Asked why the tests could not be done before arrival – so saving teachers who failed the cost of travel and accommodation – Ms Fasihpusih said: "Apart from police background checks, all tests must be done within ASEAN to ensure transparency and accuracy of the results." According to documents released by the ASEAN Secretariat, all applicants must enter ASEAN at a designated "Point of Entry" (POE), which will be a major airport in almost all cases.
Ms Fasihpusih denied rumours of a mandatory delousing procedure for foreign teachers on arrival at the POE. "There is no truth in that. IQ and urine tests yes, stool tests maybe, but we will not be going so far as delousing. That's silly."
The IQ (intelligence quotient) tests reflect a real concern in ASEAN nations over social order and stability. In a recent article in the Thai language newspaper Thai Post, Dr Metha Winyou wrote: "The IQ test will be important because there is evidence of low IQ among the sort of foreigners who teach English here. They often do so because they cannot do anything else. Many have social problems and are unable to hold down a job. People like that are prone to violence and irrational, anti-social behavior – which causes serious problems locally, both for our police and for our young people."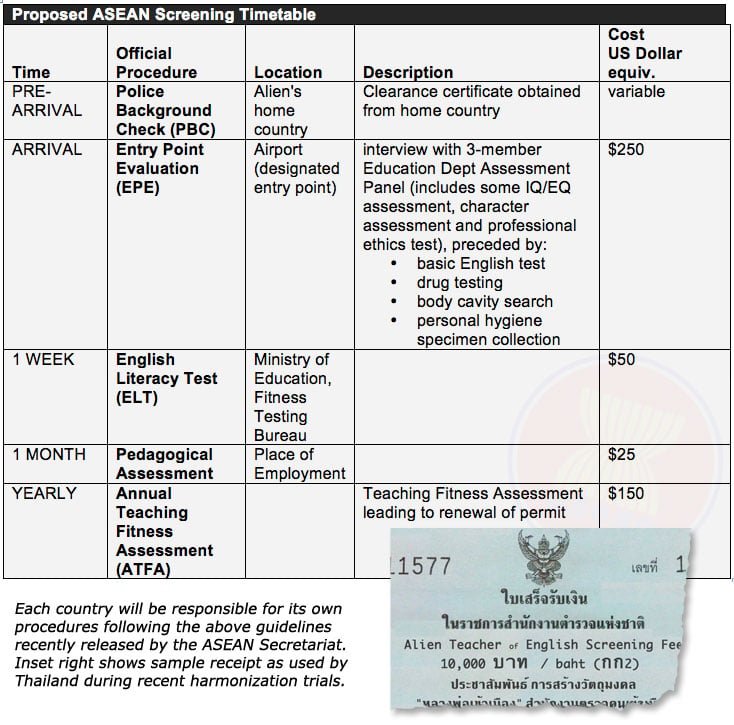 Echoing Dr Winyou's concerns, ASEAN officials cited recent research that has found many Westerners are turning to teaching English abroad after failing to find employment in their own countries. This was due to a range of factors, researchers found, including low IQ levels, poor social skills, inadequate personal grooming and alarmingly low levels of personal hygiene. Their resulting exclusion from the workforce, and from mainstream society in general, can lead to anti-social attitudes, mental-health issues, and serious abuse of drugs and alcohol. For many of these "sub-standard" individuals, teaching English abroad remains one of the few employment options still open to them, and it is these undesirables, ASEAN officials maintain, that the new procedures are intended to screen out.
Andrea Madding of the EL chain of language schools welcomed the proposals, saying that local teachers of English were often better than American or British teachers.
"It's hard to believe but in one recent survey 12% of foreign English teachers were found to have a significant degree of literacy deficit," she said. "We're talking about native-speaking English teachers being borderline illiterate. Clearly an absurdity. Though not so surprising considering the news about the Dutch doing better than the British at IELTS. Visiting English teachers definitely need an upgrade."
She denied suggestions that EL had lobbied for the proposals because of the lower salaries that local teachers receive [about 30% that of foreign teachers].
Once through the initial assessment phase at the airport, teachers will take an English Literacy Test one week later and have a Pedagogical Assessment after one month. Once the ATFC is granted, it can be renewed annually and used anywhere within ASEAN.
Officials were unable to quote a target date for implementation of the plan. Based on past experience of similar ASEAN harmonization moves it is likely to be some years before the plan takes effect, though a partial pilot scheme will be rolled out in Thailand early in 2012. Observers from the European Union and other blocs will be attending to assess the potential for similar regulations in their own regions.
---
Ad: Word Up – The world's most popular ESL board game
---
Govt. Health Warning: This article was published at 12:01 am GMT on April 1st, 2011. It is of course an April Fool's Day hoax and should not be taken on an empty stomach.
105 comments
Paul Jones says:


It's an April Fool's joke, people (notice the date of the report).

Eaj Krap says:


FAAAAAAAKE

Link Wray says:


Trung Hieu. Ah, finally some good 'ol fashioned Viet racism. Onya Hieu!

Jeff says:


"better late than never!"

Jeff says:


An invitation never goes without notice. Yo what up Trung Hieu? Why don't you lobby against foreign teachers in your own country. I live in a global world. I don't need to prove my qualifications, or pretend I don't speak as good as a person who thinks they are the bomb because they went to one of the best schools. "I am what I am and I don't need excuses."

PS. Why don't they propose sobriety test for all teachers, and sobriety checkpoints in the schools to be certain that drunkards are not teaching the children. Next, they'll be advertising for christian couples only…oops. they already do.

PSS…call me if you are offering me a job. If I have to have somebody looking in my cavity, it may as well be my future employer, not just my lover..

🙂 I wold argue that backpackers has become a dirty expression, a bit like the Keebler elves at the fudge packin' station

Jeff says:


Hope you all feel better making fun of foreigners, or should I say, hop ya'll feelz badder makin phun of us literate mericans and british who screw so much in hotels we all need a good spray down at teh airpot. well, keep yo hand out of ma anal cavity and I'll keep my mind on teaching yo kidz english and not thailish, chinglish, or malayish.

Jyothi Ramaiah says:


I agree with the idea although some of the issue are not relevent and i am Glad Asia is standiong upto the foreigners whose first language is English and think they are experts in the language I was dissapointed when i first came to live in UK to listen to thier poor grammar and pronounciation and shocked to know many could not write proper sentences and thier spelling is autrocious.If not majority most of the educated Asians have good command of the language learnt grmamatically and spelling is drilled in us .

nadira says:


was it an April fool joke?

Gopakumar says:


Avery good move. I have been teaching English at different levels for about four decades. Three years ago I had a young British man to help me.He had done his TEFL.Sadly,his spelling,personal hygiene,maturity and the attributes of a teacher were all missing in him.I think many others had similar ENGLISH TEACHERS and hence,though belated, this move.

Trung Hieu says:


I am an English teacher of Vietnam, I used to work with foreign teachers, I don't like their attitude to us because they usually think they are doing better than us through their behaviors. In fact, the results should be checked who are better. If they are really good enough in their teaching, why don't they teach their students in their own countries!!!!!!!!!!

Robert Eller says:


I am NOT an English teacher, but my wife and I own an Info Tech/English school in Brazil. I am from California and I am retired and living in Rio De Janeiro. My wife is from here. Ive been reading this story with great interest. I have to agree, that the methods being employed are a bit harsh. Kind of an "over reaction" to, what seems to be" a very real problem. If the kinds of issues they are experiencing there are really occurring, then they absolutely need to have some set standards and procedures for screening potential teachers. HOWEVER, its not necessary to undermine peoples dignity. Be professional and courteous. I can also say for certain, that teaching English is very difficult work. Teaching ANYthing is difficult work. Ive actually spent time teaching in our classrooms and it is just draining. How do you keep your morale up when nobody seems to listen or want to participate. We are constantly trying new methods and special activities and programs too keep our students in their seats. So when I read here about "itinerant" teachers making a mess of the system, I can fully empathize with these countries plight. But again, your dealing with human beings and not cattle. professionalism. Always. Cheers all!!!

Rosanne Briones says:


I think Dr. Metha Winyou is right and….the difference of the culture of the teacher from the student can really affect the the teaching of the teacher and the learning of the students.
In some way I agree with Douglas Quinn

Shannon Garcia says:


I don't think this article is all bad. I think if you want to be a teacher and be respected you need to be professional. I think it is very good idea to have all the background checks done. I know I wouldn't want my kids being taught by just anyone. It could be a sexual molester or a crazy person going in. I think that the United States as well as other countries should also make it a requirement for individuals coming into the country to be checked out to a certain extent. As for the money, they should make some kind of deal out so that it works for all involved. It isn't good when people are out money, but if they aren't credible than they need to be checked out which takes money. I think having to pay would discourage individuals from trying to get into a different country if they weren't credible individuals. I think that the only individuals that should be allowed to do any teaching at all should be one that truly care about the students and want to see them learn.

Heart says:


Douglas Quinn,
I agree with you…

Adrian Pastorello says:


Slobbish teachers, slobbish dress, slobbish work potential, slobbish food consciousness, slobbish accommodation versus brainwashing, Chinese Communist military regimes. For those who think it might be an enlightening experience to acquire a business like attitude, may apply for a job here in Italy.

Douglas Quinn says:


It doesn't matter what test or how many tests are there to take, what matters here is that English has to be taught and English teacher need to understand that, if they are to teach, teaching has to be done in the way it should be, sorry for those so call teachers, and for those countries that hired them. It's clear that there is a price to be paid, after so many years of sacrifice, amounted hours of study, and money, why do we have to face and be humiliated by so many regulations and standardized procedures? There is only one answer to this: "self-consciousness".
The countries on need of foreign teachers have the right to do and ask whatever they want, in the end is you who makes the final move, make your decision and once you get to it, ask yourself this question, do you need to, and do you have to go through this?
Good luck, happy April's fool to all!

candy says:


yes all these tests are needed and even more than that because being a native speaker doesn't mean that you can teach English.I am an Arab but i can't teach Arabic because I don't have a certificate in Arabic literature.And I just want to say that English is taught all over the world just for communication between nations as English is a lingua franca not more than that .Nobody wants to speak it with accent as long as you are understood by others that's all is wanted.

Ekaterina Svoboda says:


They're shooting themselves in the foot.

catcat says:


who would disagree Brian Pullman to receive mental check and delousing procedure on his hair ?

catcat says:


i think it is necessary to implement qualify tests to the masquerade ESL teachers those who are cheating money in the regions , they are rejected in their own country but allowed to earn employments . It is unfair to the students those who pay higher fee to the so-called ESL native English teachers for improving English they long-desired . These Asian countries are already fed up with those masquerade teachers those who also caused social problems in the countries : drunk and rowdy, assaults and drug abuse etc. In terms of racist , it is not uncommon in British, USA, Australia and Europe why it is strange in Asia?

Erwin Alber says:


Brain Pullman would have to shear off his dreadlocks to be considered employable by any school in an Asian country.

Erwin Alber says:


I am partly in agreement with the proposal. At least police background checks are in order, to prevent pedophiles and other criminals from mingling with children.

It should however be enough to be a native Englsih speaker to teach Englsih in Thailand. It is up to the school to make sure the prospective teacher's English is up to standard. Thai schools are simply unable to offer salaries which are high enough to attract qualified teachers. If the proposal is enforced, unqualified English teachers may possibly have to leave Thailand,or ma be unable to enter the country, so that Thailand will be left without effective English teaching, depriving Thai students of English language skills, with dire consequences for an already struggling country.

Mary says:


Happy April Fool's Day.

Tina says:


I think it is high time that ASEAN countries sift the grain from 'the chaff'! In the current times when people across the globe are crossing boundaries looking at employment opportunities, it is not 'racist' to screen candidates for undesirable qualities.I am from India and Hindi is my native language but this does not by any means make me more adept in teaching it than one who may have been qualified to teach it.The disparity and 'racism' arises when it is assumed that native speaking English teachers would be better in making students conversant in the language as compared to their Asian counterparts who have merely learnt how to 'teach' the language.In fact,common errors and misunderstanding is best addressed and clarified by local born teachers, well versed with the cultural and academic ethos of their region.

raul says:


I think tha`s 100% pure bull sssssss!!!!!!!!!!!!!!!!!!!!!!!!!!

Minerva says:


Ja1 Ja! ja! I'd love to meet Mr Pullman…he looks SO sexy in this picture. Happy April's Fool everyone. You did it again!

Rob says:


While I understand the sentiment behind the proposal, I am not convinced that the establishment of a costly bureaucracy to monitor the situation is the answer. The distribution of relevant selection criteria to English language centres throughout Asia (and in the home countries) would surely give some authority to reject the group targetted in this proposal.

My question is : Why do the language centres employ these almost illiterate and smelly applicants in the first place?
– highly experienced and qualified ESL/EFL teacher.

Joanne Curtis says:


April Fool`s Day! Right?

Ali salah says:


I don't believe that!! Too tough!

John Bolt says:


Please may I support "native" English speakers. It must not be forgotten that no matter how good a "non-native" intones, stresses or how high the level of pronunciation their students will sometimes miss out on the "Cultural English" i.e. the evolving language such as:" Your mum rocks!" which is popular with UK children. Another"itchy beard" = lying. "Empowering women" is another. The word "may" used for permission is virtually dead in the UK. "Less and fewer" are constantly confused even by reporters on BBC TV.
This modernisation of English cannot be learned from textbooks.

CJ says:


Ha! All I can hope for is that this is an April Fools Joke or a hoax.

Foreign teachers in China must pass annual physical exams, which are eye-ear-nose-throat-blood test-sonogram-X Ray regimens.

Body cavity and IQ exams in the airport? Woo hoo! No way.

If it were true, I would not teach there.

Hiring is usually done after an interview at the actual school site and either the school or the teacher may find the situation not acceptable. Shenzhen requires a college diploma. I think all that is reasonable.

If ASEAN did this, they would find an insufficient number of applicants would be willing to jump the hurdles.

MMI says:


Even if it is April 1st and this is meant to be a joke, I agree with it. I have been teaching English at a university in Viet Nam for four years and have been horrified by the low standards of many so-called native English speaking teachers here. The Vietnamese are very successful English language teachers and learners, particularly in the areas of English grammar and vocabulary and any native English speaker needs to at least match existing standards.

I was required to have a police clearance and also medical checks before I came here. Police clearances are required for teachers in schools in my home country = why wouldn't they be mandatory in SE Asia?

zulma says:


I'm quiet positive with the ATFC requirements for those who wish to teach English in Asian countries. As a matter of fact, Most of English learners in our country find hard time to understand them when delivering lessons. Because they don't speak Indonesia and they sometimes need to explain grammar lessons in details for better understanding.

Piroska says:


This article is very interesting and is abaut the most actual problem.
In a lot of Asian and European countries very few people speak English.
English is an international language in science,technology,art,tourism
and Internet.That's why a lot of people are interested in learning it.
Many Asian people would like to go to work to another countries where
they can't get job without knowledge of English.So,they try everything
to learn it.Perhaps there are not local teachers and they employ
unknown adventurer jobless "ESL teachers."
I agree with the idea that must control their education,apperiance,behavior and health.There are a lot of methods
to do it.But cavity test is humilitation for people.It's a bad joke.
Insted of planned regulations it would be better if the European Union
give financial support for the Asian people to help to study free
English language where earlier teaching of foreign languages depended
on political circumstances.Where the compulsory second language
teaching was determined with whom were they in union.

education,apperiance,behavior and health.They can be sometimes
dangerous if they work with children.
There is no problem with tests which control

Serge says:


For some strange reason there are people in the world who think that if they can speak English then they can teach it to the local natives! Are these people really qualified to do something such as this simply because of the fact that they are "native speakers"?

English 101 at university is not always sufficient as a background to teach in the developing world.Such world travelers who believe that the qualifications that they possess(if any)really should not be in a position to teach in most instances.Obviously the locals have a valid reason to complain.

Unfortunately the really qualified and educated teaching staff have to pay the price for the happy go lucky adventurers who need a job and some quick and easy cash but who lack commitment and adequate training!

maria says:


Not always being a native means being able to teach. To become a teacher you have to study a lot!!! So, I agree because nowadays everybody wants to become a teacher out of the blue!

Irene says:


Whatever is to be taught, there are standards and minimum requirements to render quality education/teaching. Mostly, agree that such control is a good idea; problems arise when the procedures and implementations are politically influenced/affected.

seyma akin says:


It's not that I approve of what's being done. But entering a European country as an Asian is not the easiest thing. Humiliation is almost something regular and normal.

Pablo de Partearroyo says:


Isn't it 1st April today?
It sounds like a typical joke of the day.

Richard A. Nottingham says:


I hope it is not a joke and to suggest that it is seems like an attempt to make the officials look foolish. Standards and better pay go hand in hand. As an older citizen with two degrees and ESL teaching experience, I would welcome such veting for all just to know that I would be assured of being in good company with my colleagues.

Nafis says:


Happy April Fool's day!
hahahahaha…

Aartie says:


I agree completely, teachers should have their degrees and the standards, that the country in question needs.

I do not know where is the problem? Anyone entering the United States is suppose to go through Medical exams , tests and vaccinations and not to say, also undergo Tests like the Toefl, or Cambridge Certificate,tc. etc. if you are going to be an ELL Teacher and have your degrees etc.And everyone is suppose to pay, and it is not cheap. Medical is very expensive in the US. So Asia is just asking the same.

I just do not seem to know where the problem is? They are just asking what Uk and Us asks for. And being respectuful to those people with their ELL degrees.

Ali Malayjerdi Iran says:


At last People in Eastern countries found out that not every lay man speaking English can not be a teacher! Native speakerism is riuning the world of language teaching. I think English is not England or the U.S

Vishwanatha says:


It's great idea to teach English to the so called ASEAN countries, that to from Native speakers. I feel it should be mutual benefits to both the participating countries.

Even it may be April Fool ! I feel you are doing nice job.

Alanna says:


Love the bit about personal hygiene tests. Talk about the pot calling the kettle black!!! That alone should illustrate that it's not a serious suggestion.

Hanane says:


Hi,
My guess was true. It is just April's 1st day joke. But what if these rules were true and teatchers were to set to these rigid measures to be accepted? !! hh hh
no comment!

Caroline says:


Perhaps some of the leading institutions that offer TEFL training might now include courses on basic hygeine? You could certainly develop some good courses on basic bathing techniques, hair brushing, tooth brushing, and appropriate dressing for the classroom. The merits of deoderant should of course be covered. These courses would certainly help prepare potential teachers for the necessary new testing. It's only fair to help train them in these areas as well. These important facets of EFL teachers have long been ignored.

paulo says:


I think, i'm really getting old, i remember when the last people who speak english who invaded these countrys used weapons, rapped the women, and killed the foreigners children….in the Vietnan War
now they they come in misery, searching for job, think twice…who you think is the vilain. Vietnan, Cambojam, and others are realy very good peoples, at all

Adrian Pastorello says:


After thirty years of teaching English in a wide range of fields, international etiquette takes on an important role when introducing mother tongue teachers to the local culture. Being an employer myself, I have had to deal with a long list of so called teachers, each with their own existential crisis. Their inability of accepting flexible hours, refrained them from earning a respectful salary, 200 hundred euros more than the average factory worker.My business depends on our professional skills,customer service and commitment. It's about time this sector became less permissive.

tuấn says:


I think they shoulden`t do the same in the future, but now i think it necessary because anyway, the foreigners who are from countries like USA,UK,Australia…they are native speakers so that their pronunciation, reaction… in English will be useful for someone who is begin to study English

Lynne says:


Body cavity search?? Disgusting!!! I'm over 50 and I certainly won't be applying for any jobs in 'Asean' anymore…..

Surely they can weed out the obvious drop-outs from pre-arrival checks.

Sanjida Rahim says:


I have been waiting for this for a long time as I know that if some one can't secure a descent job in UK, they will apply for TEFL abroad.

It is only fair that students in those countries and any other country for that matter get outstanding teaching.

Maybe the rules are a bit more strict but I don't see why other countries can't ask for screening the same as in the UK.
People with a criminal record( depending on what level and kind of course!, must not be teaching the younger generations of any country on earth!

Chris Blackburn says:


This seems sensible to me. Standards are necessary for teachers.

Cristina Tanase says:


hehehe! cute elaborate hoax =)) Happy April Fool's Day! ;)) Cheers!

Christina says:


I think this is a very smart idea. They require an IQ test so that many teachers do not think that "they have spaghetti trees in Asia" or some other nonsense like "Budapest is in Africa and Europe is a country". It might sound funny but not if you are an ESl student and your teacher has no idea how to teach you. Usually those teachers have no teaching background and the notion "methodology of teaching" is a mystery for them. Being a native speaker is not enough to teach a language. What usually happens at such classes is that teacher's talking time (TTT) is 95% of a 3 hour class. Consequently, it means that a group of about 10 students has only 5% of their(!) time to learn how to communicate in English. That is ridiculous!

Reall professional have nothing to worry about:)However, those tests have to be taken at techers' home countries.

Priyanke says:


This is something that should have been started years ago to prevent any waif coming to find jobs as English teachers. Just because native speakers can speaks English they are not teachers. To become a teacher there are lot of prerequisites to be fulfilled. They should posses a considerable knowledge in pedagogical aspects, methodology, psychology, language proficiency ad many more. In their own countries most of them will not be hired as street cleaners.
Good move

Julia Bickel says:


Everyone rejoice that Southeast Asia has reached a level of competence that means they no longer need native speakers to teach them English. China also has reached this level. The rules have become increasingly difficult over time. It makes sense to require health, competence, and "clean living." It doesn't make sense to require tests once inside the country. Why would anyone spend thousands of dollars to go to Asia with or without a promise of work, only to be sent home? Few professional teachers with sterling motives to teach there, would subject themselves to these ludicrous expensive and perhaps dangerous procedures. So, if true, this policy will end the flow of native speaker teachers. But for well over 50 years, English speaking people have lived in this area of the world. It's time to let them speak and teach their own variety of English.

Sandy says:


Happy April's fool, I hope.

Margaret Deakin says:


Im pleased that the changes are being made, and agree with Dean Bush.

I notice that they claim the teachers won't be able to afford the costs when they arrive. They dont seem to be worried about their high charges to people offering on a voluntary basis.

ms kaye says:


I firmly believe this as an excellent idea of weeding out true, good Native English speakers in getting the position. I taught for 2yrs in China and experienced several unusual incidents. First in Sichuan, a college level assigned teacher 'totally lost it' mentally and threatened to kill the other Native English speakers on campus (he also said other phrases which will remain censored). By my 2nd year, accepted teachers, who had no teaching experience, were just 'winging' their way through the lessons making everyone unhappy, especially the parents. Then those left left before end of contract.

However, I don't like the idea that those who are already qualified have to pay for screening. That is unfair, especially if we have already established ourselves.

juneth says:


Hey, if this is indeed true, I strongly agree! I hope by agreeing you wont call me a racist. Let's raise the bar for that. I am an English teacher for 8 years now, and still 'upgrading' my knowledge on the English language. In my previous work,and til now, I've met a lot of native speakers who teach English, who aren't really literate with their own language. It was,is and will remain a disappointing & frustrating experience, if we don't go for quality teachers. And I 'grieve' for the students. Coz they get cheated for the poor quality of teaching.

Aisha Caroline says:


I fully endorse this proposal – even if it is an April Fool's joke. In my opinion all ESL (TESOL, TEFL etc) teachers should be required to take some type of competency test before employment. Why? To my personal knowledge I know of fake certificates being produced as evidence of qualifications. Furthermore many of these so-called genuine certificates are, what in Australia we call, "Mickey Mouse". A couple of weeks on-line course does not mean you become a competent English Language teacher. For the record I am an ESL teacher of many years standing with both graduate and post graduate studies in TEFL. I have also taught ESL at graduate level. I am amazed at the people who are employed as ESL teachers. Their grammar knowledge is frequently abysmal, their pronunciation coloquial and almost beyond understanding and their teaching skills non-existent. "But they are native speakers" is the reply when I point out their shortcomings. So roll on the pre-tests. I may say some centres are beginning to see the light here in Egypt, but only a few.

Murli says:


Hiiii….I knew it…I was expecting this kind of article from my favourite English Club…EC has proved me right….

Maha says:


Well, I think this is a wise decision made by ASEAN to ensure having qualified native English teachers. I encourage countries in the Middle East to do the same.

Doda says:


I think that these measures might be a bit extreme but I also think they may be necessary to a certain extent… I have an English School in Europe and I have had to interview and hire native English teachers.

I have to admit it was an interesting task being a native myself. First, I observed how they came dressed to the interview, second, I knew that if I had to give them a grammar test most might have failed it… I opened the school because I love teaching English as a foreign language and take pride in the way that I do it, but most people who leave their countries to go out and find work, want to be English teachers to travel and have a source of income, fair enough but be presentable in the field you want to work in and do your homework.

I am a bit of a trendy stylish person and sometimes would like to wear something cool, funky or even sexy someties, but I know that it isn´t apppropriate for my line of work. It doesn´t matter if I am working with children, teens or professional adutls.

A real teacher must maintain a certain image in a learning environment. Parents in general are quite concerned about who is teaching their children. They want to know that their kids are getting quality teaching and not just some blow off class… which I have to admit does exist out there… Many professionals have become very skeptical about going to an English school and prefer a certificate from a university or oficial language school accredited by the state.

So, all in all I do not really blame the Asian countries for their actions. Although, I do find them a bit too strict, but I understand why they are doing so. If one is really an native English teacher, meaning that it is what they love and enjoy and take pride in their teaching, then they should not complain.

Best of luck to everyone! Doda

Patty says:


If people are total scum, they're not let into the country in the first place. If they are only partial scum and stupid, it's okay for them to come in for a while. It's when they check in at the work site — that's when and where the scum-free smart should be weeded out and retained, and the rest rejected.

This alert is either APRIL FOOLS!! or a badly organized and expensive policy. But doing it anyway would be would be wonderful — if someone besides taxpayers footed the bill.

Noel says:


WHAT DAY IS IT YOU NUMPTIES!

Rusudan says:


I think this is a joke, April's fool!

Andy says:


April fool – too me about 2 paragraphs to catch it.

Some stricter vetting and enforcment of the regulations already in place sound like a good idea until there are not enough cheap teachers to fill the demand, and the bottom falls out of the market.

Sara says:


I don't believe that!! Too tough!

John Preedy says:


Surely, this is a government attempting to respond to widespread past abuses?

Phrasy says:


Actually, this is a brilliant idea.

Nasheed says:


I agree. During the past 10 years or so of my TEFL teaching, I noticed that institutes would readily hire 'native' speakers regardless of their educational qualifications. All that mattered was that they came from western English speaking countries. Not often, but sometimes, I was appalled by the level of their teaching skills. This is not a case of sour grapes, because western institutions hired me once they interviewed me. I had what they wanted– a good RP accent, clear intonation and additionally a Masters' degree in the subject. I was not a backpacker looking to earn a quick living because of my 'native speaker ' status. I come from India. Yes, and we have a good school system and demanding university coursework. Generally the youth who hang around together speak English with ease and shift between regional languages and English because we can even think in several languages at once. English is taught to us from Kindergarten. So, please stop all this arrogance about accents. It does sound ignorant. An accent is a part of a person's background. Do ALL English speakers sound alike- The Kiwis, the Aussies, the Scots, those from northern UK, the Deep South in the USA? No, they don't.
Before Brian Pullman calls it '….degrading and racist', he could ponder over how qualified English teachers would have felt when their education and expertise would have been overlooked simply because they were not from a particular country.
Excessive testing is unnecessary, but could this be a way for the arrogance in some to be replaced by a little humility? It might.

Titania says:


I think this is brilliant, if you have nothing to hide and you are genuinely wanting to teach you should have no fear. I have taught in Asia and yes there are loads of trailer trash teachers who should not be teaching.

S. Tsow says:


If we had high IQs, we wouldn't have gone into teaching. Actually, I've always thought that English teachers should have to pass a competence test. Some of the proofreading errors in the comments posted above validate this idea. Testing the English-teaching competence of a native speaker can be done with two simple questions: 1. Define a gerund. 2. Make up a sentence containing a gerund. If you're testing a Thai national, one question, to be answered orally, will do the trick: What is the plural form of "child"? (Hint: This is a test of pronunciation, not of grammar.) (Questions copyrighted by Tsow Enterprises, Ltd.)

Vijay Krishnan Banumathy says:


Along with medical tests and police clearence TEFL certificate is a must.Other teste are not required .There was a News which our friend Lucky Foreigners would remember
that ENGLAND wanted Indian Teachers to teach English because Indian teachers speak English with correct Grammer. yeah, I agree that the pronounciation or intonation may not be exactly the same like the native
speaker but it is close to it. So my dear Lucky Foreigners, do not get agitated ,if you are talented with no bad habits ,you get it . what is wrong ?

Lucky ASEAN says:


plz, no more western dregs…

ET says:


That's a good one on April Fool's Day…

Dave in Vietnam. says:


IF this is not an April fools joke…I hope it comes into force sooner rather than later.As an experienced English Language teacher,who has taught in both Thailand and Vietnam,I am sick and tired of wiping the dirty,drink n drug affected,arses of "backpackers".The people who think that, because they have just had 4 years holiday at Uni,and done a 4 weeks TEFL course,can teach English!…BRING IT ON !

Jazteacher says:


Having lived and taught English in China for 2 years, I do hope that this is your contribution to April Fool's Day. If not, well…good night Asia.

John Bolt says:


"April Fool!" That's what we would say [as clean, native speakers in the UK who can read and write]to those that believe this spoof.

julieta says:


I definitely would be happy about this developmnet re English teaching in ASEAN countries.
However, those English teachers who fly in for this purpose should be given an opportunity to recover their expenses in having to go through the Initial Assessment process just in case they fail. This is to be fair to them who had to spend so much and yet could not pass so they have to go home empty-handed.

There should a scheme to let them earn for sometime at least for a month or 2 before they can go home. As you know, no one else would be happy if he/she was in the shoes of these applicants denied to chance to teach in any ASEAN ountry after spending so much amount for the assessment process.

Thank you.

Anonymous says:


Happy April Fool's Day! 😀

Andrew Hills says:


Good one! This is up with the best April Fool's stories. I will give it to my students to read.

RITA says:


There is obviously a reason for these tests.I live in Italy and have attended English classes at the University for Adults, at the end of each course we had to express our opinion of the teacher, not always positive. There are no such tests here, there should be. What are the fitness tests, body cavity does seem extreme though.

Lucky Foreigners says:


To All foolish Educators in Asean:
Good luck with your local English Teachers. You might write decently, but not correctly. Most of all, your pronunciation and intonation will take 30 years to be understood by English native speakers. Thanks to those crooked organize of crime who manufactures a lots of fake "well-known" University degree from your own ASEAN countries, you take the blows. Money schemes are everywhere.

Peta Crane says:


Yes, there have been cases of 'teaching abuse' by 'backpacker teachers'. But the ASEAN problem has always been paying local wages. What teacher in their right mind wants to slave away in most of these countries and walk out without any savings. When these countries start paying professional salaries they will start attracting professional teachers. Until then bend over and search away!!

Jill says:


Whilst i believe that accreditation should be up to date .I think that the procedure for teachers of English have gone overboard.I wonder what the reaction would be if backpackers (fruit pickers ect)who travel overseas were treated in this manner.

David says:


I have no problem with Asean wanting to set strict standards for foreigners who teach English in their region. While many of the teachers I have taught with in Asia are very capable, there have been a number who in my mind should not be teaching…and yes…probably would not get jobs teaching in North America. Gone are the days when being a native English speaker was the only skill needed to teach English in Asia. With declining enrollment in North America and more teachers looking for fewer and fewer jobs, Asia now finds it has the opportunity to set its own standards. In the end I think it will be a benefit for those who do meet their standards.

Keith Wakefield says:


Any form or method of improving English Language Teachers is good and is seriously needed especially in Asia. However, what is being proposed is racist and counterproductive. Before victimising true native speakers, in what is just an attempt to restrict Native English Teachers, so as to give more jobs to the teachers of that particular country. Herein lies the main problem though – We have encountered so many none native English teachers who, more often than not, know more about English grammar than a Native Speaker but unfortunately they can't use it correctly. They can't speak it. Basically they are good mechanics of English but they are not good drivers. Therefore they end up teaching bad English that can't be verbally understood outside of their own community. This is a sad fact about none native English teachers, who basically are perpetuating the dilution and to some extent destruction of the most refined language in the world.

Monika says:


I agree with John Gardners's opinion,on the other hand it is a very nice April Fools Day's joke!lol:))

Raul says:


well i have been wiped due to age and nationality since im venezuelan citizen but that all my education was done in the US and 15 years teaching experience hasnt been any good . tell mao to teach them

Sally Harmer says:


I agree that medical testing and police clearance certificates are necessary, but fitness tests? I am a South African citizen teaching English in an English school in New Zealand and even here we have to undergo medical tests and provide police clearance certificates when applying for a work permit. I also had to provide TEFL certification and undergo an assessment whereby an educator sat in on one of my classes for evaluation purposes and then provided feedback. In my opinion, this kind of testing is needed if those of us who are actually qualified for the job would like to be given preference over those so-called 'backpackers' referred to by Dean Bush above. However, I do believe that stool testing and body cavity searching are degrading and humiliating.

Jan says:


Happy April Fool's Day! 🙂

Luis Vargas says:


With an ever-increasing demand for English teachers, employers have every right to set up standards to make sure the teachers they hire are qualified to do their job. Being a native speaker of the English language doesn't necessarily make you a good English teacher. It seems to me that if you do have a strong command of the technical aspects of language ( syntax, morphology, phonology and pragmatics) and of teaching( methodology, lesson planning, assessment/ testing and curriculum, among others, there's nothing to be worried about. If you don't, you'd better go to school. Don't you agree ?

David says:


April 1st. I loved the bit about the delousing.

pierre corso says:


April Fool Day ,isn't it ? lol

Graham Houghton says:


I hear they also have spaghetti trees in Asia.

Erica Flores says:


Teachers are needed all over world and I hope thy will find other ways without humiliating our teachers, it is a disgrace.

Ajaan Rob says:


Happy April Fools Day! If this is true, I am for it! This would benefit the ESL/EFL students and the final end of "backpack teachers". Supply and demand for quality, professionally trained ESL/EFL educators is a win-win situation for all stakeholders. I predict a needed raise for qualified ESL/EFL teachers in all ASEAN countries.

Rich says:


I understand the need for the background and drug tests, but IQ tests? Does an IQ test really measure intelligence? I hope ASEAN understands that they are going to create a massive shortage of native English speakers in Asia. The teachers who do pass all these tests will be in their right mind to demand higher pay. Fitness tests? If we demanded fitness tests of our teachers back home, we wouldn't have any teachers!

A bit extreme.

Dean Bush says:


I am an aviation English instructor who works for a highly reputable company and I have always worked for companies or organizations that hire only instructors who meet a relatively high standard set by the United Nations' agency, ICAO, for the aviation industry. I have never worked for any of these schools or organizations in Southeast Asia, but I've heard nothing but the horror stories of "ESL teachers" who "teach" in that region; they are described simply as "backpackers" with no qualifications other than a "strong desire" to teach English. Supposedly most don't even have even undergraduate degrees in a related field to even teach ESL or they "earn" one or more weekend certificates from one of those UK or Canadian schools that doing it just to get their money and nothing else. Based on what I've heard, it's about time that some kind of regulations or hiring standard is put in place in this region. To see that an ESL teacher will even receive a body cavity search (among other things) seems absurd to me at first reading, but when I think of what I've been told of many "ESL backpack teachers" in that region, it seems obvious that the governments have figured out who these people really are. These "ESL teachers" and the people who hire them should see now for themselves what they've been getting away with all these years. I only wonder if they realize themselves that their own students have communicated their dissatisfaction with these "ESL teachers" long enough that now their representatives are listening to them and taking action. I'm sure that to many of these "ESL teachers," my comments would seem unfair, but as an outsider (of that region), I think that I have a good idea of the ESL teacher subculture of that region to know that it is clearly one that fails to meet any other ESL teacher standards that I know of. Those standards are in place to provide the best quality of teaching and learning experiences for students. Backpackers, seek other regions. (I wonder now if after the standards are raised, the pay pathetic pay scales there will also increase.) I'm sure other backpackers will come along and volunteer to do it for nothing and keep the same low standard that has always prevailed there. I'm just glad others are there and I'm not.

John Gardner says:


Health checks and police checks should be a normal pre-requirement when entering a foreign country. Isn't it good to know that the person standing up in front of your child in a classroom, has been thoroughly veted? The benefits are pretty obvious don't you think?

sihem says:


I think this is April's fool!

Adrian Jacks says:


So what's the benefit for English teachers? This does nothing for teachers and just makes us look stupid to our students. I thought, in Thailand at least, teachers are supposed to be "respected". This has to be the craziest idea from officialdom yet, in Asia. God knows what the EU would do with it.