New Smartphone Version For MyEC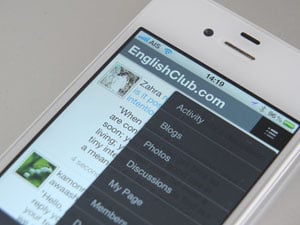 Today sees the launch of a new Beta mobile version of MyEnglishClub for smartphones. Now MyEC members can browse MyEC on smartphones such as iPhone or Samsung Galaxy, easily viewing their own page as well as latest activity, blogs, photos, forums and other members. Blogs posts and forum replies can be added via mobile. It's also still possible to go to the normal desktop view from the drop-down menu.
This is not an "app" but a regular mobile website so there is no need to download or install anything. And of course it's free. If you visit my.englishclub.com on a smartphone,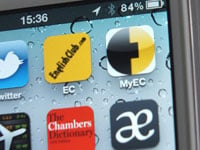 your phone should automatically open the mobile version. If you bookmark MyEC to your mobile screen, the MyEC touch icon will be displayed as in the photo right.
Finally, as mentioned, this is a Beta release, which means it's not the final version and has several improvements to come.
22 comments
Josef Essberger says:


You should be able to click "Switch to Mobile Optimized Page" at the bottom of every page when on Desktop View.

Elahe says:


Hello
I preffer use "mobile view",but i cant find it.how can i switch to" mobile view"from "desktop view"?
Already im thankful for ur response. 🙂

Camilla says:


Generally speaking I always prefer the desktop view of MyEC site. However, best is when I can choose. At the moment my goal is, Never switch to optimalized mobile view!!!

Josef Essberger says:


Do you prefer to use the desktop site on your mobile phone?

Camilla says:


Sometimes by chance, after many hours, I can find "desktop view" during opening the site, it's too complicated to me to say it in English, sorry. If you want, I can tell it in Polish, as you know I'm a learner of English.

Camilla says:


Thank you for your attention,
Greetings from Poland:)

Camilla says:


Symbian Nokia.Previously I've had in the screen the same view as in your first picture (with this TASKBAND with "members", "photos", "blogs", "DESKTOP VIEW" and so on).From quite long time I can see the screen without any taskband so I can make nothing. Ah! There isn't any place to find that belt/taskband! Only the screen itself. No the special place to find it!! NGNP=) [It means, No Gain No Pain=)]Poor me and my beloved mobile which is the best in the World because it still exist and works despite all these disturbances…..

Camilla says:


(my mistake, should've been "drop-down",
not "drop-dawn".
NOTHING is dropping down in/at/on my mobile phone at the moment)

Camilla says:


!!! drop-down !!!

Josef Essberger says:


It's working fine at the moment in iOS and Android. What mobile/operating system are you using?

Camilla says:


It's impossible to go to the normal desktop view from the drop-down menu. It was earlier very easy, now it's impossible. This menu is non active.

Josef Essberger says:


In the top photo above, you see the black and white button at the top right, to the right of EnglishClub? Press that and a menu drops down allowing you to login, or go to various pages, or switch to Desktop view. That's the theory anyway 🙂

Oriani says:


I already uploaded the page on my Android phone, but I cannot find the option to log in and check my page. I just see the timeline and that's it. Could you help me, please?
Thanks.

Ian says:


I guess they mean smartphones, which are mostly all iOS (iPhone) and all Android OS. Some of the top-end Nokias and even Blackberry may qualify, not sure. Mostly, smartphones have very large screens (almost the size of the phone) and they are touch-screens.

Felipe says:


What about symbian or blackberry versions? Do you mean Samsung Galaxy or any android phone?

yang says:


very good.i like the iphone,how beautiful its applications are!

arman says:


hi..thanks for your trying to help us in englishclub..i hope i can chat with phone in chat room.

Mr Bob says:


Wow, this is very nice!

Josef Essberger says:


At present, chat is not supported on mobile MyEC for smartphones. But if you switch to Desktop View (from the drop-down menu that you see in the photo above), chat does work on many smartphones (including iPhone) – though it is obviously a bit fiddly. You can access MyEC Chat (Desktop View) more easily if you bookmark it on your smartphone: https://www.myenglishclub.com/chat

Ario says:


How about chat feature? Can we chat through our smartphone?

John Chiang says:


Thanks for your e-mail and this is my first post reply of this English Club. After read over the above article, I have learned something about Smartphone. With regret to say my moible phone is simple one but not open the Internet function, but I used to read my e-mail by my notebook computer.

In China, all the facebook, twitter, youtube, and even personal blogs were blocked by government. We are unable to open it in China. And this will be kind of problem to study English via English Club. However, I'll try to learn good English from you. Thank you.

John in Shanghai, China

adalyn soriano says:


thank you very much sir josef essberger for your heart of reaching out learners and teachers through our club, the English Club. May you always continue to extend help to us. This site is so helpful and enriching…Again, thanks