Tara Benwell 12 Years at EnglishClub
All good things must come to an endSaying
2016 is a new year with new beginnings and sad to say Tara Benwell, for over seven years the mainstay at MyEnglishClub, will be moving on to pastures new as from 1st January.
Tara actually started contributing to EnglishClub way back in 2003, writing materials for the Young Learners section, English for Work and many other pages. In 2006 Tara started writing and recording Listen to News, a popular weekly news story with audio and exercises. Then in 2008 we launched MyEnglishClub as our social network. Tara was the first administrator of MyEnglishClub and has worked hard to help and support its thousands of members. Since 2008 Tara has continued adding new lessons and pages to EnglishClub and helping in the overall running of the site.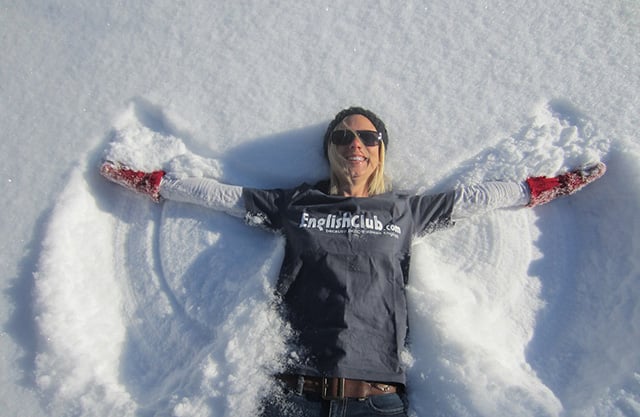 Apart from Listen to News, her regular contributions have included Site of the Month, a review of some of the best ESL websites around, the Interesting Facts podcast, and Writing Prompts. She has also supported us by contributing material for our sister site TEFL.net.
I am sorry to see Tara go, and I know that many members of MyEnglishClub will be sad too. Tara has been a wonderful influence in MyEC, and extremely creative in all her regular contributions sitewide. I offer her my warmest thanks for her professional approach and unfailing support over the past twelve years, and wish her the very best in her new future which I am sure will be a great success. No doubt many members will have similar thoughts and may wish to share them on Tara's Page at MyEnglishClub and her latest Writing Challenge.
77 comments
María Cornett says:


Best wishs for Tara from Venezuela.

shamsy says:


i am very sorry that Tara will not contribute with enghlishclub any more.
i liked Tara s writings and i always was looking forward to newsletter.it was not only useful but also they attracted me.
thank you Tara for all your attempts that have done for learners. you are an active and competent person and i am sure u will be successful in everywhere.i wish a healthy,successful, and prosperous life

Ashraf Yousef says:


GOOD LUCK

Danny Clark says:


Dear Tara! I was not as lucky as my wife to know you better but I'd like to say a few words, too. You have charged the EC with such great positive energy I felt at once. You are a true leader and I wish you all the best whatever you will ever do. But most of all, I'd like to wish you great happiness. So sorry, you are leaving! You have always made our lives brighter!
Very Happy New Year!

FRANCKTIEMOKO says:


I wanna thank you for all you have done for us .By your grace i am doing well in English.I wish you all the best in your new challenge.I wish you also happy and peaceful Christmas and new year.May GOD helps you to fulfill your greatest insight and guides you on a straight way. Thanks a lot

KATIBA says:


thank you tara for all you have done to ENGLISH CLUB ; wish to you both success and hapinnesse so good luck and good bye.

Mickael RADO says:


THANK YOU TARA <3 😀

Agnes says:


Just to say: THANK YOU TARA!

Md Nasiruddin says:


I wish Tara a happy , prosperous, and healthy life.

Saba says:


Thanks Tara! You are a nice friend and teacher for all of us.

May the new year bring you success, happiness and prosperity.

Have a happy new year!

Osman Noreldin says:


Thanks Tara, I am really learn a lot form your contribution
I wish you all the best in your life .

jitupon says:


I wish all the best for Tara

M.Islam says:


Thanks a lot Tara,we really acknowledge your contribution to our personal development, wish you all the best, English club is doing a great job,thanks.

Bimal says:


Dear Madam Tara!
As a learner of the EC, I think that I want to show my gratitude to Madam Tara for her service rendered towards the thousands of learners on EC. I, as a nonnative English speaker, have been able to gather a lot of language-based facts from the EC, so people of this caliber are real assets to EC. Yes, she played the main role on the EC although she is not the founder of it. Yes, people move on to better things; so, I would like to wish her a successful future!

Ibrahim says:


Hey everyone. My name is Ibrahim Maiga.I'm from Mali West Africa. But now I live in Austin TX USA. I'm a Tailor I work for a company called Jos a bank in Austin. I'm new English learner ESL student. I don't know Tara but from what things I read about her a good person so want to thank her for everything she have been done for our English group. So thanks Tara I wish you all the best.

Lom says:


Dear Tara,
You can't imagine how helpful your activities on English club have been. I have learned so much from you. Thank you very much. When I first surfed on your website I was in a far remote place, in a village, many miles away from Dakar city in Senegal. Just to show you that, you activities reached even the unexpected public. I have never been in an English speaking country but,I can express myself thanks to you and to all your colleagues.

I wish all the best for you,

Ablaye

Aouatif says:


Dear Tara,

I wish all the best for you, bright future and success.

Good luck to you :).

Anah Siddiqui says:


Good luck to you Tara! 😀
I'm happy for you :))

John says:


Dear Tara,

Sorry to hear your departure, but no worries that you are still around.

Taking this opportunity, I have to say ¨thank you very much.

If ever you are visiting southern China, please contact me for a tour-guide, lunch or dinner, until then, with our best regards.

John with my wife/Jane.

Ludmila says:


Good luck dear Tara

Tanya says:


Dear Tara! I am so sorry to hear you be leaving! You have always been such a great admin and have done so much for the EC! I have such good memories and will save them for sure and for long!Both my hubby and I would like to wish you good luck in your future activities, all the best! We will miss you, dear! And have VERY MERRY CHRISTMAS and VERY HAPPY NEW YEAR! God bless you, your kids and all your family.

Shalva says:


My best regards Tara.

Mmatlhapi says:


Farewell Tara,will continue to read your previous blogs,All the best !

Onee says:


It's so sad, Mr. Josef… Tara is doing so great here…

Thank you very much for everything you've done here for EC, Tara.
May you always have a great moment in life.

Karim Rashid says:


Thank to Tara for help us

romaric tony says:


I wish her all the best.may this new be for her a blessing

Robbie says:


It's been always my pleasure working with you for years, Tara! Thank you for everything you've done to improve my English language skills especially for your encouragement and appreciation. You inspired me and MyEC in so many crazy ways!

One thing for sure. I'll never turn my back in learning when you leave EC, rather this would serve as my motivation to continue what I've started. I will not say goodbye because I know you'll come back. But I wish you success in your new endeavors. Good luck!

Robbie ♥

Mushfig says:


I would like to note that Tara is best friend for most of us and I don't want to loss contact with her. Please let us know where we can contact with her in the future.

Mishaikh says:


I am shocked! can't believe it!! Without Tara I'm going to feel myself vacuumed. I wish you Tara a happy, healthy and prosperous future.

susan torre says:


Good luck always and everywhere

Estanis says:


I'm really grateful to my best teacher, Ec and its soul, Tara. People like her success everywhere and leave a mark wherever they are.
God bless you.

Hoa says:


Thanks for all you dìd for English club.Best wishes to you ,hope luck always come to you.

Robbie says:


Hi, Tara!

Oh my… I just want to say you're one of my inspirations why I keep learning English. Thank you very much for all your encouragement and support throughout the years.
I wish you all the luck and success in your future endeavors. I'll definitely miss your voice recordings!

Take care!

Robbie

nooru mohamed says:


Really we will miss u,I hope without u we aren't reach this place.Happy New year 2016 for all

ERNA E ADRIL says:


Farewell Tara,

How ? Is it true that you must leave EC ? I do not believe that…Tara Last week I just read your comment about my funny story.actually I am eager meeting you in face…but I do not know when.. I hope you want to come to my area some days..and I hope although you will leave, but I still need your writing to improve my English and my teaching…

Bye..
ERNA

Sach says:


Good luck!

Sathiya Moorthi says:


English Club (Crown) is going to lose one of its diamond (Tara Benwell)

Mir Quasem says:


Warmth of Our heart remains with Tara–where ever she goes.

Quang says:


Thank you for your materials. I wish all the best to you Tara Benwell!

José Luis Luna says:


Dear Joseff: I'd rather say "new pastures", but still love you both and thank you for your efforts.

Oscar Ruyán says:


Tara Benwell Thank you for help us in our learning. I wish you all the better in your goals and Merry Christmas.

Maurico says:


I don't know what to say in this moment, but I wish all the best to Tara

Matthew Felix says:


I like her moderation of the MyEC.
To me Tara Benwell is synonymous to MyEC.
Tara thank you for your selfless service to us.
I wish you all the best wherever you go from here.

From Nigeria.

karim says:


Hello Tara , simply many thanks for what you did and good luck for the future.

please stay .

all the best

karim

lady anne says:


You are the best thing that ever happened to EC and to us!

Mauricio says:


God bless you, Tara, and good luck in your new path.
Thanks for all. =o)

Lael says:


Good luck Tara. We loves you…

HAWK says:


very sad to hear that.i'm every single day studying 'listen to news ' to improve my
English skills ,she helped me so much.
in the last ,i wish to her bright future

eduardo says:


Thanks for everything and that you, Tara have blessed days in your life.

hb gibson says:


Good luck!!!

Murli says:


wow….great 12 years of service….bring her back around….all the very best in her future endeavours…

Foat says:


Good luck to you, girl!

Piroska says:


I hope Tara will succesfully set to her new work and later will not be
disappointed after 12 years at EnglishClub.

Wishing her a season of joy and continued success in 2016.
Piroska from Hungary-Budapest.

Husam says:


Of course it is asad news that tarra will moved on ,I wish you a nic days in your life and very thankful to you for all assist in the website.

Judith says:


I wish you all the best in your new adventure! Thank you for all!

Silvia says:


Please unsubscribe me!

jonathan taylor says:


Very sorry to hear this and sincerely hope you are moving on to great things ahead. Your hard work and contribution over the years has not gone unnoticed – I wish you every sincere success with future endeavours. Take care. xxx

Zakumi says:


Englishclub.com without Tara Benwell …?! Can't imagine it! So sorry to see you go, Tara. Thanks for all the help and support when we and our classes joined some years ago. I know Josef was always there, but you just made everything so much smoother to us. May you be blessed in whatever you'll be involved in now. I guess (and hope!) some of us would still see you around elsewhere!

Josef … I can just try to imagine what you must feel like when losing your right hand girl .. Hope you have some plans in place to continue with this great website.

narin says:


im really sad that Tara wants to go.thank you Tara for all of ur help and and all the things u did for EC ,u r hardworking well done dear Tara i love u and i know all members love u .all the best wishes for u and happy ur new year.

NAY Teid says:


Farewell Tara!

Although I am not a frequent user of MEC myslef, I have recommended it to many young friends, mainly Indians. Needless to say they have found found MUC very uselful.

If any organisation has to perform well it needs some dedicated and talented people working hard to make it successful. I am sure Tara has been one of them. I can sense EC and its users feeling sad and grateful – a cocktail of emotions – at the same time. I hope Tara has groomed someone to receive the baton and continue her stellar work.

I wish Tara Benwell all the success at her new assignment and hope her links with EC will keep EC going great as ever.

selma says:


I have been member of EC since 2009, and had very nice workshops with Tara, it is a result which cannot be avoided, love you Tara, may god bless you, respect you,

Blessing says:


Wish You all the best Tara. May God bless You wherever You go and what ever You do in Your life. Merry Christmas and Happy New Year to You.

Bala from India says:


Oh No… Why ? Why such a decision ? Cant believe at all… Hope its just to fool us, make fun of us…
I could remember how she encouraged me to write a blog…Her eagerness to learn Rangoli from me…Will miss u Tara…

mhmd says:


I wish you nice days, and of course its sad news that Tara will be moving on.

Nihal says:


I being from a non-English speaking country, today am able to converse and write in English reasonably well,thanks to Tara.
We will miss your able guidance and commitment.
Be blessed.
Nihal

Marie-Danielle O'Reilly says:


A judge THANKS for your help Tara! I LOVE English Club because I learn a lot.

Anis Hariri says:


Very good morning for all,
Tara, Thanks for you and the team of EC,Really i learning a lot from this site
and i keep many of the materiel very much,
Thanks for all of you!
and HAPPY NEW YEAR 2016
ANIS HARIRI

shajith -Kerala,India says:


I wish you Tara a happy,healthy and prosperous new year and future.

Jakaria khan says:


Best wishs for mam, missing u. After all ur my 1 st teacher at EC since 2009

Huu Nghi says:


Thanks for your efforts which help us to improve our English skills. Best wishes to you and your family.

BR.

Zafar Iqbal says:


As the great man said, "All Good Things Have To Come to an End".

All the best to Ms Tara Benwell; and we still are sure that the English Club will continue to grow.

Regards to all,

Zafar IQbal

Mohammed Ali says:


I wish all the best for Tara Benwell.

Happy New Year.

Best regards for My English Club.

Soran says:


I very like Tara and I wish all the best for her

sadigheh says:


Hi.iam very sorry. I listen to news everyday. I like her. I alway wish her best in her life. Give my regard to her.
I love Tara
From Iran

Wafiullah says:


I wish all the best for Tara Benwell, bright future and success.

Alexander says:


Tara is brilliant because the comment tells the goals that she got, and i did realize that it was true when i read the script ,,, . "COOOOOOOOL" Beside I would like to give you a very merry chistmas and happy new year for everybody

ok greetings and success

Mishaokh says:


I am shocked! Can"t believe it!! Without Tara I'm going to feel myself vacumed. I wish you Tara a happy,healthy and prosporous future.