Balloon Boy Story a Hoax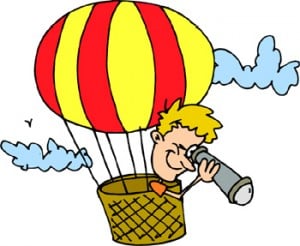 Millions of television viewers watched in horror as a hand-made helium balloon supposedly carrying a 6-year-old boy fell from the skies in Colorado on October 15th, 2009. The silver mushroom-shaped balloon had traveled 80 kilometres across two counties. Two helicopters and a number of TV camera crews were tracking it after the family called 911 to report the accident.
The family told authorities that the flying-saucer style balloon was a science experiment. The father claimed that one of his boys had climbed inside just as it was lifting off from the backyard. However, when the balloon was found there was nobody inside.
Though searchers began looking for the body, the young boy, Falcon Heene, was found hiding in the attic of his family home. When interviewed, the boy reminded his dad they did it "for the show". Police began to investigate more closely. By the end of the weekend the family was being accused of organizing a hoax. The Heene family has starred in a previous reality series called "Wife Swap". Reports suggest the balloon boy story was most likely a publicity stunt for a future reality show.
Though the family appeared panicked and upset and denied it was a hoax, local investigators said the parents would be charged with conspiracy.
Do you watch reality shows? What type of reality shows are available in your country? Has the concept of reality shows gone too far?
Wordchecker:
in horror: with much fear
tracking: following
hoax: a fake story used to trick or get attention
attic: a storage space at the top of a house or building
publicity stunt: a way of attracting media attention
reality show: a television series that features real people rather than actors
Written by Tara Benwell for EnglishClub
| October 2009
Tara Benwell
is a Canadian freelance writer and editor who specializes in materials and articles for the ELT industry.