Banned Books in 2019
Books have been banned throughout history, from the ancient Chinese and Roman empires to the Catholic Church throughout Europe from the 1500s onwards.
You may not realize, however, that books are still frequently banned today.
From North Korea's ban on the Qur'an to United Arab Emirates' censorship of George Orwell's classic Animal Farm to Iran's ban on Paula Coelho's The Alchemist, books are still being restricted around the world.
Banned Books Week begins next Monday (September 22-28). It is an annual awareness campaign promoted by the American Library Association and Amnesty International that celebrates the freedom to read and draws attention to banned and challenged books.
In the spirit that people should be able to read whatever they want, Global English Editing have created this great map highlighting banned books around the world.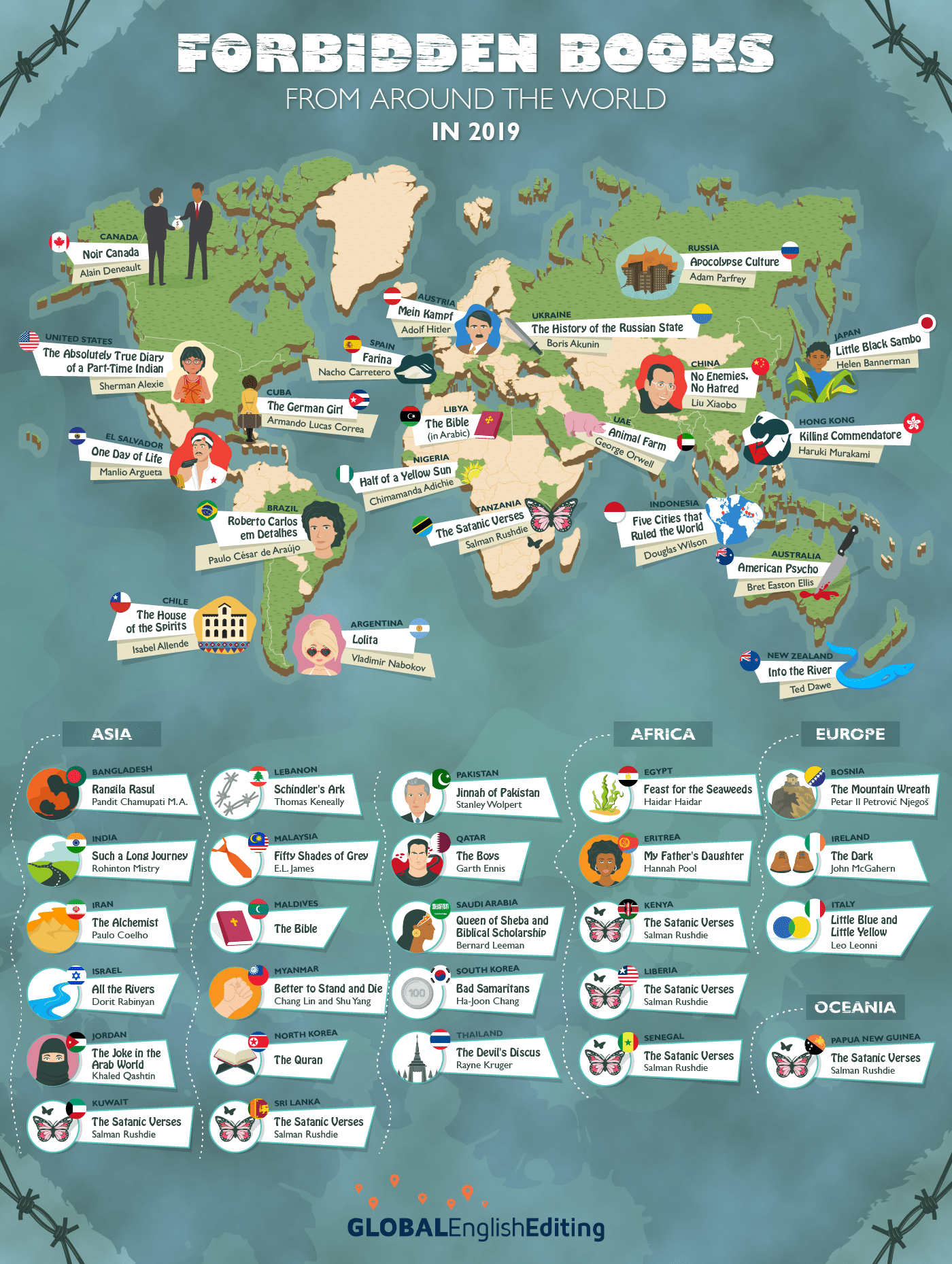 You can also read a description of each book and the reasons behind their ban in Global English Editing's full post here.
Written by Isabel Cabrera for EnglishClub | September 2019

9 comments
Mary Carmen Gutierrez says:


Thanks for this información 😃

maria says:


I remember having at home The little Blue and the Little Yellow. I was then curious to understand why a book that received in Italy the Andersen Reward, is considered banned in this guide.
The reason is that only recently the Venice's major has considered the topic of the book not suitable to be taught at school, only by parents. (I agree that this is always an authoritarian restriction)
However is not an officially banned book by the Italian government. You can buy it in Italy in a shop or online. Even if you live in Venice 🙂

Laura says:


OMG ihave a forbidden book at home kkkkkk

LEVI MARCOS PEREIRA says:


It is not PaulA Coelho, but PaulO Coelho.
Paula is a female name, and the author is a man, PAULO, as Paul in English.

Koreena Tenecio says:


Seems like interesting to know why they were being banned. Let's check it out. 🤔

Nedda Ferretti says:


La Casa de los Espíritus by Isabel Allende has never been
banned in Chile.

Anah Sid says:


I never knew that people could be so intolerant that they ban books. I'm amazed to know this. Thanks for providing this informative article.

SNR says:


Thank you so much for this interesting yet thought provoking information.

My mind is asking why are these books are banned?

Bijan says:


Thank you for this interesting information.
Best wishes,
Bijan from the Persian Gulf