English for Your Whole Family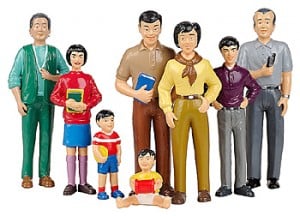 Learning English is important to you. But what about the rest of your family? Are your siblings learning English? What about your parents or in-laws? If you are a parent, are you teaching English to your babies and young children?
Don't leave out the older generations in your family. People often assume that older people don't want to learn new things. This is a myth. Many older people know the importance of learning something new every day. They will be happy to know that language learning is food for the brain. It's never too late to learn English.
Teaching English to your family members is a great way to improve your own English level. Consider this famous quote: "I hear and I forget. I see and I remember. I do and I understand." By teaching someone else the skills you've learned, you will become more fluent.
Learning something new together can bring you closer as a family too. Here are 4 tips for helping your family members learn English:
WordChecker:
leave someone out: to NOT include a person
generation: all the people in one stage of the family
myth: a common belief that is not true
snail mail: letters or other mail that you send via a postal service (not electronically)
More on The Family:

Vocabulary
Practice
Quiz
Written by Tara Benwell for EnglishClub
| November 2009
Tara Benwell
is a Canadian freelance writer and editor who specializes in materials and articles for the ELT industry.
One comment
nguyễn thu phương says:


good
exiting
funny