MyEC Fashion Show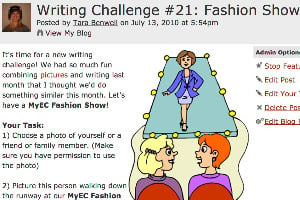 Did you know that English learners practise writing on MyEC? There are many different ways to do this, including participating in chat rooms, joining group discussions, and writing blogs. You can also join the Monthly Writing Challenges.
This month is a great month to join the writing challenge. We're creating an EnglishClub Fashion Show. Are you interested in joining in on the fun?
You will need:
a) A MyEC page. Not a member? Join today. It's free!
b) A photo of a person in interesting clothing.
c) An hour or less to read the instructions and complete this month's assignment on your own blog.
Why participate in the Writing Challenges?
1) You'll make new friends from all over the world.
2) You'll find instant readers for your blog posts.
3) You can practise English with real English teachers. If you have a question, just ask! All levels welcome.
4) You'll learn many new words and phrases.
5) You'll discover that writing is fun!
Written by Tara Benwell for EnglishClub
| July 2010
Tara Benwell
is a Canadian freelance writer and editor who specializes in materials and articles for the ELT industry.