#StayHome
How to Use Google+
Why use Google+?
1. convenient for gmail users
2. share content and thoughts with specific circles of people
3. try something new
4. have group video chats
What is Google+?
Google+ (spoken as Google Plus) is a social network (SN). Some people call it Google's answer to Facebook. (When used in this way, the word "answer" means an alternative to a competitor's product.) Other social networks include YouTube, twitter and My English Club. Each social network tries to be unique. Some Google + features are similar to previous networks. Others are new and innovative. Google+ allows you to do the following:
post status updates
follow a stream of updates from your friends, family, co-workers, and acquaintances
have video chats with up to ten people (called hangouts)
organize circles of people in like groups
share content, links, updates with circles rather than a single person or all members of your network
view your "stream" in different ways (everyone's updates or just a certain circle)
share instantly from your mobile phone
Top reasons people are trying Google+
They are bored with other social networks.
They trust Google will have a good product.
They are curious about the new network.
They are frustrated with Facebook.
They want to have group video chats.
How to create a Google+ Profile
The navigation bar on a Google+ Profile includes Posts, About, Photos, Videos, and +1. The +1 tab shows any online content that you have liked by clicking on a +1 button.

Add a line of text that you want to appear at the top of your profile page. You can change this whenever you want.
Add your bio, education, and any personal information that you want to include.
Add videos that you have on your computer.
Add new photos or photos from your Picasa account.
How to Share information, links, media on Google+
There is a text box at the top of your Google+ page where you can type your text and share links or media. Google+ allows you to drag media in with your mouse.
Step 1: Type your post message
Step 2: Add a link, video, photo (or nothing)
Step 3: Indicate who you want to share it with. Direct your post to a specific person or circle, or share it with everyone you have on Google+.
How to have a Hangout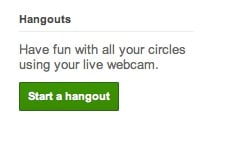 You can hangout with 10 people at a time on Google+. Go to the bottom right corner of your Google+ profile page. You will see a green button that says "Start a hangout". You can keep your chat private by indicating who you want to hang out with. Type their name(s) or the name of a circle in the text box (The default is "Your Circles". If you don't change it, anyone can join your hangout.) A hangout is a great way to practise English with people from all over the world.
How to send a private message on Google+
Like most social networks, you can send a private message to your Google+ contacts. Go to your stream. Type your message. Type the name of the person (or circle) that you want your message to go to. Then click "Share". After you post your message, you will see the word "Limited". Hold your mouse over this word to confirm which person or circle your message went to.
How to find people on Google+
At the top of your Profile page there is a box that says "Find People". Type in any name. You can add anyone to your Google+ Stream if they are using Google+. They may or may not add you back. If they don't add you, you will still see any content that they post to the "Public".
What are Circles?
Circles are groups of people. These may be family members, colleagues, acquaintances, and neighbours, and Hollywood stars. You may also have one for your baseball team and one for your church friends. Here are some things you need to know about circles.
You can view your Stream by certain Circles
You can post content to certain Circles
People in your Circles don't know which Circles they are in unless you tell them (Name your circles in any way)
Google+ Tips
Don't have too many circles. Choose a few, such a friends, family (maybe two sides if necessary), fellow students, co-workers.
Check your email notification settings. Turn it off your Google+ if you don't want a message every time.
To find a direct link to a Google+ post, right click on it.
Your friends and family members don't see which circle you added them to
Mention someone in your post by adding a + or a @ before their name.
Use *asterisks* to post in bold text
Use _underscores_ to post in italics
Google+ allows you to drag and drop content with your mouse
If you don't want to see a post or person anymore, click on the little triangle beside their post, and choose to "mute" the post, block the person, or report the person (for spam or abuse)
Google+ Lingo
Like Twitter, Facebook, and even MyEC, Google+ has its own lingo. Lingo is vocabulary that is used by a specific group of people (e.g. Google+ users).
+1: like
circle: a group of people with similar interests
hangout: a video chat on Google+ (1-10 people)
huddle: a group chat (also used a verb)
mute: right click on a post to stop seeing it
share: enter, send, post, send direct message
sparks: topics that you are interested in; content is generated by Google based on the interests you add
stream: the posts that you and your contacts add to Google+
Written by Tara Benwell for EnglishClub
| July 2011
Tara Benwell
is a Canadian freelance writer and editor who specializes in materials and articles for the ELT industry.