Blue Jeans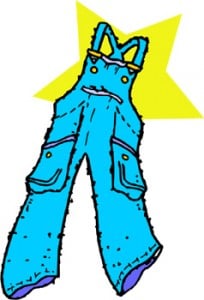 History
The word "jeans" likely comes from the Italian sailors of Genoa who wore uniforms made out of a sturdy type of fabric in the 16th century. The modern denim blue jeans with the rivets on the pockets were patented in America by Levi Strauss and his partner Jacob Davis. The first Levi's overalls were used by miners during the California the Gold Rush. These pants sold for less than two dollars per pair! Blue jeans became fashionable for Hollywood stars and American high school students in the fifties. By the sixties and seventies blue jeans had become fashionable in many parts of the world.

Shades of Denim
Traditional jeans are dyed with "indigo" blue. Other colours of denim (green, red) go in and out of style, but blue jeans are always "in". Here are few shades of denim:
dark wash
light wash
faded
black
stone wash
acid wash
white
Jean Styles
The "in" style of jean relates to the colour, brand, and shape of the pant. Most people have a personal favourite. Different body types generally suit a specific style of jean. When your favourite style of jean is no longer in fashion, this can be devastating to your wardrobe!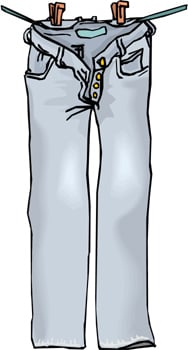 skinny jeans: tight fitting all the way
baggy jeans: wide at waist and through the whole pant
wide legged: wide through the whole pant leg
flare: wider at bottom
low rise/hip hugger : worn low on the hips
mid rise: worn slightly above the waist
high rise: worn above the waist
boot cut: slightly wider at the bottom to accommodate a boot
floods/bell bottoms: very wide at the bottom
overalls: with a bib, straps, and buckles
relaxed/loose
capris: end at mid calf
boyfriend: boy style jeans made for girls
straight
short leg
ripped/torn/frayed jeans: often made to look old on purpose
designer: expensive brand names
Jean Parts
When shopping for jeans, you may need to know the correct words for each part of the pant. You can tell the salesperson the jeans are too high in the waist or too tight in the leg. Do you prefer button or zipper fly?
waistband
inseam: the threaded section on the inside of your leg
backside
leg
front pockets
back pockets
side pockets
zipper/fly
button fly
ankle zipper
belt loops
pleats: gathering section in the front on some styles
tag: includes info about size, style, brand and washing instructions
Jean Embellishments
Extra detail on jeans is usually found on the back pockets. You may also see these embellishments on the front pockets or down the legs.
embroidery: designs stitched with thread
patches: labels or material with designs that are sewn on top of the jeans
rhinestones or other gems
beads
sequins: shiny, circular decorations
Verbs that go with Jeans
Do you remember when people used to "pin" their jeans with safety pins? This was a "punk" trend back in the 80's. Here are some other verbs that go with jeans.
hem
wash
break in: wear or wash often to make jeans more comfortable
tear
zip up
unzip
button
shrink (ask if the jeans you are buying are "pre-shrunk")
turn inside out
roll up
Other Types of Denim Wear
When you wear denim on the top and bottom this is called "double denim" or "denim on denim".
jean skirts
jean jackets
jean purses
jean shorts
Written by Tara Benwell for EnglishClub
| May 2010
Tara Benwell
is a Canadian freelance writer and editor who specializes in materials and articles for the ELT industry.