Kim Yu-Na or Yu-na Kim?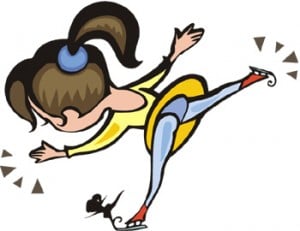 Kim Yu-na, already a celebrity in South Korea, set a world record when she received 150.05 in her figure skating free skate on Day 14 at the Olympics. South Korea had put tremendous pressure on the 19-year old to win the first figure skating gold in the country's history. Anyone who watched the performance knows that Kim Yu-na did not disappoint. When the superstar stepped off the ice she was crying tears of joy, knowing she had finished the best skate of her life. Throughout the Games, broadcasters and journalists around the world struggled with the decision about how to spell and say the champion's name.
For the Korean star's coach, Brian Orser, winning on Canadian soil was also very rewarding. At the Calgary 88 Olympics, he lost the gold to American rival Brian Boitano. Kim Yu-na, who calls herself Yu-na Kim, is already a millionaire due to sponsorship deals with big names like Nike and Hyundai. The teen sensation, who also likes to sing, has been criticized in the past for spending too much time in front of the camera and not enough time on the ice. While a loss at the Olympics could have been devastating to her sponsors, her recent victory will increase the cost of future endorsement deals!
The greatest figure skating performance in Olympic history was followed by one of the most emotional performances of the 2010 Games. Canada's Joannie Rochette, whose mother had died of a sudden heart attack in Vancouver just three days earlier, skated through her grief and clinched the bronze. No one expected Rochette to compete, let alone make it to the podium. Kim Yu-na's rival Mao Asada of Japan, known for her difficult triple axel, won silver.
Wordchecker
tremendous: very strong or large
rewarding: a feeling you get when your hard work is recognized
rival: the one person you truly want to beat
teen sensation: someone who is very popular among youth
clinched: secured a title
let alone: not to mention
podium: the step winners stand on to receive an award
Questions to consider for the comments:
1. In Korean, the figure skating champ's name is Kim Yu-na. The western world calls her Yu-na Kim. The teenage skater herself seems to favour the English version. Do you agree with this practice of changing one's traditional name?
2. What was the most emotional moment of the 2010 Games?
Written by Tara Benwell for EnglishClub
| March 2010
Tara Benwell
is a Canadian freelance writer and editor who specializes in materials and articles for the ELT industry.