Niagara Falls FAQ
You have to see it to believe it.
Niagara Falls is one of those places where you can truly say the photos don't do it justice. On the other hand, many people say "once you've seen it, you've seen it". In other words, you may want to take other people there, but you'll never experience it in the same way. However, if you've only seen the Falls in daylight, it's worth a second trip to see them at night. You'll understand why Niagara Falls is the honeymoon capital of the world!
Here are some Frequently Asked Questions about Niagara Falls:
Where is Niagara Falls?
Niagara Falls is located at an international border between Ontario (province), Canada and New York (state), US. You can fly into Toronto, Ontario (125 kilometres from Canadian side) or Buffalo, New York (41 kilometres from US side). You can then rent a car or take a tour bus to the Falls. See Map. The fresh water that flows over the Falls comes from the Great Lakes.
How big is Niagara Falls?
Niagara Falls is made up of three falls. Horseshoe Falls (Canadian side) is about 53 metres high and 790 metres wide. The American and Bridal Veil Falls are about 30 metres high and 320 metres wide. The height of the Falls is not always the same. Some of the water flowing over the falls is drawn away by two hydroelectric plants. The amount of water taken changes from season to season. The depth of the pool below also changes.  Niagara Falls is often sited as the second largest in the world. It is not as high as many of the other large waterfalls, but more water flows over them and they are very powerful.  The largest is Victoria Falls in Africa, though it isn't the tallest or the widest.
What's the difference between the US and Canadian side of Niagara Falls?
You can look at the Falls from the US or from Canada. The view of Horseshoe Falls from the Canadian side is head on. The majority of the water flows over this section of the falls. The  American side (American and Bridal Veil) also has beautiful views, though many say it  is less impressive.   Luna Island is a small piece of land that separates Bridal Veil Falls from the American Falls. The  Canadian side is known as being more commercialized, though both sides have casinos, restaurants and plenty of attractions. If you want to see both sides you can cross "Rainbow Bridge". This steel bridge connects Niagara Falls, New York to Niagara Falls, Ontario. You can walk or drive across this bridge. You will have to go through border security so you must carry your passport.
How many people visit Niagara Falls each year?
Approximately 16 million people visit Niagara Falls each year. Peak season is summer (June-August).
What is there to do in Niagara Falls?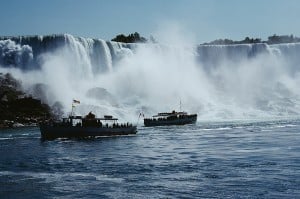 Locals often refer to Niagara Falls as a "tourist trap". This means that there are many things for tourists to do that cost money. Examples include haunted houses, museums, and tours. These are not things that most residents would pay for, but visitors get sucked into the excitement and end up spending a lot of money on them. Some attractions such as "The Maid of the Mist" and "Journey Behind the Falls" take you close to the water. If you have travelled around the world to see this spectacle, it is worth putting on a poncho and getting close to the water. The Maid of the Mist runs from April to late October. This is the official tourist season in Niagara Falls. The boat ride takes about 30 minutes.
What does it cost to go to Niagara Falls?
You don't have to pay any money to view the Falls on foot. You can walk down the pathway, take your own pictures and videos and walk through the mist. You do need to pay for parking and you will have to pay for any attractions or tours. You can see the Falls without spending a penny or you can spend a fortune checking out all of the sites.
Do they always light up Niagara Falls at night?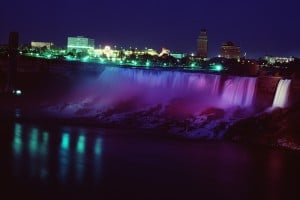 Yes. The Falls have been lit up at night since 1925. The Falls are lit up in rainbow colours from dusk to 10 pm or midnight, depending on the time of year you visit. The illumination schedule is available online.
Do daredevils really go over Niagara Falls in barrels?
Yes. Since the first jump in 1829, many daredevils have attempted to go over the Falls in one way or another. Some have used barrels and others have jumped without any protection. It is illegal to try to go over the Falls and many have been injured or killed attempting such stunts.
to not do something justice: to be unable to show how good or amazing something truly is
honeymoon (noun): a trip a newly married couple takes to celebrate their wedding
international border (noun): a checkpoint between countries
hydroelectric plants (noun): a place where water is converted into electric power
depth (noun) : how deep something is
head on (adverb): with the front in view
commercialized (adjective): created to make profit
peak season (noun): the busiest time of year
spectacle (noun): something that is amazing to see
poncho (noun): a plastic rain covering with a hood and wide arms
daredevil (noun): a person who attempts difficult stunts that could result in injury or death
barrel (noun): a large cylinder shaped container (metal or wood)
illegal (adjective): against the law
stunt (noun): an activity or trick that requires skill and bravery
Have you been to Niagara Falls? Describe your experience.
What natural wonder exists in your country?
Please leave your answers in the comment box below 🙂
Written by Tara Benwell for EnglishClub
| July 2010
Tara Benwell
is a Canadian freelance writer and editor who specializes in materials and articles for the ELT industry.
One comment
Eva Hooley says:


Around 1987 went to Niagara Falls. On Canadian side there was a tall building, and on top made of many long strings of light bulbs that looked like one large light bulb in a distance. What was name of the building?

ps: was a great vacation- we want to go back!