Social Bookmarking in Easy English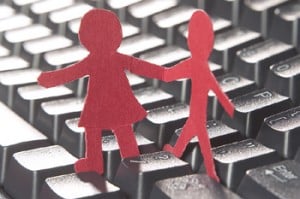 Social bookmarking is a way to keep track of your favourite pages on the Internet. It is different than having a list of "favourites" on your computer's browser because it is public. Your favourites are shared with your friends, family, and the world (if you choose). You don't keep your favourite songs, books, or movies to yourself, do you? Favourites are meant to be shared. Social bookmarking is like being a good neighbour on the Internet. By bookmarking useful and interesting pages YOU help decide what is worth reading.
Librarians and search engines will thank you for making their job easier! You will also thank yourself. Social bookmarks help you find your place on the web. The best part is, you don't have to be at home to access your favourite pages. All you need is an Internet connection.
How to Choose a Social Bookmarking Site
EnglishClub's Share button

offers a direct link to over 100 sites that allow you to keep track of or share your favourite pages. When you find a page on EC that you like, hold your mouse over the Share button (to test, use the button on the top left of your screen-not this image). A window will open with a list of choices. Some are bookmarks and others are sharing tools, such as email, and Facebook). Click on the one you want to use. Share or bookmark your favourite page in as many ways as you want.
Most social bookmarking sites require 3 steps:
Register and create a username and password (some people use nicknames on these sites to remain anonymous)
Create a profile (you can add information about yourself and add a photo or use a pseudonym to remain anonymous)
Start adding your favourite pages and browsing other people's favourites
Tip #1: Memorize your social bookmark name and password or email it to yourself.
Here is a brief explanation of 3 popular social bookmarking sites:
delicious: When something is delicious it tastes great! Can you think of any pages on EnglishClub.com that are good enough to eat? You might find the Phrasal Verb of the Day tasty. Or maybe you love to devour the Monthly News Digest. Perhaps you come to the site weekly for a taste of This Week in History. When you register with www.delicious.com, you can add all of your favourite EnglishClub.com pages. Each time you find a page you like simply hold your mouse over the Share button and choose Delicious. This will take you to your Delicious page where you can Save a New Bookmark. Tag your favourites with appropriate key words to keep them organized (and separate from your other interests). You can find other delicious users with shared interests by doing a search of your tag words. For example, search "grammar" and see what you can find. Add these people to your network and check out what they find tasty. Note: An alternative to delicious is Connotea. It works in a very similar way. You will find it on the Share button as well.
Digg: In English the word "dig" has a double meaning. It can mean to reach into something deep and search for something. The verb "dig" can also mean to really like something. Do you often dig around EnglishClub.com? Which pages do you dig the most? You will need to register at www.digg.com before you can begin to Submit New favourite pages. After you register, you can digg anything on EnglishClub by finding it on the Share button. When you Share a page on digg, you will need to write a short review. If others find your page, they may digg it too!
Stumble Upon: When you "stumble upon" something you find it by chance. You may not be looking for something specific. Which EnglishClub pages have you stumbled upon lately? Perhaps you found "The Learning English Video Project" or a new article in ESL Magazine? When you register for the Stumble Upon tool bar you can give a Thumbs up to any page or site that you like with the click of a button. Take the time to write a review so that other stumblers will find the pages you like. Note: Though reviews and categories are optional, remember to choose No for Adult Content.
Tip #2: EnglishClub makes it easy for you because of the Share button. Other websites may not offer direct access to del.icio.us, Stumble Upon, Digg, or others. You can add your social bookmark site to your toolbar to make it easier to add pages from other sites.
How to Use Tags
Tags are key words or ideas on a web page or site. These words keep your bookmarks organized. English is not your only interest, right? Some of your bookmarks will be related to your other interests, such as the environment or skateboarding. Tags help you keep these interests separate from your favourite learning English resources. Here are some of the tags you may use to describe your favourite pages on EnglishClub.com (or other learning English sites you use). Before you choose your tags, ask yourself this question: "Why do I want to remember this page?"
English
learning
language
online
grammar
reading
writing
vocabulary
quizzes
Free
teach English
online
resources
references
Other ways to Share
EnglishClub's Share button offers other ways to pass your favourite pages around. Do you use Facebook or Twitter? What about MySpace? Posting a link to a social media network is a more efficient way of sharing than email, because you can reach many people at once. You can also generate a conversation about a topic or resource via a comment section or reply.
5 Reasons for English Learners to use Social Bookmarks
Keep track of your favourite pages and links in an organized manner
Share you favourite pages and links easily with your friends, family, teachers, and all other English learners (if you choose)
Practise reading and writing tags and reviews in English
Access your favourite pages and links from ANY computer
Make the Internet a better place to learn English
Out with the Old; in with the New
The Internet is changing every day. Are you keeping up? Share your thoughts in the comment section.
| | | |
| --- | --- | --- |
| Things English Learners Do | The OLD way | The NEW way |
| Find resources for learning English | Consulted textbooks | Consult websites |
| Save favourite Internet pages and links | Added to favourites on a home computer's browser (sometimes organizing in folders) | Add favourites to social bookmark sites accessible from anywhere |
| Categorize materials by subject matter and need | Used printouts, staplers, paperclips, binders, desktop folders | Use tags (key words) on social bookmark sites with direct links to original sources |
| Take notes on resources | Used sticky notes and paper notebooks | Type digital notes on social bookmark sites |
| Share useful and interesting Internet pages with friends and family | Attached via email (often unopened due to fear of viruses) | Link to an original source via social networks (often reaching outside your network) |
| Search for the best resources on certain subjects | Relied solely on the first few pages offered by popular search engines | Browse popular content and follow leads via social bookmark sites and social networks. |
Wordchecker
social bookmarking: saving and organizing favourite Internet pages on an Internet site
browser: a program (such as Internet Explorer or Firefox) that lets you look around and interact with the World Wide Web
window: a box on your computer screen that can be opened, minimized, or closed and has information inside
anonymous: without anyone knowing your true identity
pseudonym: a fake name (used when you want to remain anonymous)
toolbar: a row of buttons or icons on your screen or browser that lets you do different things
tag (noun): keyword
tag (verb): to assign a keyword
social media network: an online group (such as Facebook or Twitter) where users or members communicate and share information
keeping up: keeping yourself connected or educated about the modern ways
Tip #3: The first time you watch the video, listen and follow the cursor. The second time, read along with the subtitles. (To see subtitles, make sure you have closed captioning turned on. Hold your mouse over the arrow in the bottom corner and allow CC.)
[youtube]http://www.youtube.com/watch?v=BvDNcAXivDU[/youtube]
Written by Tara Benwell for EnglishClub
| October 2009
Tara Benwell
is a Canadian freelance writer and editor who specializes in materials and articles for the ELT industry.