How to Use Wordle
On the official website, Wordle is defined as a "toy for generating word clouds". Wordle is useful for:
brainstorming or reflecting
remembering vocabulary
studying for an exam
summarizing a chat or discussion
adding a visual element to a blog post
sharing thoughts or notes on a certain subject
exploring colour palettes or fonts
creating fun thank you notes or greeting cards for friends or loved ones
displaying creativity

How to create a Wordle
Go to Wordle.net (or start with the form on EnglishClub's language tools page)
Click on Create
Type a bunch of words in the text box (to keep words together for phrases use ~ between each word). Click Go
Change the font (letter style), layout (horizontal, vertical, etc.), and colour to suit your style. (You can click randomize until you like it, or design manually)
Click on Save (save to public gallery and copy link OR take a screenshot)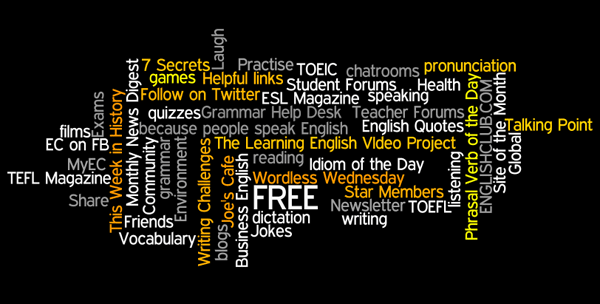 Wordle Tips
The same single word won't appear twice even if you type it twice. The more you type a word in the list, the larger it will appear in the Wordle. If you want one word to appear 3 x bigger than the other words, type it three times in your list.
To keep phrases together use a tilde (~) between the words.
Wordle's default setting removes numbers. If you want numbers go to Language and uncheck "Remove Numbers".
You can't make it into a specific shape.
You can't save as a jpeg. Take a screenshot of your Wordle or save as a PDF.
If you save it in the gallery, anyone can see it.
10 Wordles to Create
Here are some ideas you can use. Challenge your friends or classmates to make one of these Wordles, or think of your own topic.
Useful Verbs
Adjectives I Love
Phrasal Verbs
Proper Nouns
Favourite Quotes
Words I learned this week
My favourite English words
English Rules I need to Remember(don't forget to use the ~ to keep words together)
What other Wordle topics can you think of? Share your suggestions in the comments. If you make a Wordle, leave a comment with a link to your Wordle. Post it in the public gallery or on MyEC.
Written by Tara Benwell for EnglishClub
| September 2010
Tara Benwell
is a Canadian freelance writer and editor who specializes in materials and articles for the ELT industry.
One comment
minesweeper online says:


Try your luck with your intelligence, here will be two dimensional result one you will get accurate and perfect result and another one will be try again. So here you should try your best to choose your perfect mines.