EnglishClub Guestbook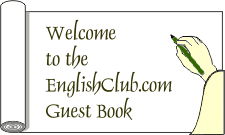 Thanks to everyone for your entries and kind comments! Past guests are here.
293 entries.
I'm very happy.I'm a English learner. I participate it when I watched on youtube by Nasir and Fatima.I want to say thanks to English club it is so helpful for me I want to learn English language which was very difficult for me but I love to learn it my strength is increasing to learn it.I hope English club will be helpful for long time
It's really amazing, my English is improving day by day's then before this web is very helpful and easy to learn.
ooh it's an amazing platform I really enjoy learning
It is Vijay here. EnglishClub is a wonderful platform where a non-native speaker can improve his English in a short span of time.
HI!! I AM LEARNING. IT´S A GOOD PAGE
this is a great platform to learn English
I'm so glad to see this website and the grammar they teach is extremely good and I just love it.
I think, this is a great platform to learn English. Glad to be part of it.
hey..im glad to be a member of the club
It would be a nice chance to be a member of your club. Thank you for all your efforts. Regards, Majid