EnglishClub Guestbook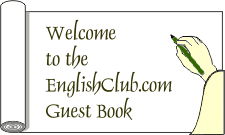 Thanks to everyone for your entries and kind comments! Past guests are here.
562 entries.
Hello and thank you for allowing me to be part of this club. I am ecstatic!, looking forward to getting as much knowledge as I can. I wish I can improve my English level. Regards
I'm just so excited to learn more english and to improve my english language skills.
I have just subscribed to EnglishClub, as a lifelong lover of the English language. Your 'welcome' email makes reference to 'ESL', but what is ESL ? Surely using an abbreviation, without specifying what it stands for, is not good English practice ! Comment from Admin: ESL = English as a Second language. Learners of English are perhaps more familiar with this initialism than native speakers 🙂
Hi i'm very happy to be in this englishclub. I hope to learn more and to improve my english
I'm happy to become a part of englishclub.com community.
I am new to this site and hope to learn how to teach using your materials and teaching tools as I learn more about my own language. I have been tutoring English language for about 10 months and am currently studying a Level 5 TEFL course.
Hi! I'm jg from Baghdad I love this site so much its really help me improve my language thank you
Hi I want to chat in this site
Hi, I am Mark. I am great to meet you. I am a junior member who wants to well learn English. I hope that I can learn well from this website. Thank you
I am Afra.I;m trying to learn English for this I think this site may be help me.
I am Afra.I;m trying to learn English for this I think this site may be help me
I am sanzida.I;m trying to learn English for this I think this site may be help me
welcome to the enlishclub.com guest book
Hi everyone, I am a new in Englishclub, glad to talking with you all, thanks
Dear English Club Community, I'm a newcomer here in the club. I'm so excited and glad to be part of the club family. Since English is a seecond language, I'm happy to learn new things about English language from you guys. Happy learning!
You are so wonderfully helping easily. Thank you.
Thank you englishclub help me to improve my english knowledge.
thanks lot for joining me english club.It will be grate help me to improve my English knowledge
Hi! webmater Tanks to EnglishClub for let me enter in this Club I'm going to learnt a lot because there are realy good tools here.