EnglishClub Guestbook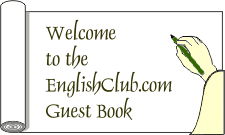 Thanks to everyone for your entries and kind comments! Past guests are here.
520 entries.
I need to learn Englishl...
I need to learn enlightenment
Hello folks! hope everyone is doing well 😊 I'd like to create a group that will consist of ten members including myself to learn and practice english. We could share what we learn to the group and help each other to improve in english language. We could share our different interest as the main topic to practice our english grammar and practice our english speaking skills. (What's in my mind right now ☝️😅)
I have a TESOL Cert and a little English teaching experience in Australia and Japan. I enjoy the interaction when teaching with Adults and Teenagers.
wrote on 22 september 2020 11;59 hello i want to no some new friend
from ALGERIA wrote on 21 October 2020 at 11:26 Hello I want to know some friends
Hello I want to know some friends to speak with
Hello, I discover this website today, it really amazing. I would like to have new friends who speak English. My primary language is french.
I am Lucas from Italy ,I would like know new friends to chat or speak in English and improve my skills I also speak Spanish and Italian
Hello.I thanksful for EnglishClub and I hope that I can learn English here and I"ll be speak and understand native speakers.
EnglishClub helped me a lot in learning basic daily phrase required in speaking. I usually visit the site and update me.
I saw EnglishClub a few months before but just watched it closely today! Wow, it is more than impressive! I will visit it more often. It is now officially on top of my list.
I came across your website and became curious. Now that I found Englishclub.com does have it all I need. As an English tutor in Lombok, Indonesia. You really accommodate my needs. Keep up the good work !
Hi this is an amazing site I have ever seen. I read daily something on this site. I have learned mostly from here.