EnglishClub Guestbook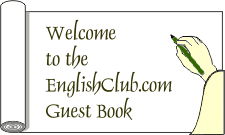 Thanks to everyone for your entries and kind comments! Past guests are here.
471 entries.
Welcome to the EnglishClub Guest Book
I am very happy to see this site and have immediately joined the club. Thanks a lots to this developer.I could find much to help my students learn English.
Very thankful to this developer. I got the many knowledges about english to teach and to learn
Hello everyone, can you show me how to learn English simply and effectively?
hi, i'm an english learner and i'm finding friends who want to talk english with me! thank u!
asslam o alaikum everyone I really like the ENGLISHCLUB website its an amazing website to learn English, I hope I will improve my English IN SHA ALLAH. thank u.
Down middle up, 👇🏾👊🏾👆🏾 👎🏾👊🏾👍🏾
Happy learning about speaking English
i liked the website. it has many useful ESL activities and books but I wish I could use these also on my desktop.
Hi, everyone. I would like to share my experience that this is amazing website for those who want to learn English from basic ..
Hello everybody, ENGLISHCLUB is perfect website than any more.
Hi , I'm Mondi from Egypt , How are you