EnglishClub Guestbook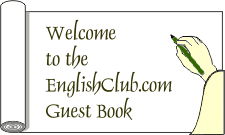 Thanks to everyone for your entries and kind comments! Past guests are here.
309 entries.
I spent 2 or 3 hours here everday. I like this lessons 🙂 A lot of thank you for this website.
Hello, I like this page, it is an excellent resource for students in the world.
Glad to participate in English learning on the website with you all.
Welcome to join us, being more interested in learning English!
hi everyone, I'm new here I hope to enjoy
Hiiiii! Glad to be here ! I always try to do more in english. I hope I'll find it out here.
I want to improve my english
Hi everyone! My name is Elisa, I'm 31, I'm italian and I want to improve my English! How are you doing?
Hi, I'm here to practice my English speaking and writing skills.
Hello, You are wonderful!! I am so happy to have found your brilliant resources. Thank you so much!! MT
As an English teacher, ever since the first contact I had with ENGLISHCLUB I knew I had found one of the most serious and prestigious pages in the Internet, either for learning/ teaching purposes...and my students think just the same...
Of all the Tutoring aid sites I have tried, EnglishClub is the most user-friendly and down-to-earth. Your worksheets are fun to use with my Tutees. Major Props.
Hi, I am Varsha,couple of months ago i moved to Melbourne with my family. I canspeak English but due to lack of confidence i heistate to speak with native speakers, so i want to improve my confidence as well as quality of my English language.
I like to speak English because i travel a lot and i can not communicate with people therefor i do not enjoy from my travel. it is my reason for learning English.
I'm very happy.I'm a English learner. I participate it when I watched on youtube by Nasir and Fatima.I want to say thanks to English club it is so helpful for me I want to learn English language which was very difficult for me but I love to learn it my strength is increasing to learn it.I hope English club will be helpful for long time
It's really amazing, my English is improving day by day's then before this web is very helpful and easy to learn.
ooh it's an amazing platform I really enjoy learning
It is Vijay here. EnglishClub is a wonderful platform where a non-native speaker can improve his English in a short span of time.