EnglishClub Guestbook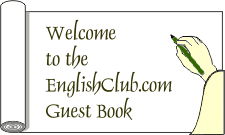 Thanks to everyone for your entries and kind comments! Past guests are here.
687 entries.
i ride horse alot this year and i be doing barrel raceing too
I love this site. It's very explicative and easy to understand.Thank you!
I love this site. It's very explicative and easy to understand.Thank you!
I have been in such a hurry the whole month and hardly managed to sit and prepare my lessons, so THANK YOU for having ready material at hand! Grazie. (Italy)
I am from Afghanistan, I have learned lots of things in this page And also I have entered in November 11,2021
Hello KIND PEOPLE I WILL Show yall math and reading o sorry my name christopher
hello my name is christopher you will be playing with me today.
There is an error on the page about compound sentences. The following is listed as a famous quote and an example of a compound sentence, and while it is famous, it is NOT a compound sentence: "I am just going outside and may be some time." Captain Lawrence Oates [Admin says: "I am just going outside" is one clause. "(I) may be some time" is another clause. They are joined by "and", making a compound sentence.]
i really hope can learn english or improved! so,we'll see
Yesterday, I was very happy when I received one gilf from my friend. He is very kind of you. He cares about me. Regret, it is been far too long, we haven't met each other. I miss him so much
So sorry to Thoryn about your mother, but wishing your birthday will go well.
Tomorrow, it is birthday to me. Really, I don't feel like anything, cause my mother passed away, everything in the world makes not meaning to me. I miss her so much
Hi everyone. The first time, I write guestbook. I feel like englishclub, because It helps me practice skills: listen, speak, read and write
I really love this page, I think it gives me a lot of knowledge. I'm pleased with your work, please continue creating content with a lot of value
Hi, my name is avaneesh and I am from India .This is website is useful to me.