EnglishClub Guestbook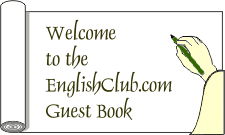 Thanks to everyone for your entries and kind comments! Past guests are here.
534 entries.
Hi good friends.l am looking for to improve my English and make good relationship.
Hi guys. I wanna improve my english language.I am at the level of intermediate.Therefore I am looking for a friend who I am gonna talk to. My skype address is: live:.cid.fc2494e3ce440859 we may contact. see you ...
hi im english i will teach you how to talk n english
Thank you for the great ENGLISH lessons and resources that you have been providing us with, it has truly inspired and growned us richly. May The God Lord Bless you and your works.
Help this is awsome y cant look away
I just joined and took my first quiz and got a 90%. Not bad for not having studied English in a while. This site seems wonderful so far
Hi Everybody! I am looking for a speaking partner on intermediate level. I prefer female partner to speak or chat in English. Thanks! Viki Skype name: Viktória Havasi-Tari
Hi everyone I hope that we can learn english grammar and i hope i can learn more too
Hi everyone... I living in the turkey but am learning english to go to europe... 🙂 by the way are there any Kurds to help me?
Hello everyone and congratulation, all of us, who want to learn English. I wish everybody achieve success.
Welcome to the EnglishClub.com Guest Part
Welcome to the EnglishClub.com Guest Part
Welcome to the EnglishClub.com Guest Part
Welcome to the EnglishClub.com Guest Part
I need to learn Englishl...
I need to learn enlightenment
Hello folks! hope everyone is doing well 😊 I'd like to create a group that will consist of ten members including myself to learn and practice english. We could share what we learn to the group and help each other to improve in english language. We could share our different interest as the main topic to practice our english grammar and practice our english speaking skills. (What's in my mind right now ☝️😅)
I have a TESOL Cert and a little English teaching experience in Australia and Japan. I enjoy the interaction when teaching with Adults and Teenagers.