EnglishClub Guestbook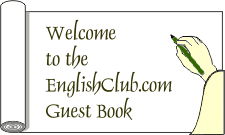 Thanks to everyone for your entries and kind comments! Past guests are here.
505 entries.
This is an amazing place to find lot of information to improve my english skill...I wish I find somebody to practice. I speak Spanish and (learning) english as a second lenguage. Peace and Love!
Very helpful website! Thanks for the great help!
Hello, I've been using your materials for a while now and enjoyed the insight they have given me in teaching ESL. I am a volunteer/ teacher, and your downloads and free printables have made a difference in my classes. I just want to say thank you for the site, and keep up the good work.
I've just found your platform and I think I came across a treasure to improve my English. Thanks a lot.
Very handy for Tutors like me! Thank you for the worksheets that are free!
Amazing platform of studies!!! Thank you so much EC for helping me out! 🙂
Thank you for all the useful teaching materials I can find in your website!
Great resource for teachers. Keep going! Many Thanks
English Club is a great resource for Teachers. Thank you Keep going!
hie, i'm looking for the module of morphology and phonetics hope am on a right club......
I really appreciate the Club.
i am very proud to joing english club... cheers
I m happy to be part of your team
I'm very happy to be here, i teach english specially kids from Preschool to Middle school.
Hi, I am an English teacher and I've been teaching English as a foreign language to greek students for more than 25 years. I studied literature in Johannesburg where I grew up. I'd like to Thank you for accepting me. ???
I was an English teacher in a large school in the UK for over 30 years. I am now retired and living in France, where I teach three French girls English every Wednesday afternoon. they are the children of my neighbours. The girls are 11, 12 and 16 years old.I do this without any payment. This website is a great help. Thank you so much.