EnglishClub Guestbook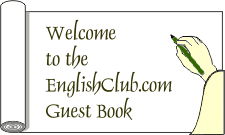 Thanks to everyone for your entries and kind comments! Past guests are here.
367 entries.
hi i am Arif Hussein from Islamabad. i want to peek English
I'm from Brazil, I'm looking for a partner to learning english
This is a very good website to learn English besides school! When I need to learn something new, I always come here. Very enjoyable for learners.
The english language is so funny
My grade 6-12 students of ESOL love any lesson that incorporates your website's highly engaging, connected, and creative approach to learning English. As their teacher, I also sincerely thank you for providing these great tools! You've helped bridge the motivation gap between Enlish-learning as a classtime activity and English-learning as a lifetime goal! Keep up the remarkable work!
It is very useful and easy to understand the explanation . Thank you so much for your efforts .
I felt love with this website. I never had such type of experience.
It's Great! I can find and learn what i really want to improve. I can also practice with these lessons.
it is very useful method for learning english
Great website to learn and improve English
Hi, i'm from indonesia. I'm looking for someone who want to teach me more about english. Follow my twitter @cohyomuthi Thanks, great website.
EnglishClub.com is one of the most influential English learning websites in the world! I highly recommend this site to any English learners irrespective of their English level, whereby they can learn something useful, good, and valuable to advance their English. I love everything in this website!
I like very much your site
So glad my class mentioned this site. 🙂
Keep on teaching the world...!
Greetings from Ukraine.You've done really huge and important work to collect all of these resources for English-learners.My personal special appreciation for Speaking Club materials.They're great!Thank You very much!
Your "Nouns as Adjectives" page is so helpful. Thank you for your clear, succinct information!
So glad I came across this site.
Its very useful for all the levels. Audio would be more clear and impressive with a female voice for students.