EnglishClub Guestbook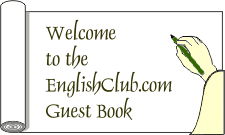 Thanks to everyone for your entries and kind comments! Past guests are here.
447 entries.
How can start with English club learning
Every Wednesday, I am so happy to find a new story from Tara and practice my listening, reading , vocabulary and writing. + a final test each month. I also love «  History » and Songs. I have to admit that Englishclub.com has a great and fun way to teach you English. Thank you so much!
Hi,I am Lalitha. I want to Join This group to improve my english knowledge.
Hlo Eng club,I'm glad to be here with you.looking forward to learning more from you as far as English Language is concerned. Thanx.
Hi, My name is Ebru. I need to improve my English.
HI MY NAME IS Ammar I come here to learn english that was better for me
Hello,everybody i am exciting to join this club in order to improve my English languag. So thank you
Hello everybody, I wish you love and peace. Bijan from the Persian Gulf
best website learn english
Excellent site. Keep the good work!