EnglishClub Guestbook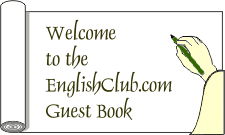 Thanks to everyone for your entries and kind comments! Past guests are here.
471 entries.
Hi I am an English teacher. I really appreciate the Pronunciation section of this site as I tutor students online and in person. Thanks.
Hello, My name is Nisreen. I like to learn more English, more details. Thank you
I am from Pakistan. I want to learn english, so I daily check many different to get many useful tips. EnglishClub is one amongst them.
Hi everyone! I'm from Vietnam but living in U.S. I need improve my english also make friends . If you want like me. You can contact with me by email ( Villistr95@gmail.com ). Best wishes ?
looking forword to improve my english
Hi everyone. I will improve my english. If you want improve your english like me, you can contact with me by skype: camellia. Thanks
Excellent Page very complete and very instructive. Congrats!
I like this club very much.
Great stuff everywhere. Extremely valuable for starting-out teachers and learners alike! Many thanks and keep the good work up!
hay ı am learning english and I need more practise