EnglishClub Guestbook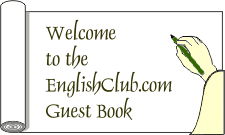 Thanks to everyone for your entries and kind comments! Past guests are here.
505 entries.
looking forword to improve my english
Hi everyone. I will improve my english. If you want improve your english like me, you can contact with me by skype: camellia. Thanks
Excellent Page very complete and very instructive. Congrats!
I like this club very much.
Great stuff everywhere. Extremely valuable for starting-out teachers and learners alike! Many thanks and keep the good work up!
hay ı am learning english and I need more practise
I need improve my english.i like to meet more friends all around the world.
I FRIEND I WANT TO IMPROVE ENGLISH.
Glad I found EnglishClub. I am sure my students will use this to improve their English.
How can start with English club learning
Every Wednesday, I am so happy to find a new story from Tara and practice my listening, reading , vocabulary and writing. + a final test each month. I also love «  History » and Songs. I have to admit that Englishclub.com has a great and fun way to teach you English. Thank you so much!