EnglishClub Guestbook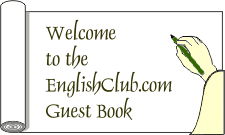 Thanks to everyone for your entries and kind comments! Past guests are here.
563 entries.
from South Texas, I look forward to learning more about the English language!
Look forward to using English Club to build my resources for teaching ESL my learners. Thanks for having me.
I'm interested in activities in English, funny stories, jokes and idiomatic expressions.
Hi, I am esraa from cairo I wrote on february 1, 2019. Learning English
looking for website that shows syllable pronunciation
Hi, I'm Musharaf 27 from Lahore. I'm master's in engineering. I have booked IELTS for 14th of Feb. Anybody who wanna accompany me in preparing speaking and listening? kindly whatsApp me at +92 3137377007. Thank you.
Great material. Thank you so much and keep up the good work.
Guestbook entry-level is great.
Hi Everyone!I have just joined the EnglishClub and I am looking forward to learn and improve my English.I welcome you all to correct my sentences if I make any mistakes while chattng.I believe in this way I will be able to brush up my English grammar.
Hello. I'm an English teacher. I'm so impressed with the pronunciation part. Does anyone advise me the audio part which can be downloaded? I would like to type in my random sentences and see the phonetic transcription with the audio which I can download. Thanks a lot!
I want to learn english grammar
Yes to chat with somebody who wants to pass time
I'm so happy that I have just found this great treasure. Thanks for all the resources for both teachers and students.
Hey there! I'm Paula, new here, and I gotta say, this web has been an amazing discovery.