EnglishClub Guestbook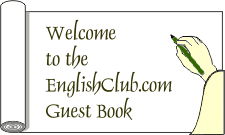 Thanks to everyone for your entries and kind comments! Past guests are here.
471 entries.
The coolest part of learning a language is to use it as much as you can, to laugh, to tease, to argue, to debate, and of course you will need to learn the whole minimal pack of culture that is needed to a relative nice conversation. Use it! Abuse it!
Casual linguistics fan. Thanks for the resources.
Great to know about this site! It is really loaded with useful, essential knowledgeable contents. Wish to suggest this site for people who have thirst towards English language learning and speaking.
Hi everybody, english is hard but i will good in help
Hello everybody i just want to improve my English level
Hello Englishclub thank you for this page. its very helpful
Hi from Argentina. I am an English teacher and translator. I have been using this page for a long time. It is very useful and I recommend it to my students, especially the listening exercises. Try hard and you will succeed.
Just hanging out O I / \ Mommy's glasses wood chuck wood Travis C
to communicate with other people
Don't lose faith ,it's a bit difficult at beginning but after some days I realized that I moved step forward
A very useful site for teachers and students 🙂
Hello. I'm Lusine From Yerevan, in Armenia. I'm an ESL teacher and I love this site. I recommend it to my students. It shows foreigners the easiest way to learn language. Thanks a lot!!!
Hi Chris from Oakville. Thanks for your comment. Could you please contact info at englishclub dot com to discuss your teaching via telephone point. Thanks! Josef
I'm an ESL teacher and I love this site. I recommend it to my students. An addition I would like to see is exercises and suggestions for teaching via telephone.
In fact, I just only a student, i can't understand all of this, but i think i can try to study in here, because it's seems very useful!
Great site thanks and i learn a lot here 😉
I saw your website just before few hours. I found this website to be very useful for improving english skills