EnglishClub Guestbook
Past guests (years 2000-2015) are here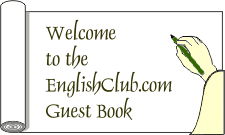 Please sign our guestbook. Thank you for your kind comments 🙂
906 entries.
I hope english club helps me to learn and speak english
I hope english club helps me in speaking english and correct my grammar
Sometimes I need held with precise english terminology in my lectures and publications. I hope EnglishClub can help me. v/prof. Jaroslav Strejcek, president of the Czech Society of Phlebology
Hello everyone, i am here for improve my english.
I'm deeply grateful for the work you've put in for the lessons, and for my professor who recommended this page. Keep up the work! 😊
I would like to more practice Grammer.
I would like to see some vocabulary sheets
Fake it until you make it
This website is so good i am learn to much
I'm very happy about these helpful sides.
My name is Feruzbek and surname ish KHamroev. I am 21 years old, I am a student.
I can study and learn I'm so excited to learn fast !!!
I just found this site and I am excited to use it with a young man whom I am tutoring!!
my name is shwe thain I am 14 year
Yeah 👍 I am really admire this book.