EnglishClub Guestbook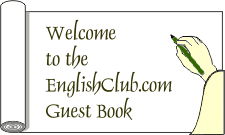 Thanks to everyone for your entries and kind comments! Past guests are here.
471 entries.
Hi,i'm Ly.I found that this site is very useful and interesting, and it help me a lot in learning English
I found this site thanks to the official youtube channel Khanh Vy
hi guys! my name is Bao Anh and I live in Viet Nam. I want travel to Germany. Nice to meet you
Hlo, i got precious knowledge from this website now i have great interest in english language.
I need to practice my English
to mychan you can search on youtube or wacth khanh vy offcial
Hey, I know the name is misleading but I am actually female my name is Olivia and I am really good with English if you need help
Hello, nice to meet you. My name is My. I live in Ninh Binh city . I'am student. You can't study English good. Can you give me some tips on how to learn vocabulary well. Thanks
Hi guys. I'm Anna. I think this website is quite good. It can improve your English, only need you hard and try everyday. One day, English will become your second language.
Hi guys! am Farah and am happy to be here English club.Thank you all.
Hi guys. I'm mehrnoosh.I am a highschool studen.I don't want to compliment but my English is somehow good.so if there is someone who wants to chat through sending email my email address is mehrnoosh4957 @ gmail.com furthure more please just send me emails.thank you:)
Hello eveyone.My name Lỗ Yến Nhi. I feel the englishclub website is very good.It helps me improve my english skill.I am very grateful to the ENGLISHCLUB.Hope that ENGLISHCLUB will grow forever.