EnglishClub Guestbook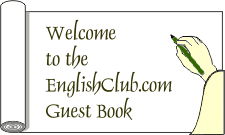 Thanks to everyone for your entries and kind comments! Past guests are here.
335 entries.
Hello everybody, I'm Amir from Iran and i'm preparing myself for TOEFL test,so I wanna improve my vocabulary and listening skills. I hope EC helps me to enhance my English learning ability.
Hi everyone, I'm Marco Antonio and I live in Mexico. I'm currently studying mechatronics engineering, and I want to learn English to improve my skills and obtain a doctorate.
HI I AM JOSE MARIN, I FROM PUEBLA MEXICO I AM STUDY ESL. THIS LINK IS VERY USEFUL. THANKS YOU SO MUCH FOR THE PAGE!
Grammar quiz and other resources are very useful for teaching and learning
Hello, I am Catalina, from Colombia. I have found this website and I have to say that is very useful when we want to learn English and teach it. Thank you so much for the page!
I spent 2 or 3 hours here everday. I like this lessons 🙂 A lot of thank you for this website.
Hello, I like this page, it is an excellent resource for students in the world.
Glad to participate in English learning on the website with you all.
Welcome to join us, being more interested in learning English!
hi everyone, I'm new here I hope to enjoy
Hiiiii! Glad to be here ! I always try to do more in english. I hope I'll find it out here.
I want to improve my english
Hi everyone! My name is Elisa, I'm 31, I'm italian and I want to improve my English! How are you doing?
Hi, I'm here to practice my English speaking and writing skills.
Hello, You are wonderful!! I am so happy to have found your brilliant resources. Thank you so much!! MT
As an English teacher, ever since the first contact I had with ENGLISHCLUB I knew I had found one of the most serious and prestigious pages in the Internet, either for learning/ teaching purposes...and my students think just the same...
Of all the Tutoring aid sites I have tried, EnglishClub is the most user-friendly and down-to-earth. Your worksheets are fun to use with my Tutees. Major Props.