EnglishClub Guestbook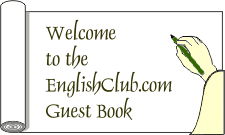 Thanks to everyone for your entries and kind comments! Past guests are here.
354 entries.
Hi everyone. I am very interesting to learn english language with the help of this website. Also I am really appreciate the person who got the idea of creating this kind of website & thank him...🙂
Hi I'm thejani from Colombo, how are u guys I'm so happy to with u work and ur lessons. but I cannot view your pages some times. I think there is a problem. can u check it please. thank see you again best of luck
Hieveryone here!I' m at Kigali _Rwanda ,by English club may help me to improve my English lesting even my English speaking skills.thanks!
Hello, my name is Carlos,I'm an English student,I loved this site, is excellent for learning English and practice too.
I need help to improve my english
Hi there! I'm Celeste. 52. I come from Madrid, Spain and found EnglishClub web by chance in the Internet, but since I need more practice to get a certificate in C2, I see that I found a way to a bigger treasure... improving my skills is now my main goal and get to know new people to help each other;)
Hi. I am Md Samin Al Rashid. I am 21 years old and from Bangladesh. Came here to give a quick shine to my English skills. Hope that everyone will help me.
Hi everyone how are u ? I thank this site again u know our country is the most beautiful country in the world. we have a great history also . through this site I can sharpen my language ability I love learn this amazing language in the most beautiful country in this world thanks see u
hi, I'm Thejani thanks again . I'm so happy you give nice thinks to improve my knowledge good luck
Hello everyone. I'm so happy to have stumbled on this very awesome site. And I hope to be here more often. Thank you, and God bless you.
Hello to everyone! I am very fine to know all of you, for me it is the first time on this website but I would like to visit it many times. In fact, I need to know English language for my work at least on a B1 or B2 of the Common European Framework of Languages.
hi , you give me good ideas everyday thank u so much
Hi, I am From Mozambique. I definitely love this website, It helps me improving my English
Anyone knows the meaning of 'you can lend your ear and palm someone'
Hello everybody, I'm Amir from Iran and i'm preparing myself for TOEFL test,so I wanna improve my vocabulary and listening skills. I hope EC helps me to enhance my English learning ability.