EnglishClub Guestbook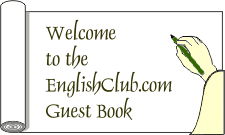 Thanks to everyone for your entries and kind comments! Past guests are here.
460 entries.
Hi from Egypt very good website to learn English
Thank you so much for your holistic effort in making available these very useful stuff freely for everyone. Great help for us who are pressing for a job interview. God bless you all !!! Ronald
Hi team members, thanks a lot, you helped me with great tools i never knew them before, ouahida algeria
No body can denies that this site is the best for learning English.
Dear members, thank you for lots of great materials and tools to help us!!!
im Sajjad Safdar . i wanna Learn English
Dear website admin. I want to thank you a bunch. I am a member of EC for some years and I have found it very useful. I've offered this site to everyone I know and I'm sure here is a proper place for everyone who wants improve his/her English knowledge.
It´s the perfect web to learn everything about English language!!! Thank you so much!!
I'm so glad I found this site!
hi i am Arif Hussein from Islamabad. i want to peek English
I'm from Brazil, I'm looking for a partner to learning english
This is a very good website to learn English besides school! When I need to learn something new, I always come here. Very enjoyable for learners.
The english language is so funny
My grade 6-12 students of ESOL love any lesson that incorporates your website's highly engaging, connected, and creative approach to learning English. As their teacher, I also sincerely thank you for providing these great tools! You've helped bridge the motivation gap between Enlish-learning as a classtime activity and English-learning as a lifetime goal! Keep up the remarkable work!
It is very useful and easy to understand the explanation . Thank you so much for your efforts .
I felt love with this website. I never had such type of experience.