EnglishClub Guestbook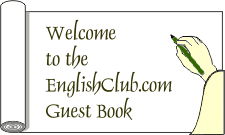 Thanks to everyone for your entries and kind comments! Past guests are here.
471 entries.
if not beautiful, must be smart. If not smart, then must be hard studying. I am studying English every day 🙂 I LOVE ENGLISH
Thanks for providing the learners/teachers a platform to learn English Language, the need of the time (as always) to bring people from different cast a creeds closer.
Very interesting and educational . Thanks a lot for this website. DBD
I'm happy to learn these lessons.
At the moment i am studying to be a english teacher. Being so, i am very happy to know you andf learn more. God bless you
Dear Website Creator Team, Millions of Thanks to provide such a valuable English learning resource. It's very kind of you. With regars Ashraf
Thank you. Definitely a powerhouse of information for a teacher and my students.
hello everybody I am happy here [this clup] I want to learning english very well.DO you hlep me by chat?
Very good site)I improving my english day by day.
from Saudi Arabia wrote on December 20, 2017 at 02:52 pm: It's a very good site! It's helping me to improve my English. Congrats!
My classmate Carlos and I use this web in our English classes.
This the kind of site I need to upgrade my English writting. It is very useful.
Hi. I just want to say englishclub is a good website to learn english 🙂
It's a very good site! It's helping me to improve my English. Congrats!
hello is my first time here. English is good to study it well n better
Loved your site? Do you sell the matching simile games? Would be a fun New Years Eve game to play with the grandkids
Thank you guys @ EC! Nice site!! great resources!!!
Englishclub is so useful thanks to every body who admins it 🙂 kob khun krap maak maak