EnglishClub Guestbook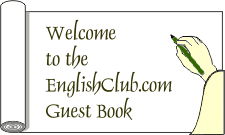 Thanks to everyone for your entries and kind comments! Past guests are here.
686 entries.
Hello, I am from Indonesia.. I'm so excited to join here in order to improve my English.
I hate reading. It sucks. This website makes it easier to comprehend the knowledge of the book. Even though the story of Monkey's paw ended terribly this website helped me with writing knowledgeable answers. So thank, but not thank you. You were helpful in some ways and not in others. Thanks but not? McKinley Allen?
Hello, I find your site accidentally and I am so happy for that because I'm going to take IELTS exam.
I'm Oskar and I'm from Oslo Norway
Eric M, ESL teacher in China
Hello. I love EnglishClub
Just heard of this site, very excited to join to improve my English
So thankful for this platform that has helped in making me a fluent English speaker. Simple to understand with amazing quizzes! Sending my love to the brains behind this platform ? Keep impacting your knowledge to us! xoxo
I'd like to improve my level of English
Hello. m Murari from Nepal. I love very much the EnglishClub.com for the betterment in teaching-learning procedure.
I want to be efficient in English
The coolest part of learning a language is to use it as much as you can, to laugh, to tease, to argue, to debate, and of course you will need to learn the whole minimal pack of culture that is needed to a relative nice conversation. Use it! Abuse it!
Casual linguistics fan. Thanks for the resources.
Great to know about this site! It is really loaded with useful, essential knowledgeable contents. Wish to suggest this site for people who have thirst towards English language learning and speaking.
Hi everybody, english is hard but i will good in help
Hello everybody i just want to improve my English level