EnglishClub Guestbook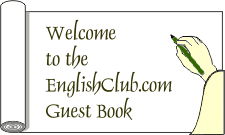 Thanks to everyone for your entries and kind comments! Past guests are here.
536 entries.
I really love Englishclub, it's a good page to learn English. Regards uluka
Hi Guys it's a good think that ur doing keep it up
Hi guys! 1st time here but seems very welcoming. Thank you! Have a great day and an awesome weekend! Kind regards from Romania, Nico
hi guy, I'm Xuan and I find englishclub from a video in youtube. I think it's effective. I'll speak english soon. bye
I love 💕 English club, though this is my first time on this website. This is wonderful
hi guys. my name V, i'm good boyyyyyyyyyyyyy
Hello Everyone! Will like to experience this website.
Hi everyone, glad to join the English Club! There used to be a chat function here where everyone could join to practice English! I can't find it now... -- From Admin: try www.myenglishclub.com/chat
My city is beautiful and clean. People here are friendly, hospitable, hard-working. Especially they are helpful and kind, generous. If you had any chance, you should go here to try the food.You can try bean cake (special food), types of noodles, sticky rice,..The best thing I like most about my city is the scenery. It's so beautiful and peaceful. I am proud of my city. I love it. Hope you can come and visit my lovely city!
Thank you for making teaching English a possibility. The free resources are a blessing.
Just amazing experience ! I just love to learn and this site helps me a lot !! It's my daily doze !! Thanks team !
I Learn Many things from these wep Side Thank You Gues For Everything
Hope it helps me in Proofreading!
School is my Temple, Teacher is my God, Study is my Aim,My geol is Professor
Hello, everyone.I hope I have a lot of friends. Hihihi
i wish this app can use in my phone hahaha