EnglishClub Guestbook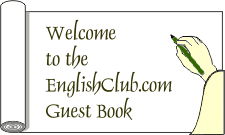 Thanks to everyone for your entries and kind comments! Past guests are here.
402 entries.
Hello everyone, my name is Fuad, I am a new visitor for this website, I want to learn English, thank you..
Hello to everyone. I'm from Iran of azarbaycan. I'm glad to join this website. I'm studying every day in this site .I want to improve my English skills. Thanks a lot for help us . ❤❤❤👏👏👏
Good Informative for kids
This is such a great network to connect with people. I hope I can be of resource for other teachers of English language learners. I have a youtube channel where I send free resources, tips, strategies, games, and a little bit of humor to make teaching easy! Its called, "The Language Lady" on youtube.
I'm new visitor for this website I want learn english
assist me to learning English
Hi everyone....I want to learn English....I hope this site will helps me to learn proper english....
Hi everyone my name is Madhu...I am new to this site
Hi My name is Luz Angela I was born in Bogotá I'll like improve my english now I have been enjoying this page.
Hello every one. I'm from iran and i'm glad to join here.
HEY WHAT ARE YOU DOING?????
hi i am from nepal i want to improve my english for be a good motivational speaker
HAPPY NEW YEAR ! Hi, everyone I am Thejani from colombo I wish all of you have the greatest new year!
hi everyone, merry Christmas
I am happy with this website. This website really helps me to learn English.
Hello to everyone!! Christmas is arriving and every one of us in the next days will have a lot to do for preparing a very fun and joyful Christmas lunch. I try every day to search for some good tips in English to improve my general knowledge of the language: in fact where I work there are so many people that don't speak my native tongue which is Italian, and I have to speak with them only in English of course. I hope that for all of you will be a merry Christmas and a happy 2020!! See you soon on EnglishCLub, have a very good period of rest and a lot of love for all of you!!!
hi everyone i hope to be with u as i can there are so many things to learn in this world and people should save our earth can u give some reading activity to read every one about save the earth & the nature see u soon have a nice time bye
I'm from sri lanka.I think this heps me really well.Now i am going study everyday by using @englishclub..thank you❤️❤️
Hİ i am kahie from somalia but living in istanbul, i am so glad to met this website and hope to meet more friends in here