EnglishClub Guestbook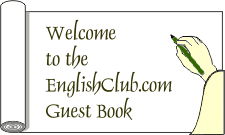 Thanks to everyone for your entries and kind comments! Past guests are here.
457 entries.
Hi, Thanks for everything that you have done for improving the English language. with love
I'm very happy when I known this page, I hope my English will improve as soon as posible. Make friends with me at skype (truong.hong.sen)
It is my first time and I am so excited to read this page. There are many topics to read.
Its my time to join english club,I luv English
I am very excited to know what is system for tense.
Guestbook entry 9th class group in comscience
I am very happy today . Because Iam learning Englishclub.com.
It's first time goin in English Club I exited to learn English very well I'm sure this club will help me . Thanks in advance
It is my first time and I am so excited to read this page . There are many topic to read .
I love English Club so much
Good evening everyone I'll hard work to learn english until i can speak fluently.
osssam im learning a lot from this website.there r lots of learning thing which will help me to get native speakers,movies across
My English has improved a lot after I started to learn phrasal verbs from englishclub. I also follow them on Pinterest to create boards and learn. You guys are amazing. Thanks.
Hello everyone!My gammar, vocabulary,..All of the my english is very bad.So I am going to improve my english with Englishclub.com in Coronavirus season.