EnglishClub Guestbook
Past guests (years 2000-2015) are here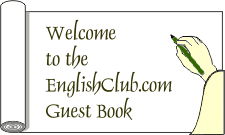 Please sign our guestbook. Thank you for your kind comments 🙂
884 entries.
It´s amazing how useful is this Club, hope you have greats lives and thanks so much for these tools..
Hello friends of english club it is a real pleasure to know and use this very useful web site for the teaching of this great language that is English, I send you a cordial greeting from Mexico!
Thank you so much for your great work
hi it's great guestbook 😍😍😍😍
Hi I am very much interested in getting acquainted with your materials
My name is Aizah and I want to visit.
Thank you very much. A fantastic site, my new joy of teaching and learning English.
My very fraternal hello to you! English Club is fun, simple and very useful,thank you very much!
Thank you for this website. I get many help by all the contents and this really great help to me for teaching.
really good one and a trusted guestbook site
hello englishclub, I knew you and I am very happy, because in this website have all, absolutely all, what I need for for learn English, have in here, so thank you
I love you tashkent its beutiful city
I'm so glad and grateful that there are tons of worksheets and materials to use in my Adult Ed ESL classes. Thank you for your continuous update on the website. Keep up the good job!