EnglishClub Guestbook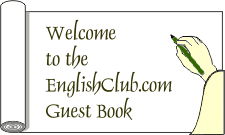 Thanks to everyone for your entries and kind comments! Past guests are here.
674 entries.
I like very much your site
So glad my class mentioned this site. 🙂
Keep on teaching the world...!
Greetings from Ukraine.You've done really huge and important work to collect all of these resources for English-learners.My personal special appreciation for Speaking Club materials.They're great!Thank You very much!
Your "Nouns as Adjectives" page is so helpful. Thank you for your clear, succinct information!
So glad I came across this site.
Its very useful for all the levels. Audio would be more clear and impressive with a female voice for students.
Great website. I learned so much from it.
Hi, well for me this website is awesome! It has a lot interesting info for students of English. Thanks for your help, from El Salvador.
What an amazing website, simple and very helpful site for English learners
Thank you so much this website.
Wonderful website with great wealth of information!
Thank you for this fun and helpful site. I really like the online-test. and other tips A happy English teacher in Java from Holland.
Wow thank you for this site
I am very delighted to learne more news words here. I thing my english will be improved very soon. Bye
it's a very useful tool for English Learning. Thank you so Much
Hello... I need a friend to learn english. If you are interested, this is my WA 085267124320. I prefer if there is a group. Nb: I am Indonesian
This web site is one the best I have ever seen. Really usefaul materials for learning and teaching English. I can't help appreciating the superiority of downloadable materials.