EnglishClub Guestbook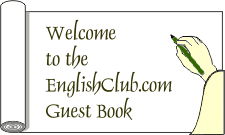 Thanks to everyone for your entries and kind comments! Past guests are here.
713 entries.
I want to find a partner to speak English with
I'm an English tutor, and this website is a real treasure chest of teaching materials! I use English Club resources all the time in my classes. Thank you so much for preparing all of these useful exercises!
thank's a lot for the opporyunity, i guest to have friend fo speaking english here
Greetings to you all! Cool site. I teach English so I find here contents to help me creating material for my English classes.
Hi , I just joined today with English Club .I intend to finish journey with achieving best goal .Good luck to all of you .
Thanks to english club for every thing am still schooling and this has really helped me alot thanks once more
Greetings to you all. Great site.
Hi guys. I'm learning biblical English to preach the Holy Gospel and the Name of Jesus Christ all over the world by this great highway, the web. Did you know that Jesus Christ is God Almighty manifested in flesh? Yeah. The Bible says it in Roman 9:5.Blessing.
EnglishClub you're very try for teaching us about English language I learn many things from this page thank you for this good job.
englishclub is the best site🔥
I'm really learning from here. All the things and the aways that you need to learn to stay here.
what are you doing today? i am looking to the worksheet. Thank you for the worksheet.
The most favourite site for me.
Thanks for the opportunity, see you here