EnglishClub Guestbook
Past guests (years 2000-2015) are here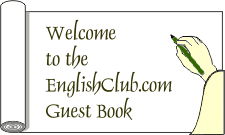 Please sign our guestbook. Thank you for your kind comments 🙂
833 entries.
hi i am krstina it is so nice they help to study very much😊😊
Thank to englishclub very nice 😊
Hello colleagues around the world. My name is Maria Rocio and I am an English teacher and also a public school librarian from Argentina
love this website there are a lot of information very useful so thank you to created such a wonderful site for all English learner.
I like this website for my toefl study
I really like this i wish to have møre copies
I wish to have Some book for these
Hi, I wish to get this material
I don't know what to say😓😓