EnglishClub Guestbook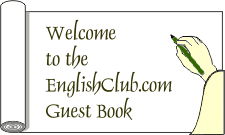 Thanks to everyone for your entries and kind comments! Past guests are here.
293 entries.
I really appreciate the Club.
i am very proud to joing english club... cheers
I m happy to be part of your team
I'm very happy to be here, i teach english specially kids from Preschool to Middle school.
Hi, I am an English teacher and I've been teaching English as a foreign language to greek students for more than 25 years. I studied literature in Johannesburg where I grew up. I'd like to Thank you for accepting me. ???
I was an English teacher in a large school in the UK for over 30 years. I am now retired and living in France, where I teach three French girls English every Wednesday afternoon. they are the children of my neighbours. The girls are 11, 12 and 16 years old.I do this without any payment. This website is a great help. Thank you so much.
Pretty excited to learn some new lessons and insightful materials here. Such a wonderful source for English learners worldwide.Really looking forward to more learning everyday. Thank you so much.
from South Texas, I look forward to learning more about the English language!
Look forward to using English Club to build my resources for teaching ESL my learners. Thanks for having me.
I'm interested in activities in English, funny stories, jokes and idiomatic expressions.
Hi, I am esraa from cairo I wrote on february 1, 2019. Learning English
looking for website that shows syllable pronunciation
Hi, I'm Musharaf 27 from Lahore. I'm master's in engineering. I have booked IELTS for 14th of Feb. Anybody who wanna accompany me in preparing speaking and listening? kindly whatsApp me at +92 3137377007. Thank you.
Great material. Thank you so much and keep up the good work.