EnglishClub Guestbook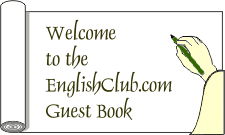 Thanks to everyone for your entries and kind comments! Past guests are here.
713 entries.
I memorize phrasal verb and all grammar.
Hello.I want to study EnglishClub.
https://www.englishclub.com/efl/wp-content/uploads/2019/04/guestbook_welcome.gif
English club gives more opportunity to the new comers to learn english
Originally I am from Malta,but now I live in Casablanca, Morocco.Many thanks for the nice Welcome.
Hello,Happy Workers day,its good to be here to learn.
hello day is okay , now day holiday
Hi guys , I don't know more about this site. I just googled 'the language improving sites' and I found it as the first result.so that is why I join here .I hope it will help me to improve my language
Hi everyone, my pleasure to be here, Ihope we can learn and share tons of good stuff.
Hi guys..Hope to enjoy this season with you guys