EnglishClub Guestbook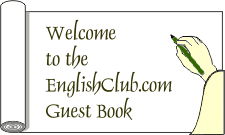 Thanks to everyone for your entries and kind comments! Past guests are here.
340 entries.
hi every body! Glad to be with you.
Hi I'm Najoodh from Maldives
I learning purpose to use this website ...iam friendly person...
Really English Club works good learning English. I want its progress.
Glad to be part of this club!
Well, I am kinda short of words to express myself reason because, I am yet to partake of the stuff that you blokes are made of although, I look forward to expanding my English knowledge through this medium. Ample thanks for the opportunity.
I will really really really want to join
Thank you so much for the opportunity hope I will learn a lot from this club.
I am very proud to be a member of EnglishClub because the materials at my disposal through this group are outstandingly helpful. I am getting ready for a CELTA course by next year and I hope you guys will help me out, couldn't say thank you enough!
Thank you for creating this group.I have learned English for many years but untill now, I can't speak fluently. I hope, I will improve my English skill here with all of you. Thanks.
Thank you very much to accept my registration in EnglishClub
Thank you very much to accept my registration in English club I am deeply appreciated your help.
Hello, all! I am an online ESL teacher to my wonderful students who are Chinese children. I hope to find information and resources to make our classes as effective (and fun!) as possible for my kids. I'm glad to find the forums where I can understand the subject more by reading comments from those who are learning English. So glad I found EnglishClub!
Hi, I want to improve my English using live conversation. Thanks in advance!
My name is Alvaro J Alvarado A. From Nicaragua. 39 years old. I am a journalist but i love to teach for free to my friend in my neighborhood. I hope can use some lesson from this site to give best practice to them [Yes, you can. - Admin]