EnglishClub Guestbook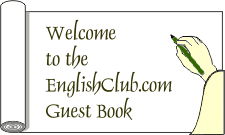 Thanks to everyone for your entries and kind comments! Past guests are here.
361 entries.
It would be a nice chance to be a member of your club. Thank you for all your efforts. Regards, Majid
Thank you very much for creating this website, which is so useful for English learners and teachers.
hello. Glad to be with you
Greetings! I am preparing to become an English teacher, and I have suggested this site to my colleagues. This site is resourceful and useful for both learners and teachers of English. Great work!
Thank you for creating and maintaining this website, it is an invaluable resource for learning and teaching English language learners.
I hope to improve my English language skill here. Thanks!
Hey I'm here to catch up with the world ^_^
Hello friends I want to learn English very well for that reason I'm here
I want to practice english