EnglishClub Guestbook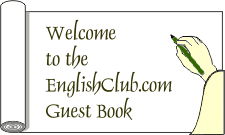 Thanks to everyone for your entries and kind comments! Past guests are here.
502 entries.
Hi everyone. Hope all you guys are well. as you know due corona virus disease that affecting social communication and many economy in the world. So i don't have chance to communicate with Foreigner. I'm very happy if someone have free time for 30' everyday to practice english by video call and talk about daily life topic or more another topic. You can add my What'sApp: + 84 96 87 3333 do not hesitate to contact me. Wish you guy all the best.
I can't get a double space, after a period, on this page. Once I summit, it changes to single space. I learned in school, that's "One space after a 'Comma' & Two after a 'Space'. ADMIN REPLY: Thanks for your comments. That used to be the advice given to typists with fixed-width typing fonts like "Courier" that are hardly used today 🙂 The normal rule is single space after all punctuation (British and American English).
I'm a Puerto Rican from New York,"Newyorican". I speak, read & write english, but there's ALWAYS something new to learn. Be it because, I forgot or the Grammar changed. Example: when I was growing up, the word, 'ain't', was not acceptable, now it's in the dictionary. I love to read & am in the process of writing a book. This Site is amazing. Any doubts you have, just look it up.
I know this page when I watched Khanh Vy's Youtube channel. this page has many learn very interesting, many topics to learn. It helps me improve knowledge. during quarantine time, I can learn here.
Hello everyone, is anyone intrested to do conversation in English contact me to my skype (parambeernegi)
Hi, Thanks for everything that you have done for improving the English language. with love
I'm very happy when I known this page, I hope my English will improve as soon as posible. Make friends with me at skype (truong.hong.sen)
It is my first time and I am so excited to read this page. There are many topics to read.
Its my time to join english club,I luv English
I am very excited to know what is system for tense.
Guestbook entry 9th class group in comscience
I am very happy today . Because Iam learning Englishclub.com.
It's first time goin in English Club I exited to learn English very well I'm sure this club will help me . Thanks in advance
It is my first time and I am so excited to read this page . There are many topic to read .
I love English Club so much
Good evening everyone I'll hard work to learn english until i can speak fluently.
osssam im learning a lot from this website.there r lots of learning thing which will help me to get native speakers,movies across