EnglishClub Guestbook
Past guests (years 2000-2015) are here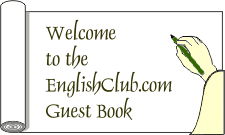 Please sign our guestbook. Thank you for your kind comments 🙂
833 entries.
I have to join this guestbook
Thank you dear englishclub, these resources are very helpful for me
What a lovely and informative website about learning English. Thank you. -- Jack Hoffman
Hello to evaryone here . Nice to be here in EnglishClub 😇
😃 thank you for very nice learning tool
Thank you for bringing us together in this special place where we can also write down our thoughts 💭
I am thankful for you, for making theses ideas and resources available to us. God bless you!
I really aprecciate it, to have a page which teach me more about english and the ways I can teach it, I am an english language from Venezuela, Greetings.
First and foremost I would like to be part of your English class to feel more confident when I join the class peers
Absolutely delightful comprehensive and authentic information here. I found it very handy for teaching my grandkids. Today's teachers do not teach English Grammar like how we learnt it 50 years ago. Thank you for this priceless gift to the new generation.