EnglishClub Guestbook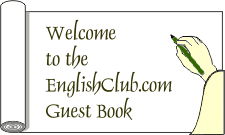 Thanks to everyone for your entries and kind comments! Past guests are here.
320 entries.
Thank you so much for accepting me to this club this is great to improve my English
Thank You very much for such opportunity.
Gerald Lay 梁友堂 Always Learning to LIVE; Studying to KNOW; Exploring to Gain Achievement in LIFE; Respect Begets Respect and Blessings Always Be
Hi. Thanks for accepting me to this club. I need more ideas in teaching English..Glad to be here
I am really happy I've joined this Club, I used to be for Four Years an English School Based Mentor working for RWANDA EDUCATION BOARD in partnership with BRITISH COUNCIL, I love teaching English as well as learning new tips and skills.....
Hi, I am Irina. I like to study English. I think that English club will help me.
English club is very useful for my class. From its activities to those different lesson plans available.
English Club is a helpful website for me. Thank you so much.
Thank you for accepting me into your Club:) Best wishes from Poland.
Your worksheets are helping me tutor English to my adult Learner online with Wyzant! Thank you.
Looking forward to getting a lot of ideas for teaching English
My wife is a RSL teacher in Los Angeles and I wanted to learn more about her work with ESL students. I found your website whilst researching the IE/EI issue and its acceptable variances.
This is an amazing place to find lot of information to improve my english skill...I wish I find somebody to practice. I speak Spanish and (learning) english as a second lenguage. Peace and Love!
Very helpful website! Thanks for the great help!
Hello, I've been using your materials for a while now and enjoyed the insight they have given me in teaching ESL. I am a volunteer/ teacher, and your downloads and free printables have made a difference in my classes. I just want to say thank you for the site, and keep up the good work.
I've just found your platform and I think I came across a treasure to improve my English. Thanks a lot.
Very handy for Tutors like me! Thank you for the worksheets that are free!