EnglishClub Guestbook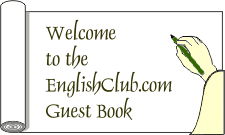 Thanks to everyone for your entries and kind comments! Past guests are here.
587 entries.
I am Lucas from Italy ,I would like know new friends to chat or speak in English and improve my skills I also speak Spanish and Italian
Hello.I thanksful for EnglishClub and I hope that I can learn English here and I"ll be speak and understand native speakers.
EnglishClub helped me a lot in learning basic daily phrase required in speaking. I usually visit the site and update me.
I saw EnglishClub a few months before but just watched it closely today! Wow, it is more than impressive! I will visit it more often. It is now officially on top of my list.
I came across your website and became curious. Now that I found Englishclub.com does have it all I need. As an English tutor in Lombok, Indonesia. You really accommodate my needs. Keep up the good work !
Hi this is an amazing site I have ever seen. I read daily something on this site. I have learned mostly from here.
I just stumbled over this site, and I am wowed. It is complete, and I am planning to use it in my lessons. Thank you so much!
I would like to thank you for this useful site
I'm so happy with this site. It's excellent and the topic are really precise for learning English.
I really love Englishclub, it's a good page to learn English. Regards uluka
Hi Guys it's a good think that ur doing keep it up
Hi guys! 1st time here but seems very welcoming. Thank you! Have a great day and an awesome weekend! Kind regards from Romania, Nico
hi guy, I'm Xuan and I find englishclub from a video in youtube. I think it's effective. I'll speak english soon. bye
I love 💕 English club, though this is my first time on this website. This is wonderful
hi guys. my name V, i'm good boyyyyyyyyyyyyy
Hello Everyone! Will like to experience this website.