EnglishClub Guestbook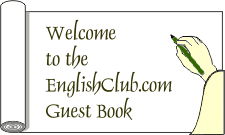 Thanks to everyone for your entries and kind comments! Past guests are here.
472 entries.
Hi, everyone how are you ? what is your new news I like you just like before I have little problem can u help me, I cannot remember English spelling what should I do how can I polish my spelling area Thank you
I'm from Tanzania. The aim to be here is to understand English language skills.
This website is good for learning English grammar.so I recommend to connected with this website.All English grammar parts are discussed in this website.
Hey! My name is Bilal. I'm really happy to joining you people!!!
i completely love this page . i can not putting my feeling off about your invidious courses.i was searching for such website to improve my skills in English linguistics. now , i think i have got what i had looking for. thank you very much !
Very nice website learning from it!
I love the articles which this englishclub provides. I learnt many things from here and i started a blog where you can learn english grammar in simple and easy language. Thank you English club for this.
I am here to improve my english...
Hello my name is lady , I am very happy to meet new people.
Hello everyone, my name is Fuad, I am a new visitor for this website, I want to learn English, thank you..
Hello to everyone. I'm from Iran of azarbaycan. I'm glad to join this website. I'm studying every day in this site .I want to improve my English skills. Thanks a lot for help us . ❤❤❤👏👏👏
Good Informative for kids
This is such a great network to connect with people. I hope I can be of resource for other teachers of English language learners. I have a youtube channel where I send free resources, tips, strategies, games, and a little bit of humor to make teaching easy! Its called, "The Language Lady" on youtube.
I'm new visitor for this website I want learn english
assist me to learning English
Hi everyone....I want to learn English....I hope this site will helps me to learn proper english....
Hi everyone my name is Madhu...I am new to this site
Hi My name is Luz Angela I was born in Bogotá I'll like improve my english now I have been enjoying this page.
Hello every one. I'm from iran and i'm glad to join here.