EnglishClub Guestbook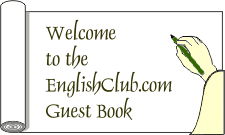 Thanks to everyone for your entries and kind comments! Past guests are here.
472 entries.
HEY WHAT ARE YOU DOING?????
hi i am from nepal i want to improve my english for be a good motivational speaker
HAPPY NEW YEAR ! Hi, everyone I am Thejani from colombo I wish all of you have the greatest new year!
hi everyone, merry Christmas
I am happy with this website. This website really helps me to learn English.
Hello to everyone!! Christmas is arriving and every one of us in the next days will have a lot to do for preparing a very fun and joyful Christmas lunch. I try every day to search for some good tips in English to improve my general knowledge of the language: in fact where I work there are so many people that don't speak my native tongue which is Italian, and I have to speak with them only in English of course. I hope that for all of you will be a merry Christmas and a happy 2020!! See you soon on EnglishCLub, have a very good period of rest and a lot of love for all of you!!!
hi everyone i hope to be with u as i can there are so many things to learn in this world and people should save our earth can u give some reading activity to read every one about save the earth & the nature see u soon have a nice time bye
I'm from sri lanka.I think this heps me really well.Now i am going study everyday by using @englishclub..thank you❤️❤️
Hİ i am kahie from somalia but living in istanbul, i am so glad to met this website and hope to meet more friends in here
Hi! My name is Arina. I'm from Moscow. I'm glad to be there! Have a nice day!
Hi, I'm Fátima from Brazil. I'm starting here.
It is nice how many People from other lands use this site!
Hi, I´m Andrea from Bogotá , this website is a great tool to learn English on line easy , their your contens are wonderful . I hope improve my English quickly .
Hi. I am ABU from Ethiopia. i am really happy to join this club. i hope this is good opportunity for me to improve my English.
Thank you for this wonderful site. It's practical, very good organized and I only can say Thank you again.
Iam from Egypt and a new member in the club .Iam really happy to join it .As a teacher of English,I find that this website will be useful for me to improve myself and to benefit from information and ideas .Thanks a lot for all what you present here .
Hi everyone. I am very interesting to learn english language with the help of this website. Also I am really appreciate the person who got the idea of creating this kind of website & thank him...🙂
Hi I'm thejani from Colombo, how are u guys I'm so happy to with u work and ur lessons. but I cannot view your pages some times. I think there is a problem. can u check it please. thank see you again best of luck