Smiling Moon
What can it mean? The Moon is smiling over Thailand. Here are two pictures I took tonight 1st December around 7pm in Bangkok.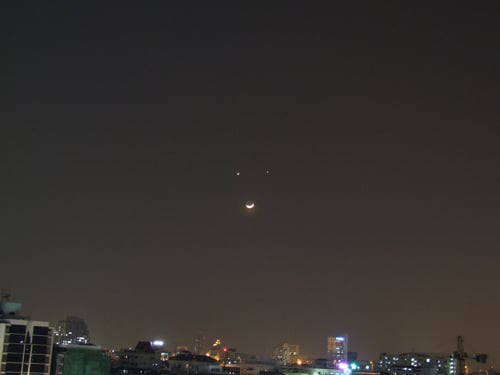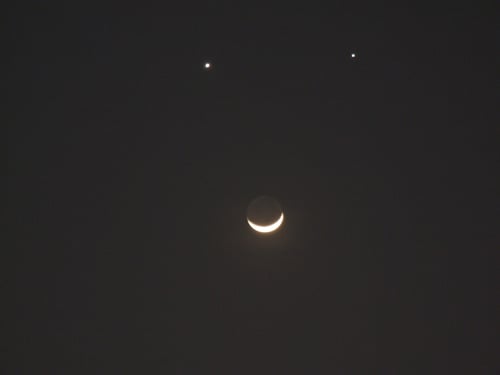 Have YOU have seen a smiling moon? What do YOU think it means?!
---
By
Josef Essberger
for
EnglishClub December 2008
Josef started teaching English as a foreign language in 1991 and founded
EnglishClub
for learners and teachers in 1997.
---
51 comments
Joe says:


Thank you @Vani. Yes, they say that but I don't think it's true – sadly. But we only have three days to wait 🙂

Vani says:


Wonderful ❣️ picture people are saying that in 16 may it will be again visible is it true

xtube says:


This smiling sky appeared over Earth in 2008; it's "a rare celestial trifecta of Venus, Jupiter, and the moon." This amazing event was visible from all parts of the world. In fact, it was even visible in cities that are plagued by light pollution, like New York City and Hong Kong (so hopefully, you didn't miss it). But even if you did, there are these handy pictures here to give you an idea of what it looked like. Interestingly, people around the globe saw the face a little differently. Individuals living in Asia witnessed a smiley face, while people in the United States saw a frown. The three brightest objects in the sky were so tightly gathered that one could eclipse them with a thumb. Such conjunctions occur on a regular basis, but often are not as obvious as the planets are farther away.

hannia says:


I think it is a admirable astrologic moment the position the moon and the planet and could see to observe the worderful of the Universe.

Aman says:


the pict is fascinating … do you care to share with us abt the camera configuration you use to take the picture?

thank you …

anne says:


I'd like to post this on my "Moon or No Moon?" bit on my project facebook page Glowbellaluna. Is that alright with you?
Thanks!

laike says:


This means ,Just to express the beauty of the moon.As we see in the picture ,it looks like pretty.Whene one want to show this scenario in personification way,he can say this.it is comparable human smiles. like my girle friend smiles.

KT says:


It had happened only for me……… that was the celebration night …….. coz i got my most beautiful gift of my life on 1st of Dec 2008 ………….. Thank you Allah for that…………. 🙂

Linda k hollywood says:


Hello everyone
The crescent moon is Smiling face. It was so
beautiful you can make a wish. The crescent moon look like a smiling face is mean The three-way conjunction of Venus, Juniper and the Crescent moon
will be spectacular event for Skygazers in the next few days. Venus emerging from the dark edge of the moon is a remarkably beautiful sight.(Devgun said)

Good Luck
Linda K (USA Hollywood)

ALYKARD says:


You know, in Russia I can see so beatifull things every day)))

mhmd says:


no thing , it is just the moon and it is two sisters watching thailand people eating scorpions and smiling of that.

Dina says:


I'm happy to be one of those who has seen "The Smiling Moon" It happened in the end of February, in Moldova Central Europe.

Alex says:


It is human nature to name everything.

nini says:


wow…they are really amazing,can I save them?

SHAIMA says:


WONDERFULL PIC ! HOPE IT HAPPENS IN JEDDAH TOO

elham says:


Hi Moon,you know what?smiling makes you so lovely!

princess says:


ACTUALLY,THEY ARE LOOKING AT HUMANS THATS WHY THEY ARE SMILING…

(IF YOU ARE SMART THEN YOU WILL UNDERSTAND IT)

jessica 098 says:


lovely!2 stars and moon make a smiling face.

TheOneandOnly says:


Hi everybody,
I first saw this apperiance with my new thai woman I love in Pattaya. She told me it was a sign for buddha. It means good luck for buddah, and that it happens once in a few years. To me it seems good luck and love 4 us. It couldn't be at a better time and a place. Since then it gives all to me. And for all the people who saw it: You know what I mean. For the rest who read it: This was special. Everybody talks the same about it.
Love from Nijmegen Holland – Gérard

with out name says:


i think the people in this country is never smile so the moon smiling to aske from them smiling

ifa says:


Subhanallah, the picture want to show us,that God is great

Mon says:


I allways like contemplate the moon, but I'm growing, and a day is no long as I want, I have many problems, I have no time for the moon and the stars. But somtimes, when I look at the sky, I return my childhood, it so great. Thanks Joe

anne says:


i also saw it in the seychelles was driving home at about 7 pm for some reason i looked side ways and there it was it was my first time to see sich an exquisite sie wil never forget this i made a wish

Zara says:


It means that my friend Kahlilla Blyss was smiling down at me from heaven!!!!

😀 Thanks Lilly!

kenox007 says:


I also saw this smiling moon here in Cebu, Philippines-around 6:30pm last december 1. during that time, we were sitting at IT park with my GF. that was a nice view since the two eyes are very close to the smiling cresent… we were lucky to witness it with our own two naked eye, live and uncut-with no commercial breaks. hehehe. it really made me smile…. unfortunately, i wasn't able to take a picture of it. but at least, i saw this rare phenomenon myself. anyways, there are lot of pics of it on the internet already.

Thanh Truc says:


Well ,in Vietnam I saw "smiling moon".It is wonderful.I think that universe want to smile with us.
How can I see it again?I wonder how…

prana says:


I too saw the smiley moon; however, in Ontario, Canada it looked more like an unhappy face (Jupiter and Saturn were behind the curve of the crescent moon). Glad I had the opportunity to see it, nonetheless.

Indeed, God Bless (and protect) Thailand and the rest of this world!

Cheers!

yaya says:


goodness! truly amazing!

putera says:


I was driving in Seremban when I saw it.After about half an hour reached home I took my camera to capture the smiling moon….it's already gone.So frustrated!!

spokesmdr says:


unfortunately the northern hemisphere (usa) saw it as a frown and its standing on its head. but it was still unique to see that in sky last night. so enjoy the smile while you can. maybe next time us northerners will get it 😉

mell f says:


Great capture. I'm using your pic as well, "courtesy of you" is included,no worry. Thanks.

tc says:


nice pix! i kept looking at the sky last night while riding a motorcycle behind my bf. it was just … nice.
i used your pix for my blog via iReport as you say that these are downloadable. thanks.

azie_1139@yahoo.com says:


oh my god

WEBLEDINK says:


Great Picture of the moon and the wonderful planets. I went searching for a picture taken in Thailand. I called my Miaa and my 3 year old son in Bangkok from the U.S. last night. I could hear my sons excitement in the background and asked my Miaa what was going on. She said he had noticed it before she did. I have told them when I was away to always look for the moon and blow it a kiss as I do on the other other side of earth when I see it. He always blew it a kiss to reach me when I was not there. He was jumping up and down and screaming "I kiss, I kiss, I kiss……. and Da Da smiling at me! I had to wipe tears away when she explained what was going on with him. WHEWWWWWWWWWWWWW! Love that boy and miss him too!

WEBLEDINK

Happy says:


This is truly amazing. It was my first time to see this kind of phenomenon. My brother saw this first while I was inside the house watching 50 First Dates with my sister, nephew and my cousin. My nephew told it looks like Barney smiling. I felt it will bring many more blessings.

Luna says:


I wonder if only the Asians could see it… there's no news from the west if they also saw it

Akif says:


I saw it here in Brunei too! AND took picture of it, it's really amazing.

MiLLa says:


i thought it was just a nice thing to look at! i could see it from my house in Brunei…then when i turned on Astro to watch the Malaysian news…this smiley moon was on!

A2M says:


Cheers up for protesters!!!

CHARDMAGIC says:


IF Allah will…everything will happend amazingly….Syukur… we have a chance to see His Almighty.

Cherryl says:


I saw it last night around 6:30 pm here in the Philippines. It was amazing and brought relief. It joined us during our lighting of our giant Christmas tree here in Cebu.

elaine says:


maybe its only reminding us that despite of economic problems, wars,,etc..there's always a million of reason to smile..

philippecr says:


I'll use it in my blog too. 🙂 replied bcos to show my appreciation and thx.

fuyuko says:


Nice picture! I saw this smiling face from my house in KL too.

LC says:


god bless Thailand
and Bangkok!

Alisa says:


Looks like the moon can also see how troubled people are so it was probably flashing that beautiful smile to cheer us up 🙂 A smile truly can do wonders.

Joe says:


Senor Pablo said: Can I seek your permission to use your photo for my post in my blog?
—
I have already made them publicly downloadable at iReport, so please feel free 🙂 You can copy them from here as they are better quality than iReport (where they convert pics to flash and do all kinds of unmentionable things to them).

Ja-ae says:


Yes, the Smiling Moon did say something. I wish Thailand a Land of Smile where people are united. Thank you for sharing ka Khun Joe 🙂

delilah says:


ALLAHUAKBAR…….

Senor Pablo says:


It was visible in Brunei too. Amazing eh! Can I seek your permission to use your photo for my post in my blog? cheers!

Ian says:


In fact this is a rare astronomical phenomenon known as "Conjunction of Moon, Venus and Jupiter". The three brightest objects in the sky over Bangkok and parts of Thailand form a "smiling face". This phenomenon will not recur until 2012.