Stuck at home?
Here's something you could do if you're stuck at home, in a single room.
How about reading:
A Journey Round my Room, by Xavier de Maistre
Or perhaps not. It was published in French in 1794 and translated into English by Henry Attwell. It's a full-length book and the English, while wonderful, is challenging. It's available free online at PublicDomainReview.org.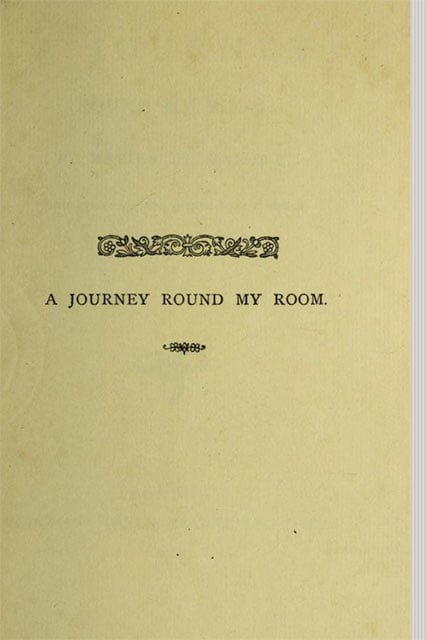 If taking on Xavier's 150-page description of voyaging around his room while under house arrest for fighting an illegal duel in Turin is too daunting, how about another idea? Write your own journey round your room! You can publish it here (in the comments, if it's short). Or if it's longer, add it to our Creative Writing forum.
And if by chance you do read A Journey Round my Room, please leave your reviews here!
---
By
Josef Essberger
for
EnglishClub March 2020
Josef started teaching English as a foreign language in 1991 and founded
EnglishClub
for learners and teachers in 1997.
---
5 comments
Natalya Chekmareva says:


I always wanted to have more time to spend at home. And now I have this opportunity. I continue working from home. So I am busy most of my time home. But I don`t have to spend any time to get from home to work. My home place is my work place. I cook, do sports in front of my TV, tidy up my flat evry day. I am able to take up interesting courses on line. As I am doing now with you.

Bao An says:


It a lot things to do at home, such as meditating, read book, or try something you never had done before.
If you had time, just try something you want.
Thanks a lot to Xavier!!!!

munleo says:


It is very interesting to stay at home
very good
thanhks a lot

mustapha menar says:


It is very interesting to stay at home, it allows you to do a lot of things such as meditating or to talk to youeself, it permits you also to revise some interesting novels, stories, books for famous writers that you could not read during your students life process.

Nam Dang says:


Thanks a lot