To panic, or not to panic? That is the question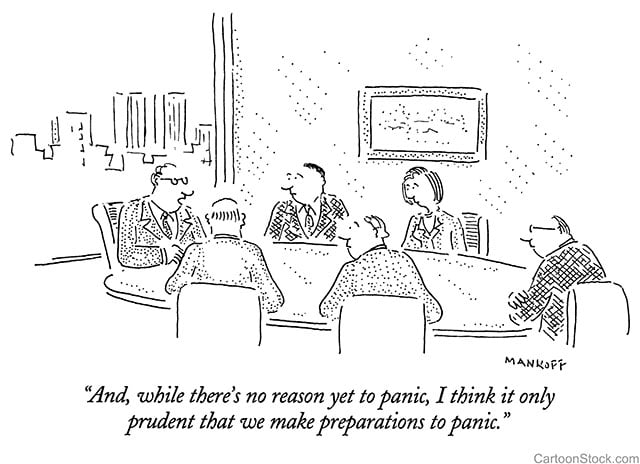 panic (verb): feel or make somebody feel sudden uncontrollable fear or anxiety
preparations (noun): something that is done to get ready for an event
prudent (adjective): showing care and thought for the future; wise
What do YOU think?^^
---
By
Josef Essberger
for
EnglishClub March 2020
Josef started teaching English as a foreign language in 1991 and founded
EnglishClub
for learners and teachers in 1997.
---
38 comments
Mercedes Leal Otero says:


I think that at this moment we all have panic, because it is a pandemic that is spread very easily, also this is worldwide, and there is still no control of the virus. I'm optimistic and I hope that this will be solved soon, and we can have again a quiet life.

Nestor says:


Simply, We must honker down that is to make yourself comfortable in a place or situation, or to prepare to stay in a place or position for a long time, usually in order to achieve something or for protection: We must stay in It is a deadly disease so we Panic, If we violate the worldwide steps against Covid-19

Natalya Chekmareva says:


I think that is a controversial question. As for me, there is no difference. If I panic, this is a signal that there is danger and my body says to me:"Be careful, pay attention to your life style and daily routine, do something good to somebody". If I don`t panic, I am relaxed and nothing bothers me. It can lead to lazyness and such stuff. I trust my body and I can identify positive things out of panic as well as out of not panic.

Roger says:


Stay at home and take care of yourself

Ellah says:


In my opinion, what we should do is pay attention to the rule of being at home without leaving (unless the situation is important).
And everyone take it easy.
good luck to all

Arnau Minoves says:


Everything will be fine! Be patients!

Rose Iris says:


Panic has never been a good adviser.
Panic turns off our common sense. Logical and reasonable thinking doesn't work anymore.
We should be careful but without panic.
We should prepare us for the worst but do everything for the best.

tomoggy the champion says:


everyone , be safe don't go outside if is not necessary

Nodjea says:


Stay safe, everyone! We're all in this together.

Sonia says:


Please , stay at home.

Sonia says:


I think its a good time for to see our personality , ask yourself ¿ What person am i ? ¿ Can i be better ? ¿ Can i help to others ? . Its time for a really change in our life.

Del says:


Stay home. Keep yourself and others safe. Learn from others. Do not repeat mistakes. Follow instructions.Faith and love will save us all.

Amos Agboyinu says:


Let us remain calm, reduce our outings, observe the safety precautions by maintaining social distance, washing our hands, and remain tuned to our broadcasting stations for further directives from our leaders. Very few cases have been recorded in Nigeria, and our governments have directed a close-down of all public places like schools and religous houses.The seige will soon be over by God's grace. Let us be calm and prayerful.

Mireia says:


Wash your hands and take care! Please stay at home

Hammad khan says:


it is believed us that there is a beautiful situation after each storm so we dont have to panic and be aware of this virus dont go in the crowded places soon we will get the solution and everything will become more beautiful than ever…..😊

Aury says:


Hello. right now I think that we should all stay calm,not panic and follow the health instructions,stay at home, wash your hands,and enjoy the quarantine with the family.Be very united in praying.

Abdiweli Bihi says:


Am from Nairobi Kenya, and our government shut all the institutions, stopped people traveling to rural areas, took measures against spreading disease and we were told to be self guarantine at home.
Hard time will pass!!!

David Wapner says:


Stock up on nonperishable foods and wait it out.

Teacher Lee says:


If a country shuts down its entire economy to keep people from getting the flu and everyone stays home without a paycheck coming in, sooner or later people will run out of food. When that happens, the government had better have a solution, or there will be looting and rioting. Let's hope it doesn't come to that. This could harm 100% of the population.

My opinion is to keep the country running normally and only harm 2 to 7% of the population.

C.E. Moncada-Suegart says:


To everyone out there,

Exercise common sense, do not do anything senseless, and please do NOT let paranoia take over.

Best.

C.E.

Osana Mera says:


Here in Papua New Guinea, we are all trying to keep calm, with assurance from our Prime Minister. Awareness is been given to the public to practice good hygiene and keep away from crowded places.

God is our only protector, believe and you shall be saved.

Hoàng Thị Thúy says:


if we are all well- prepared for this pandemic, we will not be afraid of fighting against coronavirus.

Manuel Guy says:


Some wise prophet once told us to "watch the signs of the times." Not only the current coronovirus pandemic, but other plagues and natural disasters as well, are now a normal part of our lives. Maybe, it's time for all of us to think beyond the need to protect ourselves and our communities — to ask whether to panic or not. Someone is telling us that there is more to modern life than being able to talk "face-to-face" with your "neighbor" on the other side of the earth, or being able to travel and get to experience other cultures. With pleasure also comes pain and peril. And the more we seek to enjoy earthly pleasures, the more we expose ourselves to the threat not only of viruses, but also of terrorism. The current lockdowns and quarantines are giving us the time and the chance to rethink our priorities in life, to reassess the good and evil that come with having money and other resources, to strike a balance between loving ourselves and loving our neighbors, and more important, to ask ourselves if we should now get back to the arms of One whom we have long forsaken in our pursuit for more and more material pleasure. Maybe, He has willed to let these things happen to us now as a wake-up call. Let us all make good use of this time.

Dov Doo says:


Oh,I think everyone don't need to panic because we are positive with Coronavirus.Staying at home more and more,people is safe.Protecting yourself is protect community! Not to panic

Maria Angela says:


Well, I am from Lima, Peru in South America. In my opinion we are living a hard time, but what it worst is the lack of education. The Goverment establishes that everybody has to be at home for about 15 days. Some thinks that is a holiday, so the militaries and policemen must go out to be sure everybody understands how important is to stay in home and take care of the elderly people. We only can go out to buy groceries or medicine.

Bijan says:


Please, Stay at home!

Best wishes,
Bijan
from the Persian Gulf

Favola20 says:


I think that now we have to show much more care for our health and also for the health of weak people: old people and people with many other important diseases are much more virus swept. For me the best practice to face up the virus is as follows: I wash every day in every situation it's required my hands with soap or with an healthy solution for hands that contains also alcohol. Then I always use paper handkerchiefs only one time when I have cough or cold and I put them into the garbage once I finished to use them. I always respect the security distance of 1 m. from me and another person expecially when I'm on the public transportation or at work, etc…. I have to go to work on the place of work because my office is there and I can't work at home using the smart working: for my work it's not possible and I have also a self-certification in which I explain clearly why I have to move myself into my town because it's absolutely necessary…. Once arrived to my home I take off my shoes and my coat then I wash immediately with soap my hands.

We have to build bridges to face off the virus and not to build walls: in fact walls divide everyone and everything, bridges instead connect people and things together…..

Care your health, that's much more important than other material things now!!

Ana Claudia Leite Martins says:


The government in Brazil hasn't declared emergency state yet but the municipalities and some states are requiring people to stay home and avoid crowded places as well. Both public and private schools have their classes canceled. I think we should do everything possible to stop spreading the virus. So, not tô panic but taking correct actions tô avoid panic.

Traore says:


It's true that we are all in deep water due to the coronavirus but I think that we must not panic. The situation is under control here in Senegal. The government has taken a wise decision by closing all schools and universities at the same time they've interdicted all activities that can gather people such as local markets and religious celebrations and all religious leaders, Muslims as well as Christians agree with the authorities. God save the world!

kelly nguyen says:


In my country, the goverment encourages people to stay calm and I believe them. Why? Coronavirus is under control stricly by Vietnam Goverment

Mary C. says:


Unfortunately, panic is already everywhere and some people don't understand that it gets the situation worse. Let's spread positive thoughts! Play inside or take a short walk keeping distance, learn new things, such as languages, new recipes, etc.

Lamine says:


All this words are using to say about the danger or this dangerous deseas the coronavirus but we can respect the advice of ours doctors to wash our hands Every 20minutes.here in Senegal the government has taken the good decisions to close all schools all markets….may the almighty protect us about this dangerous deseas

Sal Bommarito says:


For every person who is panic buying there are 10 others who are only purchasing what they and their families need. The toilet paper hoarders and hand sanitizer resellers are getting undeserved attention. There are many other stories of selflessness that go unnoticed every day. We must really pay attention to these acts of altruism because they are kept outside of the limelight.

Rose72 says:


I think the people here in Brazil are unconcerned. Fortunately, the government is taking precautions against the coronavirus. The schools, universities, and beaches are closing. The better to do is wash your hands every time and stay home.

David Martín says:


All the world is at war against Coronavirus! and we just can defeat it if everybody stays at home and don't get infected.

nelly bergougnoux says:


Here in France, the President, himself, says that we are at war! How do we have to interpret his words, besides making sure we respect the drastic measures?

Jean-Jacques says:


If you want peace, prepare the War.
If you want to avoid panic, avoid the conditions that create panic.

JOSE MANUEL M MARIN says:


"HELLO" Every One do not to Panic? wash your hands and stay home …..