Discuss: How would you give away $1,000,000?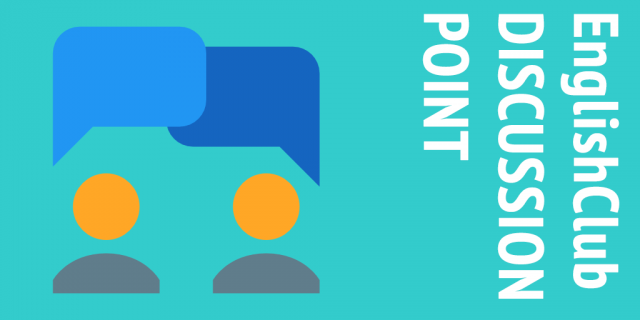 Imagine this: somebody gives you $1 million on condition that you donate it anonymously to a stranger or to a good cause of your choice.
What would you do?
How would you dispose of it?
(Please leave your ideas in the Comments box below ↓)
on condition that (phrase): with the stipulation that
donate (verb): give (money or goods) to somebody in need or to a charity; give away
anonymously (adverb): in a way that nobody will know it came from you
stranger (noun): a person you do not know
a good cause (noun): a charity
---
By
Josef Essberger
for
EnglishClub May 2018
Josef started teaching English as a foreign language in 1991 and founded
EnglishClub
for learners and teachers in 1997.
---
35 comments
Deepshikha Kansara says:


I believe that 1 million is really a big amount. We can do many good things with this money. But specifically, as being a medical person I would donate this amount for the patients who need a frequent blood transfusion. There are so many fatal and non-fatal diseases that required patients to get blood transfusion frequently, such as leukaemia, anaemia, lymphoma, haemophilia and so on. Many patients suffering from such a disease needs to get blood transfusion at least twice or thrice in a week and some times even every alternate day to survive. But the matter of concern is that a pint of blood, that is approximately 2 cups of blood cost around $130 – 150. So, many patients can not afford this expensive treatment and they get died. Most of them are children as the occurrence of these diseases is common in children. So if I would get the chance, I will definitely donate that money to such patients, especially to the children.

Erika+Dobos says:


This is a difficult question. At first I would check the donor and the stranger too, because I do not like to donate an illegal organization or bad goal.

Jimoh says:


What!!! Well, such money to an unknown person is critical. But, I prefer such money go to charity.

DANIELL says:


i want to buy what i want with that money

Leine Mantovani says:


To an animal shelter in my town called República dos Idosos. Actually it is run by a lady who lover animals, recieves no help from the City Hall and occasionally by a few NGOs.

Meguenai says:


1.If so,i would donate it to many ppl who are needy, because this value is enough to meet all needs of 3 or 4 ppl in their daily life…

2. there is another way to dispose $1million in a good cause like building a hospital or making a mini projects for jobless men to build on their life…

2nd way of charity is the best for eliminating poverty…

wilfredo says:


I will open a fundation to give shelter a poor people that shows economical problems and if they had at least five children. and adition i will continuosly reciving more donation.

zivi says:


Darn, such a huge amount for a single average person but not even a waterdrop on the hot stone of worldwide need. I´d try to bribe the donator to give all s/he can miss and not only this little alm which probably is no more than the petty cash for her/him.

Perez says:


I would help children, in hospitals who have terminal illness.

I would make their most important dream come true.

Perez says:


I would help children, in hospitals who have terminal illness.

I would make their most important dream come true.

Kirubanithi says:


I will put the amount into our bank, to earn annual interest@6% what I get so, net of interest can be used to give education free of cost to all poor children in the village every year for ever.

Ana Carina Vea says:


I would give it to a Public Hospital to buy all the material they need to give proper health care for those who can't afford it

Jonathan Taylor says:


As an English teacher, I would spend it on a double-decker bus and set up a mobile school to help disaffected Roma communities in the Balkans!

Ahmed Raza says:


I would donate it to Edhi Foundation in Pakistan,a non-profit social welfare society.It has branches in several countries where they provide relief to refugees in the United States, UK, Canada, Japan, and Bangladesh.

Mishaikh says:


There is an Institution by the name SIUT, established in Pakistan and also here in North America. They are providing medical assistance 100% Free for all kind of kidney including organ transplantation. I have been giving them donation and will the proposed One million dollar amount to this institution.

Tam says:


I would donate it to the International Red Cross.

Maria says:


I would want to give it to a no kill dog shelter and in an institution where they sponsor children who cannot afford to go to school.

David Martín says:


Definitely I'd donate it to a good cause, for example to UNICEF. I should think about the best organization to receive it.

Mohamed says:


Maybe I would give it to a charity. In our Islamic countries we have something called Zakat organizations. These organizations take money from the rich and give it to the poor . Also they have lists of all deserved people. By this way they will give the money to the needed people.

John says:


I would give the money to the save the Rhino fund.They need the money more than us.

Dr Siddharth says:


I would donate the money to the charitable hospital ,provided that it will use this money for free care to those who need most

Paola Cruz Santoyo says:


If by any chance I have this amazing opportunity… I will look for, or will create an organization that works improving education in my country (Mexico). A bit to fix schools that were damaged with the earthquake and are not receiving goverment help. But it will really work with the programs, to take students education to the 21st century, to change their life expectations. They don´t need to better books or even better programs. They need a new education, one that comes from the heart.

Mirta Hrga says:


If somebody give me 1 million $, I will be donate all for climate changes.

Onee says:


Should we donate all of them? lol.

I hope this is a test so that the questioner will choose one of us to give that money. lol

Well, I need a little of them to improve business if I may take a little. )) I will buy things and also give money to the ones who need around me which I know they need them. I will donate the rest to people in the world who are suffering from hunger. Many activists nowadays build an approved organization to channelize the donation. It's so easy giving them donation via online, and there is an option to be anonymous in their data. I would entrust that money to them.

Thank you for this great discussion, Sir. 🙂

Sônia Mara Ehrat says:


I would like to give to a House where 95 poor old people live. The nome is "LAR JESUS MARIA JOSÉ".
Sometimes I worked like a voluntarie in this place.

Leonarda says:


I do not believe if It happens to me. But if…I would like to help with water supply in Africa.In developed countries, this wouldn't be such a daunting task, but there just isn't enough money in most African governments to supply people with drinking water. The rural parts of Africa are probably the most seriously affected by a lack of clean drinking water and women are expected to bring water for their whole families every day from the wells that's are far from theirs homes…

Edwige says:


I would join a letter to the money and send by express mail service to deliver the chèque – or whatever form of these $1 million.
If I donate that money to an individual, I would say in the letter something like "dear… You receive this because somebody really loves you and wants you to agree this, …etc." I would probably add a poetry about the pleasure of Giving. All this as I should transmit the money anonymously.
If I would donate to charities, the content of my letter would be different of course, and would be shorter but clear enough to deliver the message that the money is a contribution to the cause.

Fred says:


to be honest I would never accept it. because its' a big responsibility. and , I would never give one million $ to a stranger .only if I know in a way or another that, he really deserve it. for example if he has a poor family or for education and etc.

Erica says:


Well! if the million dollars were giving to me for a purpose- such as donating or sharing-then is not for me. But, If the million dollars were giving to me only; I will share it with my favorited charities or institutions that I have closed to my heart. Also, my family, friends and me.

Ercan Birbiri says:


I would find people who need help.I would build a library. Everybody can read books to learn whatever they want.

M. Masood ur Rehman says:


I need one correction in my comments, as under:
I want to use the word, 'Hardworking' instead of, 'Standard' in this sentence, "Here, standard means to give full devotion to work, from start to end and do not paying attention to other chores of life and open or close shop at then end comparing with other businessmen".

M. Masood ur Rehman says:


First of all, I would thanks the person for choosing me for this wonderful object. I would spent this amount rationally on different noble causes and not spend whole on a single issue. I would spend the amount for following good causes:-
1. For people living under poverty,
2. For widows and divorced women, who have no source of income.
3. Orphans to learn professional skills to earn reasonable livelihood
4. To bachelors, who want to marry.
5. People, who believe in hardworking, quality and maintain standards. Here, standard means to give full devotion to work, from start to end and do not paying attention to other chores of life and open or close shop at then end comparing with other businessmen. Quality means that whatever is written and explained above product or service, is matchablewith product or service. Standard means that whatever has been given once to customer, product or service must reach it. Thanks for reading!

Valentina says:


I would give all the money for supporting homeless animals – it's high time to help poor dogs and cats and to protect them from human cruelty.

Virginia says:


I will give it all to home for old cats. I love cat. And nobody take care them.

D Trump says:


I'd keep it myself 🙂