My New Year's Resolution for 2021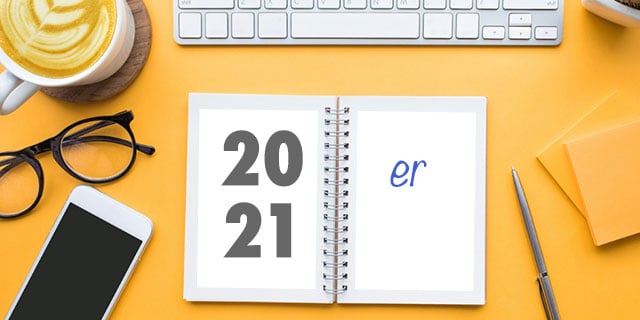 We have a new year, like a new page in a book. Or a new chapter of our life. We all try to resolve to do something that we think will benefit us or others. This is our new year's resolution. Here are some of the most popular resolutions that people make – maybe they will give you some ideas:
Play more
Lose weight
Quit alcohol
Get organized
Exercise more
Save more money
Learn something new
Write a Business Plan
Live life to the fullest
Visit EnglishClub every day (lol)
Spend more time with family and friends
Have you made a new year's resolution yet? What have you resolved to do?
er
(
interjection
): expressing hesitation
resolution
(noun): something that we have resolved to do
resolve
(verb): decide and promise to do; commit to doing
benefit
(verb): add something of value; be an advantage
---
By
Josef Essberger
for
EnglishClub January 2021
Josef started teaching English as a foreign language in 1991 and founded
EnglishClub
for learners and teachers in 1997.
---
45 comments
cham says:


lose weight
lose weight
lose weight
the important idea need to write 3 line

chamquang says:


i will try more to learn english
i will try my best to make whoever i love happy everyday. futhermore, i want to make my parents proud of me :))

Faithful Mazemba says:


I will make this year great again (Trump's mot) .
Sharing my knowledge to the world (a candle loses nothing of its light by lighting another candle).
Finishing what I have been fighting since 5 years ago.

avighn says:


i will be super fit.

Merrilee Salser says:


What's Happening i am new to this, I stumbled upon this I've found It positively helpful and it has aided me out loads. I hope to contribute & assist other users like its helped me. Good job.

youtube.com

Aya says:


Love yourself and ignore anything may make you sad

Maria Gabriella Agrati says:


I will continue to learn English and get more organized.

Nguyen says:


I like to have many friends.

Hayder says:


I will write every day to improve my English.

jacqueline lee says:


new year need a flag! here is my resolution in2021!
1: learn to play piano!
2: continue to learn english
3: go to club to make more network

Sami says:


I will continue studying French that I stopped 6 years ago due to immigrating to an English-speaking country. Also, I like to start studying Spanish. I hope I can fit it into my busy schedule.

Mary Carmen. says:


I wish everyone a beginning of the year and also the teachers who make it possible for us to learn. speak english

Prince says:


I want to make a good score in English test.

Jeanette says:


HAPPY NEW YEAR to YOU ALL.
I am an ESOL Instructor in Florida, USA.

I RESOLVE:
To always Be on Time!
To Not waste or spend too much money.
To find the perfect new place to live.
Help with moving many books and some furniture.

Richard Fraser says:


I'll stop procrastinating.

DAVID MARTIN SANCHEZ says:


I'll manage to take life less serious, in a good mood so that I can have a good time.

Muhammad Naqeeb Azam says:


I will try my best to improve my english communication skills and writing expression as well.

Sisi says:


Try to be a good listener
To prioritize needs and wants

N D says:


Love your beloved family, be tolerant, positive and keep hope by inspiring other

Sambulo Kunene says:


My resolution is to move on and possibly leave the US for a little while until I can get a grip of my faculties.

Ernesto says:


My resolution for 2021 is to learn English definitely. I haven't another interest is my goal.

Adele Du Toit says:


To be kind, to make a difference, to be thankful…

John Yancey says:


Live life to the fullest, here and now!

werner maeckelbergh says:


I want to buy a new car

Hamza Haji says:


My resolution for this new year is to get weight. Because I am very thin and tall. The second is to get married and stop studing any more.

Rajiv Nair says:


Have a much more positive outlook towards life. Look up instead of looking down.

Oilve says:


I will try to get better at my spoken English this year.

sacko says:


Happy New Year!
I would like to improve myself as English teacher.
I would like to get a stable job as well. Finally I would like improve my family living system.

Fernanda Fareli says:


My resolution is improve my English and become myself fluent.

Tina says:


MY RESOLUTION WILL COMETRUE!
be healthy !
be pretty!
be rich!

salieu says:


Be kind to every living creature, improve my oratory skills and vocabulary.

dilek says:


I will publish my observations and trials.
I will be more happy and make people happy, as well.

mehrnoosh says:


well,i live in Iran,and in iran we dont have a new year eve in winter.But i decided to study more and more and increase my effort to get admitted in my university entrance exam!
please bless for me to be successful in my exam!
thank you:)

Marcelo says:


There are huge amount of ideas and resolutions in my mind but the most relevant resolution is to take things calmly and pull myself together.

The King Of Love From IRAN says:


Spreading Love & Kindness around the world for Creating Peace in Our World,

Postony sm says:


My resolution is to improve my English speaking hability and to found a new house to live in

CF says:


I don't make big resolutions because I know I won't stick to them anyway.
I always drink tea with a lot of sugar, this year I no longer put sugar in my tea.
This is something I will be able to do.

Meaad says:


I will try to reach the ideal weight for a healthier life

Mohamed says:


In 2021 I anticipate to gear up my english level and be surrounds my friends and family. I am planning to continue exercise and maintain my healthy lifestyle.

Shin Thant Nwe says:


I don't really have a plan. But I will try my best to improve myself. I will try to study hard in English and other languages and I will dedicate myself to them. I will try to change myself not to be lazy. I will make my family, friends, and surroundings happy. I guess that's my resolution for 2021!

ZOU says:


Find a new job quickly.

Editor says:


@Zaher: Yes thank you! I have updated the Wordchecker 🙂

Zaher Hourani says:


I think that"benefit" here is a verb, Isn't it ?

Marco C. says:


To improve my English to help my everyday living here in Australia.

Maria says:


I will try my best to make people happy everyday.