Tomorrow is Another Year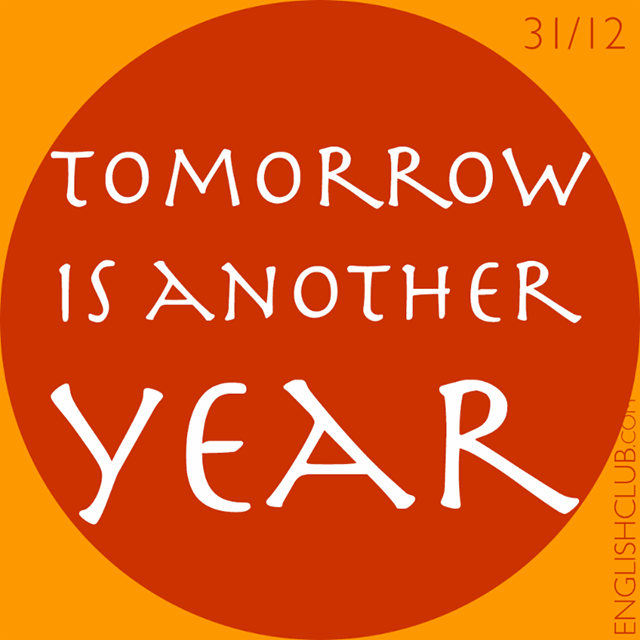 Today is 31st December 2020. Tomorrow we say goodbye to 2020 and welcome 2021. What will this new year bring?
Please leave your thoughts in the comments below…
---
By
Josef Essberger
for
EnglishClub December 2020
Josef started teaching English as a foreign language in 1991 and founded
EnglishClub
for learners and teachers in 1997.
---
40 comments
Pastor SM Balison says:


WELCOME to 2021 – Year : " Total Wellness and Wholeness that brings perfect Soundness of MIND, in Jesus' Name. SHALOM.

Reyber Palomino says:


I hope good health in this new year 2021. I hope we can eliminate this virus called covid- 19. Also, I want to thank to ENGLISHCLUB because I can learn this beautiful languaje. Thanks for all.

Emanuel Fatima Gonzaga says:


happy new year everyone. I would like to say thank you very much for EnglishClub.com this year I am very appreciate for EnglishClub.com Because the EnglishClub teach me to learn more English like Grammar, vocabulary ect. I believe 2021 has great new opportunities for everyone, keep calm and stay healthy.

Pancho Pantera says:


Dont worry for 2020, it has gone.. be happy for 2021 that bring us hope and new days!

mojgan says:


Hey, Happy new year , I wish the best for the large EnglishClub.com family ,I live in Iran and we had a very tough year . We lost very good persons due to pandemic Corona and it continues , but I hope this tragedy gets soon end . I would like to send my love to EnglishClub.com which accompany me in this tough days and I wish 2021 brings us peace and love
Respectfully Mojgan

SOMBIE says:


Wish happy new year to the English teaching community. To the publishers of Englishclub, to the colleagues.
I see this year as a year of opportunities to do what we did not do because of the coronavirus. I hope the students will be motivated and willing to learn. I see this year as a year of hardwork and pleasure both in teaching and learning.

Frank says:


2020 is really a tough year. My family members are isolated into three continents: Asia, Europe and America. I hope we can meet each other in 2021.I would like to express my appreciation to Englishclub.You accompany me during the pandemic period. I will spend more time with Englishclub community. Thanks.

Natalia says:


The year of 2020 was really hard for all of us, but it has taught us a lot. It taught us to appreciate the happiness of common life, people who are always willing to help, our friends. I hope the next year will be much better. I'm fond of travelling so I wish our world would be open for all of us in 2021. I wish all of you to be healthy, positive and happy!

Daniel Acuña says:


We leave a year in which the world suffers a lot, but after all, we have to be positive and hope for better days this 2021. I wish you the best.

Muhammad Khan says:


New is the year, new are the hopes, new is the resolution, new are the spirits, and new are my warm wishes just for all of you English Club members/non members. Have a promising and fulfilling New Year! (Ameen Ya Rabel Alameen)

LG White says:


So glad you are 79 and still at it! At 68, I am still teaching & can't imagine ever retiring: love my ELL high school students and so sympathize with their English struggles, because I'm Duolingo'ing every day struggling with learning Spanish. The struggle is REAL, lol. Still can't roll my "r's", maybe never will, but my goal for the year is to at least get out of the silent stage and start having baby-step conversations with my students. Have a great New Year to you (GOOD RIDDANCE 2020!!!) and everyone associated with englishclub.com 🙂

SEVASTI STATHAKOPOULOU says:


It was a 'tough' year, for all of us. May 2021 be the best in every aspect of our life.

Lyudmila says:


Good evening , dear friends ! I am greeting You from winter Russia . First of all I would like to say thank You to all English Club Website masters for wonderful English language sources , they help very much . I have been teaching German and English for 31 years . I wish to all the teachers and learners more optimism in 2021 and a very good health .The English Club usually gives a lot of useful tips , I hope in 2021 this nice trend will last again . Happy New Year !

semhar says:


I wish to everyone a healthy, bright , peaceful year 2021 and thanks for English club sent me phrases every week i hope improve my english and intend my next aim.

kajari guha says:


It would be the new normal
Not anything abnormal
To the species that ran a race
Maybe it would be informal
The year ahead ud offer a lot
Don't lose your hope
Just fix your slot
To reap the harvest
That you have sown
Stay safe stay tuned
To fraternity and love unborn!

Thanh Tam says:


this year i see that i hadn't studied hard enough so my points didn't come up to my expectations.I will see it as my motivation to make an effort next year.I hope that i could pass the final exam to enter ULIS and fullfill my dream to work as a Korean teacher.To the new year i hope for confidence,calm and victory

maria kiosse says:


From Greece, I wish you all a very Happy, Healthy, Prosperous and more Optimistic 2021.I hope everybody's dreams and ambitions come true and eventually all the world get rid of Covid 19. Happy New 2021 Year

The King Of Love From IRAN says:


Happy New Year 2021!
I wish all of you LOVE, Peace Of Mind & JOY,

Jack Liu says:


Thanks for the weekly English practices from Joseff E., English Club. I appreciate in Calgary.

mehri says:


Congratulations to all people of the world in 2021.
I hope this year brings with it happiness, health and hope .
And thank you for your excellent educational site

Augustina says:


This year I became a member of the EnglishClub.I'm hoping my English will improve next year. The fulfillment of the rest of my cherished desires does not depend only on me.
My best wishes for you all!

RANDRIANASOLONIAINA says:


Of course . New year new mind, New hope new act. Past is good but future will be great for goal.

Prince Davy says:


For 2021 my wish is to get out of the current pandemic situation.

Mehmet Alkan says:


I hope in 2021 living without pandemic conditions and I wish a healthy and wealthy life for all of you,

Tuncer says:


According to some scientists, the pandemic case will continue until the vaccination process is over.
Please, stay safe and don't upset your family and friends.

May says:


My thoughts for the year. People mentality will change on business strategies. More opportunities will arise. I pray for sound health, good and creative people will pass my way to achieve great things.

Yadupal says:


Wishing you & yours Joy, Peace Good Health & Be Safe !

Su says:


I really hope 2021 will be full with our dream,happiness and many good things.

Nisha says:


I hope we can say good bye not only to 2020, but to Covid 19 also…The new year 2021 may brings happiness and prosperity to all….

Ht Trang says:


2020 we always talked about Covid, I hope that 2021 is full of joy, happiness and success. Especially, I would like to send my love to Englishclub.com cause giving me motivation and useful English léons. Thanks a lot ♥️♥️♥️

Đỗ Đức Anh says:


English Club, thank you so much for inspiring us to learn and love this wonderful language! Best wishes for all of you, good times are ahead #2021

Roya says:


I hope that in 2021 we could eliminate COVID-19 and live without this virus. I wish I could find a good job and I could see my parents after 3 years.

Kana says:


I hope no one will talk about corona next year. All good things will come to us.
Tks English Club

Qinglin says:


Tomorrow will be another year. I hope in the next year the coronavirus will go, and people can live and work normally. I'll try to make better use of everyday.

grady says:


2021 will bring peace and love. I will put my life in an other level, and master every area my life. It will also bring light and hope to the world where we had to struggle with diseas and the threats of climate change.

Jorge says:


I am sure that 2021 will bring what in our heart is. I mean if we want to be better that's what 2021 will bring. I am sure this New Year Is bringing the best for everyone un everything.

M says:


2021 we will still see a further rising bell curve of disparity, this will continue expondentially, until each and every person corrects this in themselves. Therefore the question to live with in 2021 is; in what way do we have disparity? How can we change so that we are all more balanced? Or, in what way do we play our part in the worlds disparity? Can we move through 2021 with equality awareness? In every single thought? This will require a fair amount of investigation into thy self. The ultimate challenge of 2021. Let's do it!

ZOU says:


To the New year, I hope I can get my dream job, my daughter her temps job and to all of us the late covid 19.

Ann says:


I am very expectant, I believe 2021 has great new opportunities for me as an individual to achieve those things I could not achieve in 2021. I also, hope for safety for all of us and that life can go back being normal again.

Rosemary Cameron says:


First of all, I just love your website. It's incredible. I recently retired teaching ESL at age 79 and some of my students didn't want to quit learning so I'm still teaching them via Zoom. I'm in the U.S. Thank you. My thoughts for the New Year. I pray for peace of mind, for strength for all of us to survive all that is happening with Covid. I am thankful for technology that enables us to continue being in touch with each other.