mourning vs morning
Posted by: Josef Essberger
Mourning is a time of grief; morning is a time of day
These two words are homophones: they sound exactly the same but have different meanings.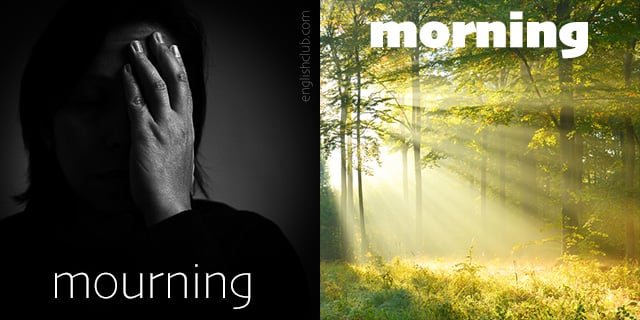 mourning 1 (noun): a period of sorrow or grieving after the death of a loved one
mourning 2 (noun): usually black or dark clothes worn after someone dies (though in some countries the colour may be white)
mourn (verb): feel or show sorrow or grief for the death of someone
morning (noun): the time between midnight and noon, especially from sunrise to noon
Example sentences
Many people were in mourning following the death of the Queen.
His family wore mourning for months after he passed away.
People may choose to mourn in many different ways.
I shall have to wake up early tomorrow morning.
---
Posted by Josef Essberger September 2022
Josef
founded
EnglishClub
for learners and teachers of English in 1997.
---
12 comments
Luis Pizarro says:


Good job! It`s very important to explain and show examples about homophones, and clarify how easy is to identify them considering the context of the sentence…. I mean, they sound exactly same; but the context could tell me which word it is

Cristina says:


The difference is almost imperceptible between the two.

Widelyne Val says:


It's helpfull i really apeeciate it thank you so much!

joao almeida says:


really good site. I always take notes from your helpful information.
Thank you
best regards

Yasinta says:


thanks so much! Now I am aware to differentiate words morning and mourning.
This site really helpful

Aida says:


Excellent you are one of the best! Thanks!

T.Hassan Olokodana says:


This is really explicit and helpful. Thank you. More of this is expected.

Mauro says:


At first glance, I thought that were more one difference between Britanic English and American English. But no.
Very interesting and useful. Very good and thanks a lot.
I prefer only MORNING.
Have a nice week. Mauro.

The King Of Love From IRAN says:


Oh!
I don't know how to tell THANK YOU SO MUCH, dear Mr. Essberger.

If I have learned English language, it's because of ❤️English Club❤️.

My wish is to meet you in real space,

Eduardo Freitas says:


I'm a teacher and the explanations about some subjects I find here are extremely important to increase my knowledge. I'm very happy to receive this information. Thanks for all.

Paul Nguyen says:


Just known this new version of dictionary recently but it is so useful to me. Thanks so much in creating this great dictionary

Zulema Nieto says:


Dear Mr Essberger
I find this site extremely helpuful! I´m a teacher of English and I have been using your vocabulary and grammatical items in my courses at university. All the activities tried have proved to be enjoyable and useful.
Thanks very much for this site}1
Regards.
Z. Nieto