Listen&Learn: Jane Austen
Posted by: Jaksyn Peacock
Learn about a famous female author from the 18th century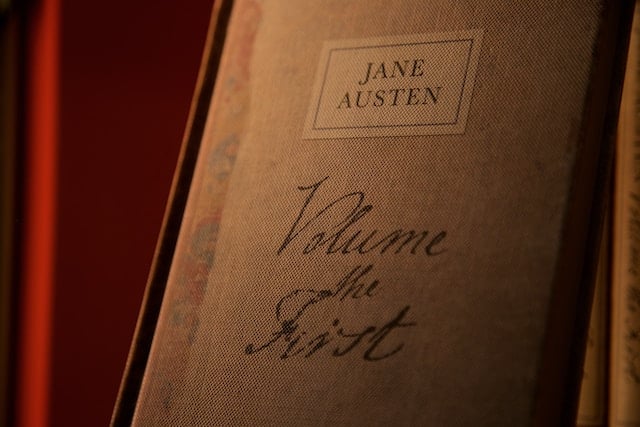 Pre-listening vocabulary
middle class: the group of people who have enough money to live comfortably, but are not rich
edition: a version of a book
satire: a type of storytelling that uses humour to criticize parts of society
reveal: to give new information to the public
credit: to say that someone is responsible for something
modern: new, recent
Listening activity
Podcast: Play in new window | Download (Duration: 1:34 — 1.4MB)
Subscribe: Apple Podcasts | Google Podcasts | RSS | More
Gapfill exercise
Comprehension questions
See answers below
Jane Austen was born in
a. 1775
b. 1797
c. 1811

Her first novel was
a. Sense and Sensibility
b. Pride and Prejudice
c. Persuasion

The name Austen originally published under was simply
a. "a writer"
b. "a gentleman"
c. "a lady"
Discussion/essay questions
Why do you think Jane Austen published her novels anonymously? Why might a writer not want to be known?
Transcript
Jane Austen was an English writer. She was born in 1775 in Steventon, Hampshire, to a middle-class family. She began writing when she was only eleven years old. In 1797, she started her first novel, Sense and Sensibility. When she published it in 1811, she didn't use her own name. The first edition of the book simply claimed to be written "by a lady". Austen wrote six novels, all of which used satire to criticize social expectations. She earned very little money for her work. Although many of her stories are about love and marriage, Austen never married, which was very unusual for a woman in her time. Her brother, Henry, revealed that Austen was the author of her novels after her death in 1817. Many people credit her with helping to shape the way modern novels are written.
Answers to comprehension questions
1a 2a 3c
Written and recorded by

Jaksyn Peacock

for EnglishClub
Search for more Listen&Learn stories:
Subscribe to EnglishClub Podcasts

7 comments
Anand V Desai says:


I think she was happy with her unknown identity.. also may viewers at that time not accept any female writer .

Sunny says:


I think she uses anonymously is safety and protect her private.

Nasrin says:


I agree with Genderson.

Genderson says:


to my mind, she decided to publish her work anonymously because she thought that being a woman would have some problems with society by writing sort of things

Mario Sacomano Neto says:


In my opinion the author's history is fascinating.

Meenu says:


I was interested in learning more about Ms. Jane Austen.
I also enjoyed Jaksyn Peacock's recording. I like her tone of voice.

Best regards,
Meenu

Sandra Mancera says:


Thanks for the article, I love Jane Austen, I wold like more articles about her.
Sandra.