Listen&Learn: Deep-Sea Gigantism
Jaksyn Peacock
Learn why animals that live in deep water grow so large.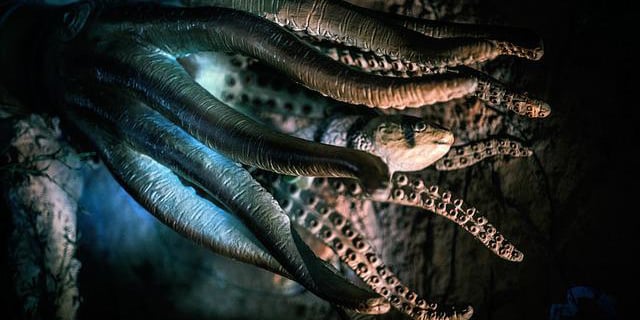 Pre-listening vocabulary
phenomenon: a natural occurrence, especially a mysterious or unexplained one
colossal: very large
metabolism: the process of producing energy from food
conserve: to limit the use of a resource so it isn't wasted
mature: to develop into an adult
Listening activity
Podcast: Play in new window | Download (Duration: 1:11 — 1.1MB)
Subscribe: Apple Podcasts | Google Podcasts | RSS | More
Gapfill exercise
Comprehension questions
See answers below
Gigantism occurs
a. in warm water
b. in water with high salt levels
c. in deep water

Deep-sea creatures have slower metabolisms because of
a. the temperature of the water
b. the lack of light
c. the nutrients in the food

These animals grow larger because
a. they eat more food
b. they have more time to mature
c. they need to look like predators
Discussion/essay questions
Scientists have only explored about 5% of the oceans. What else do you think they might discover in the future?
Transcript
Sea creatures that live in the depths of the ocean can sometimes grow much bigger than similar creatures that prefer shallow waters. This is a phenomenon called deep-sea gigantism. A well-known example of deep-sea gigantism is the colossal squid, which can grow up to 14 metres long. There are several theories about the causes of deep-sea gigantism. It is believed that the colder temperatures at the bottom of the ocean can slow an animal's metabolism. This is important for the survival of deep-sea creatures. Food can be hard to find in the cold, dark water, which means that these creatures have to conserve their energy. With such slow metabolisms, they take a long time to mature. This allows them to continue growing.
Answers to comprehension questions
1c 2a 3b
Written and recorded by

Jaksyn Peacock

for EnglishClub
Search for more Listen&Learn stories:
Subscribe to EnglishClub Podcasts

9 comments
jorge says:


excellent

João Malanga says:


This knowledge is amazing, thank you for sharing!

João Emiliano says:


Knowledge is always good! Thanks for the cultural notes.

David Martin says:


Even though humans have only explored 5% of the depth oceans, I don't expect spectacular discoveries; probably we'll discover small new species that live at the bottom of the sea.

Saifeldein Abdalla Adam says:


I thank you for useful information and for your effort that always help us to develope our English.

Mohammed BADIOUI says:


I just wanted to express my deep and sincere gratitude for the respectful efforts you've been making for the sake of helping us learn English and enrich our general culture.

Benoit says:


Great as usual 🙂

Rabie says:


Usefully web site
Thanks so much

The King Of Love From IRAN says:


Thank you for sharing it with us,